David Broza: East Jerusalem/West Jerusalem
Film Screening, Q&A and Live Performance
at the Museum of Tolerance - April 12, 2016
Blessed are the peacemakers.
It was hard to determine who David Broza's most implacable enemy was at the screening of his 2014 film East Jerusalem/West Jerusalem last night at the Museum of Tolerance—Palestinians, or Israelis? I went back and forth, so here is a blow-by-blow account of one of the more gripping films and live performances I have encountered in my effort to cover the waterfront for FolkWorks over the past 15 years.
To begin with, if you do not know who David Broza is, join the club. I had never heard of him until Marlen Mertz invited me to attend this screening. Then I searched out his web site and uncovered some of the highlights of his 40 year career as an Israeli folk singer, guitarist and peace activist. There are many unusual things about him, which made me curious enough to plunk down my $12 to attend the film screening. I had never heard of an Israeli folk singer who was friends with the late Texas singer-songwriter Townes Van Zandt. Van Zandt bequeathed his shoe box of unpublished poems to him with the request that Broza set them to music; which resulted in the collaborative album Night Dawn.
Whoa! I thought; why not Steve Earle?—who was a friend of Van Zandt, fellow country singer-songwriter, and who wound up doing his own tribute album to his late friend and composer of "Pancho and Lefty." Then I learned that Steve Earle was a participant in Broza's film East Jerusalem/West Jerusalem, due to his having written the anthem of the peace movement trying to build bridges across Jerusalem to bring peace to its inhabitants, not just Jews and Palestinians, but Christians too. It's a small world indeed.
That was enough to lure me in to see an unknown (to me) artist; but even more alluring was the description of Broza's guitar-playing as combining elements of flamenco, finger-picking and Middle-Eastern harmonies. That plus the photo of Broza's amazing guitar—as unusual-looking an instrument as I have seen—I am a sucker for interesting acoustic guitars, and this one looked like it had a story all its own. I bought my ticket and arranged to meet my friend there in time for the screening. Be prepared, said the boy scouts (by way of Tom Lehrer), so I felt ready for anything, from flamenco to Townes Van Zandt.
But what I wasn't ready for was the Museum of Tolerance audience of almost entirely Israelis living in Los Angeles and how they would react to this film by a musical bridge-builder and peace-maker. Let's not get ahead of ourselves, however. The film had a joie-de-vivre that pulled you in from the first shot. Riffing on Woodstock's "3 Days of Peace and Music," Broza's film is framed by the inspired subtitle: "8 Days and 8 Nights of Music, Food and Camaraderie;" just beautiful.
No wonder it held its first screening at the 15th Annual Woodstock Film Festival in 2014. It's a worthy successor to the entire spirit of Woodstock as a symbol of the 60's, perfectly captured in one of its musical highlights, British singer-songwriter Nic Lowe's modern classic What's So Funny About Peace, Love and Understanding, as performed by a collage of Israeli and Palestinian musicians—including a mixed children's chorus in the lawless Shuafat refugee camp in East Jerusalem. They also film scenes in the Old City, the object of Broza's restless search for the political reality to reflect the deeper meanings of the poetry he hopes will eventually change that reality. One sees the face of hope in all of them, even as the backdrop of Israeli troops and police creates the ever-present reminder of what they are there to overcome. It's at times heartwarming and chilling—and the camera's eye never blinks from the military confrontations and complex realities of the situation in which "music as the universal language" is looked to for this bridge over troubled water. Jerusalem is a long way from Max Yasgur's farm in Woodstock.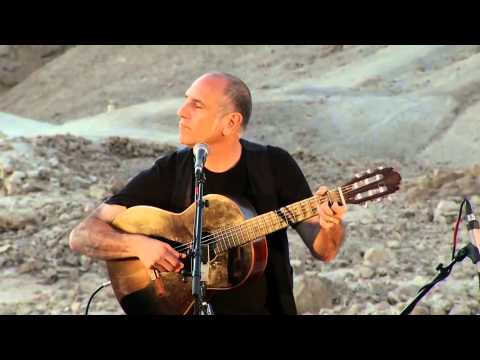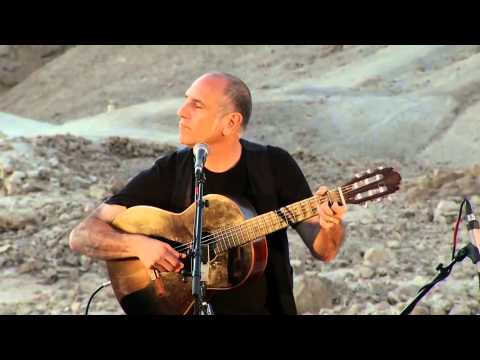 The musicians' alternative universe is established in the recording studio of legendary Palestinian band Sabreen—where David Broza has proposed a recording project to strengthen ties among Palestinian and Israeli musicians; the title is East Jerusalem/West Jerusalem. He invites Steve Earle in as producer, based on his song Jerusalem, and is both surprised and gratified that Earle is eager to accept the invitation. He is at the top of Broza's wish list of producers, but he did not expect him to rally around the project—with so much pressure now being put on western musicians of his renown to boycott Israel. With Earle on board, Broza now has high hopes that he is on to something.
The film opens on Day 1, with Steve Earle arriving in East Jerusalem and being shown the recording studio and welcomed by all involved: Wyclef Jean of the Fugees (who co-writes with Broza a moving song of human universality "I See the Same Faces") renowned Israeli Palestinian singer, actor and activist Mira Awad, Palestinian cinematographer Issa Freij, Palestinian hip hop artist from the Shuaafat refugee camp Muhammad Mughrabi, Israeli musicians Jean Paul Zimbris, Alon Nadel and Gadi Seri, and other American, Israeli and Palestinian participants. One listens in on a number of intense conversations between them to realize that they are all afflicted with age-old prejudices that each is determined to overcome to create an example of the peace process at work on a grassroots level. If we can do it, they want to say, perhaps the politicians and ordinary citizens can eventually get along too—in Rodney King's memorable phrase.
It's an 8-day journey of recording, discovery of the depths of human resilience in the face of painful confrontation with old hatreds and new hopes, and finally on Day 8 a begrudging awakening to how far the music of peace and reconciliation is from the real world of on-going armed conflict and holding on to points of view that justify everyone on all sides from coming together in a mutual willingness to make peace. The recent film of the assassination of Yitzhak Rabin by an Israeli fanatic unwilling to abide Rabin's land for peace negotiations—The Last Day—which is never mentioned in Broza's film—is a powerful reminder of intractable disregard for what Lincoln called "the better angels" of our nature. Rabin's assassin was not a lone wolf—he had an enormous following of Israelis who have not even made peace among themselves, let alone with Palestinians.
And yet, this jaundiced eye was gripped by Broza's following of a different path and reaching out to his fellow musicians to set a worthy example of what American pacifist A.J. Muste once proffered as the underlying necessity for eventual success: "There are no roads to peace; peace is the road." Broza may be the Israeli Pete Seeger.
And that is why I was so profoundly disappointed by what became for me the "Museum of Intolerance" audience of Broza's supposed fans—which virtually sold out this film screening and live performance. The first question asked was from a woman in the back of the auditorium: "Do you realize what your Palestinian hip hop artist was saying in his performance?" Broza looked at her like a deer caught in the headlights and asked what she meant. "He was asking for an independent Palestinian state. Didn't you know that?"
Broza paused to let the question sink in, and then rose to the occasion: "So what?" It wasn't exactly clear whether we were heading into an impromptu debate over the one-state or two-state solution for peace in the Middle East, but Broza was not about to let that unwinnable argument take over the evening. "Let the reality rise up to meet the poetry," he finally suggested—as a way of saying he wasn't going to preempt anyone's effort to engage in his recording project with their own point of view. That's what searching for common ground meant to him—everyone had to have "a seat at the table."
The fact that no one from the audience challenged her dismissal of Broza's entire project made me realize how one-sided the audience was—in such marked contrast to the multi-dimensional personal histories embraced by the film. It reinforced my initial observation that there simply were no Palestinians in the audience—this was an exclusively Los Angeles Jewish/Israeli audience who had come there to see a famous Israeli folk singer—not because they shared his beliefs but because they admired his talent and reputation.
Your correspondent also had a question; I wanted to know where his guitar was made. Broza was visibly relieved not to have to descend into a full-scale discussion of the politics of the Middle East; he was happy to tell me: "In Spain—Madrid." That let me know the word "flamenco" I saw on his web site was not incidental—and I was riveted before he even started playing—when Broza opened up his flight-worthy black Carleton guitar case and brought out what to me was one of the co-stars of the movie—with the biggest pick-guard I had ever seen—and started his live performance.
But then—with the Q & A over—even that minimal sense of what was holding this evening together went out the window. Halfway through the first song—his co-write with Wyclef Jean that showed people from all over the world with an underlying common humanity—I started to have trouble hearing the words. A number of people in the audience were commenting and talking over the singer's inspiring lyrics—while filming it on their cell phones and going through one app after another.
It was like being in the middle of Edward Albee's "Who's Afraid of Virginia Woolf?"—George talking in one ear and Martha in the other. I was ready to join the intifada myself.
And yet, in the midst of this disjointed evening, somehow David Broza's powerful and technically brilliant and heartfelt music broke through like a bright sun parting the clouds.
He is a masterful guitarist, combining flamenco flourishes with virtuoso American-style finger-picking and a musical vocabulary that ranges up and down the neck of his one-of-a-kind Spanish guitar, that looks like it has been played for a thousand years going back to Orpheus's original lute.
His songs are beautiful in many ways and none more so than in the way he has infused their musical texture with a timeless message of peace and understanding.
He is currently on tour across America heading back eventually to Israel and Tel Aviv, where he lives. David Broza is a major artist. I am thrilled to have finally discovered him and look forward to seeing him perform again when he returns to LA, where he was also recently featured at the Broad Theatre in Santa Monica.
I am not sure if and/or when Broza's beautiful film will be released for a full theatrical showing, but it certainly shines a light on a situation where bad news is the rule of the day. The good news is that his documentary got made, privately funded by many folks who share his passion and hope over the many years he has been dreaming and planning it—and may slowly find the audience that most needs to see it—Israel, Palestine (Gaza, the West Bank), surrounding Arab countries, and above all East and West Jerusalem.
Kudos to Steve Earle for opening this small window of light with his old song for peace, "Where the lion and the lamb will lay down together at last in Jerusalem"—if a song can change the world, this may be the one. Bravo to David Broza for lighting one candle. Blessed are the peacemakers.
Los Angeles folk singer and Local 47 member Ross Altman has a PhD in Modern Literature from SUNY Binghamton; Ross may be reached at greygoosemusic@aol.com