KRIS KRISTOFFERSON & THE STRANGERS
In Concert at Theatre At Ace Hotel
Sunday, January 20, 2019 at 8pm
RABBI HILLEL TO KRIS KRISTOFFERSON
By Ross Altman, PhD
Why write a song for Martin Luther King if you're not going to sing it on his birthday—and not just his birthday, but his 90th birthday? That's my question. I gave up watching Columbo last night—not to mention a full lunar eclipse—and not just a full lunar eclipse, but a blood-red wolf moon—to see Kris Kristofferson and the Strangers in concert. I drove all the way downtown to the Theatre at Ace Hotel, searched for a parking place, and stood on line to buy a ticket I could afford.
Kris Kristofferson and the late great Merle Haggard's band The Strangers walked out on the magnificent stage of the Theatre promptly at 8:00pm, just like the sign out front in neon lights said. The government may be shut down, the teachers may be on strike, but Kristofferson and the Strangers were on time and ready to roll—no excuses, no apologies, no demands and no politicians. America's band and country music's heir apparent to Hank Williams delivered what they promised—two hours of great music and story songs that keep you on the edge of your seat, from Me and Bobbi McGee to Okie From Muskogee—to Help Me Make It Through the Night.
He's a walking contradiction
Partly truth and partly fiction
Taking every wrong direction
On his lonely road back home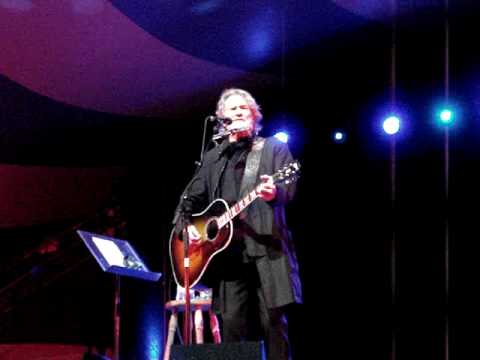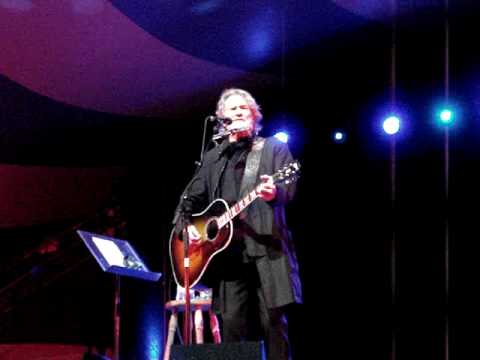 he sings in The Pilgrim, Chapter 33, written for one of the lost Highwaymen—Johnny Cash—and thereby brings his ghost back up on stage with him. The other lost Highwayman is Waylon Jennings, and Kris brings him back too at the end—in a broken "reunion" with his son Shooter Jennings joining them on stage for the closing Please Don't Tell Me How the Story Ends. But that's not all—he also invites the classy Tanya Tucker—who made a hit with Help Me Make It Through the Night—to sing a duet with him on his hymn Why Me, with Merle's son Ben Haggard doing Sing Me Back Home. And yet there was something missing, the one song I came to hear.
Lisa Finnie knew what it was, for that is how she began her show—with Bob Dylan and a children's chorus singing Kris Kristofferson's They Killed Him for Martin Luther King to open The Dylan Hour, on the eve of MLK's 90th birthday (January 15, 1929) holiday. For the evening I had to choose between watching the blood-red wolf moon's lunar eclipse at 9:00pm, and Kris and the Strangers. It was a tough call, but it was a Sunday, and almost foreordained to wind up with Sunday Morning Coming Down. Even though I couldn't see the moon I could almost hear the wolf howling on stage, with Kristofferson's raspy 82-year old voice and bluesy mouth harp wailing in the background. And every song ended with his bravura "Thank you!" to let us know how much he appreciated our coming out.
Just as much in character is how he introduces the band—which so many big name performers do only at the end, and then as an obligation. Kris takes the stage and immediately lets you know how proud he is to be performing with The Strangers behind him: Doug Colosio – keyboards; Jim Christie – drums; Ben Haggard – electric guitar, lead guitar, lead and backing vocals; Noel Haggard – lead vocals, electric guitar; Taras Prodaniuk – bass guitar; Scott Joss – fiddle, backing vocals. It is no surprise to learn that they were voted best band in country music eight times! Now that Merle is gone it's a perfect match to have them teamed up with Kris.
After paying $38 for my cheapest upper balcony ticket in row Q I didn't feel like paying $20 for an autographed set list, so here is the set list, patiently copied down from the table in the lobby, with a mix of Kris Kristofferson and Merle Haggard (in italics) classic songs, the key in front:
D—Shipwrecked In the Eighties
Eb—That's the Way Love Goes
D—Darby's Castle
A—Me and Bobbi McGee
A—D—Here Comes That Rainbow Again
G—Best of All Possible Worlds
A—Help Me Make It Through the Night
G—F Okie From Muskogie
Am—Casey's Last Ride
D—Rocket to Stardom
D—Feeling Mortal
D—From Here to Forever
D—Daddy Frank (The Guitar Man)
G—Broken Freedom Song
A—Loving Her Was Easier
(Intermission);
D—Just the Other Side of Nowhere
Am—Duvalier's Dream
D—I'd Rather Be Sorry
E—Sing Me Back Home
G—A—Jody and the Kid
A—Stop the World
G—The Pilgrim—Chapter 33
D—Jesus Was a Capricorn
A—Stay Here and Drink
G—To Beat the Devil
G—Sunday Morning Coming Down
G—Silver-Tongued Devil and I
G—For the Good Times
G—A Moment of Forever
G—Why Me
G—Please Don't Tell Me How the Story Ends.
(Concert Ends)
Look at that set list carefully; notice anything missing? They Killed Him is nowhere to be seen—and yet here we are, January 20, the night before the third Monday in January—for many years now a federal holiday in honor of Dr. King. The government may be shut down, but it is a holiday nonetheless—with a Kingdom Day Parade tomorrow. And you have a song for it, Kris; the best song out there. Where is it? Pete Seeger once said, "The right song at the right time can change the world." He knew whereof he spoke.
The last time I saw Kristofferson in concert was in 2016 with Merle Haggard, after two postponements due to illness—Haggard was battling pneumonia. When they finally got back on stage together it was a joyful experience—especially realizing it might be the last time to see the Hag—as indeed it proved to be. The Strangers backed up Kristofferson then too—and gave Kris such a great accompaniment he must have made a mental note to ride with them again if and when they became available. Merle's death made the possible seem inevitable—and the great production team Golden Voice put them together for this landmark tour. Let us hope it's only the first of many.
They gave great renditions of Haggard's hit songs interspersed with Kristofferson's—seamlessly woven together—and both of Haggard's sons, Ben and Noel, echo their "Daddy Frank's" matchless voice. It was country music's finest in every sense—their musicianship, voices and songs—and something more indefinable—their stage presence. They all belonged up their together—like Butch Cassidy and the Sundance Kid—figures from a distant past who somehow survived into a new era to remind you of an America before, as Hag put it, "Nixon lied to us all on TV." It was an America that meant what it said, where no one had even heard the things we now so sadly take for granted, like "alternative facts," "fake news," and a president who shuts down the government when he can't get his way.
Kristofferson writes a song for one soldier—not the generic patriotic songs so many now take for granted, like Toby Keith's Courtesy of the Red, White and Blue. Kristofferson's Broken Freedom Song holds his country accountable, like his old protest song, Don't Let the Bastards Get You Down:
They're killing babies in the name of Freedom
We've been down that sorry road before
They let us hang around a little longer than they should have
And it's too late to fool us anymore…
Chorus:
And I've just got to wonder what my Daddy would've done
If he'd seen the way they turned his dream around
I've got to go by what he told me, try to tell the truth
And stand your ground
DON'T LET THE BASTARDS GET YOU DOWN
There are no other country singers who dare to tell the truth like Kristofferson, who would stand up with a former priest and nun like Blasé and Theresa Bonpane to raise money for their grassroots Central American organization Office of the Americas—to try to shut down the School of the Assassins in Fort Benning, Georgia. Kris Kristofferson—like actor Martin Sheen—is one of their mainstay supporters, but don't tell Nashville—or even the so-called outlaw country movement in Texas. Kris writes songs that speak truth to power and would make them blush. Here are just a few more lines you'll never see in a Nashville or Texas country songbook;
They Killed Him
There was a man named Mahatma Ghandi
He would not bow down, he would not fight
He knew the deal was down and dirty
And nothing wrong could make it right away
But he knew his duty, and the price he had to pay
Just another holy man who tried to make a stand
MY GOD, THEY KILLED HIM!
Another man from Atlanta, Georgia
By the name of Martin Luther King
He shook the land like rolling thunder
And made the bells of freedom ring today
With a dream of beauty that they could not burn away
Just another holy man who dared to be a friend
MY GOD, THEY KILLED HIM!...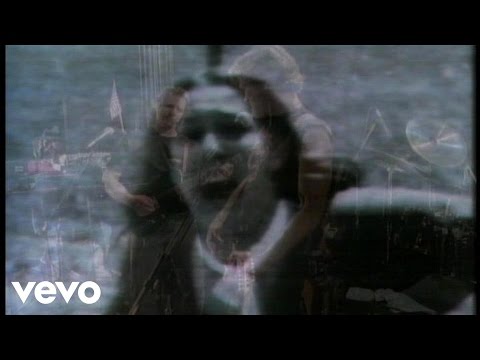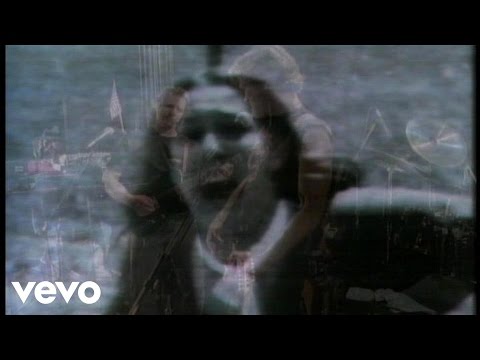 That's what makes Kris Kristofferson stand apart as a country artist—he's not a broken record of a patriotic sentimental last refuge of the scoundrel—he calls 'em as he sees 'em. That's why I love him. And that's why we are so lucky to have him around—someone who is both mainstream and outer edge anti-establishment.
These aren't just songs to Kris—he lives by his own creed. When modern Irish rabble rouser Sinead O'Connor made waves by tearing up a photo of the Pope on Saturday Night Live to protest sexual abuse by priests in Ireland—and the cover-up by Archbishops and the Vatican—who came to her defense? She was about to be booed off the stage at the 30th Anniversary Madison Square Garden Concert to Celebrate Bob Dylan and Kristofferson was assigned the thankless task of escorting her off when he told the stage manager, "Well, I'm not about to do that." Whereupon he walked up to her in the midst of the audience booing and said simply, "Don't let the bastards get you down!" She didn't, and finished her song.
Where did Kristofferson get the title of his champion speak truth to power song? Well, it wasn't from some political lefty, I can tell you that. He got it from the Duke—John Wayne—America's cowboy. But then he put it to his own use. That's what a great artist does—he picks up ideas and phrases along the way, and makes them new again. As Ezra Pound once defined poetry, "News that stays news."
Kristofferson's best songs—like They Killed Him—are news that stays news. On my way to the concert, looking up at the moon that was slowly heading into the Earth's shadow, I started singing Me and Bobbi McGee, a song I have sung for forty years at every kind of grassroots venue—hospitals, schools, retirement homes and folk gatherings. Everyone understands the words,
Freedom's just another word for nothing left to lose
Nothing ain't worth nothing but it's free
Feeling good was easy, Lord, when Bobbi sang the blues
Feeling good was good enough for me
Good enough for me and Bobbi McGee.
I could almost hear Janis Joplin:
I'd trade all my tomorrows for a single yesterday
To be holding Bobbi's body next to mine.
Who hasn't been there? So simple, and yet a Rhodes Scholar wrote that.
And a road scholar—who said of his "cleanest dirty shirt," ("True story!") and who once again helped me make it through the night. Thank you, Kris! And thank the Strangers, for carrying on Merle Haggard's legacy. What a treat, to hear you both.
And yet, what a missed opportunity; as Rabbi Hillel once said, "If not now, when?"
Ross Altman has a PhD in Modern Literature from SUNY-Binghamton; a union folk singer he belongs to Local 47 AFM; Ross may be reached at greygoosemusic@aol.com