TOMMY EMMANUEL IN CONCERT
At The Saban Theatre in Beverly Hills
With Special Guest Jerry Douglas
Friday December 14, 2018 at 8:00pm
THE WONDER FROM DOWN UNDER
"Ah but in such an ugly time, the true protest is beauty"~ Phil Ochs
Certified Guitar Player Tommy Emmanuel is the wonder from down under—Australia—and he brought his finger-style magic and custom C-10 Larrivée guitar to the Performing Arts Temple in Beverly Hills—the Saban Theatre—last night for an unforgettable concert of musical memories. What is a protest singer who celebrates the Gatekeepers of Freedom—singers and songwriters who present a musical alternative to C. Wright Mills' Power Elite currently in place from the White House to the Capitol Dome to the Supreme Court—doing at a concert by someone who performs mostly instrumentals on solo acoustic guitar? "Ah, but in such an ugly time," Phil Ochs once said, "The true protest is beauty." To which Keats added 200 years ago, "A thing of beauty is a joy forever."
Tommy Emmanuel's music is in its very being a quiet protest for a better world—every chord progression a counterstatement for the world I want to live in. Pete Seeger said that even a love song can be a protest song—in the right context. "Give me a lever long enough and a place to stand," said Greek mathematician Archimedes, "and I will move the world." "Give me a good guitar and a place to stand," said American folksinger Lead Belly, "and I'll rock this whole town." Tommy Emmanuel is that man.
He appeared in concert with special guest 14-time Grammy winning Dobro master Jerry Douglas last night, who opens the show with a 45-minute set of instrumentals and hilarious anecdotes that raise the level of his instrument beyond anything I have ever heard—in terms of picking dexterity, complexity and beauty. Then he joins Emmanuel after his hour-and-a-half feature set when the guitarist calls him back on stage for a curtain call. Emmanuel—as I found out when he performed at Pepperdine two years ago—is always generous with other performers, lavishing praise on them as well as bringing them to our attention. It was a joyous evening.
Tommy Emmanuel—if it were possible—has been practicing and is even greater than I remember at Pepperdine. His guitar-playing in both loud explosive (but still acoustic) blues and quiet, transcendentally lovely love songs (including one for his ex-wife Meredith, who was in the audience) and an incandescent encore lullaby for his four-year old daughter (Rachel's Lullaby) was beyond words—just the most beautiful sounds you will ever hear come out of an acoustic guitar; which Emmanuel eloquently described as "a weapon of mass construction."
He played and sang the most moving version I have ever heard of the American classic House of the Rising Sun, so far beyond the more famous hit version by The Animals that it should be outlawed—not the prostitution, but the guitar-playing. As a traditional masterpiece it was my favorite performance of the night—just unforgettable. But there were a lot of close seconds.
He is an old (having turned sixty-three this year) Beatles' fan, and celebrated the Liverpool geniuses with a long and magisterial medley of favorite tunes that challenged me to recognize them all. Here is a brief summary: Hard Day's Night, Michelle, Lady Madonna and All You Need Is Love—with its memorable opening bars from The Marseilles; it was a reminder that their music stands alone—even without the lyrics those tunes are immortal—as if you need me to tell you that. The most charming part of the performance was the intro: "Do we have any Rolling Stones' fans here tonight?" After the perfunctory applause he waded into the Beatles! "Well, this is for you!" You can hear the Stones next May 11 at the Rose Bowl, and McCartney next July 13 at Dodger Stadium. But I heard all I needed to hear last night at the Saban Theatre, Beverly Hills Temple of the Performing Arts.
He followed the Beatles with a 20 minute tribute in story and song to his American hero John Wayne, including a vocal mimicry that brings down the house, and a parody of his famous walk that brings the preeminent cowboy back to life. The guitar solo and accompanying song—entitled The Duke—that recreated some of his classic Westerns—including John Ford's classic Stage Coach, the Cowboys, the Sons of Katie Elder, True Grit, the 1969 movie for which he won the Oscar as Rooster Cogburn, and his farewell to the silver screen, The Shootist—was glorious. My favorite John Wayne moment was his heroic appearance at the Academy Awards to receive his Lifetime Achievement Award when he was visibly dying of cancer and a shell of his former self. If you drive down Santa Monica Blvd in Santa Monica you will pass The John Wayne Cancer Institute—his primary legacy today. As a devout John Wayne fan I loved every minute of it—and to hear how an Aussie grew up on his movies as much as we did is a revelation about his worldwide reach. He put his sentiments into the chorus, which he played on his second, baritone guitar:
I can hear your words
And my life will never be the same
I can hear your words
And they carry me…
Tommy Emmanuel occasionally spoke to the audience in a way you are not accustomed to hearing at a live music event—his utter sincerity about his beliefs and how his music represents something more than music to him—come to life in his recounting a charity he is an ambassador for: Guitars for Vets— that brings a guitar into the life of any injured American veteran who wants one—and free guitar lessons to get them started on a postwar life journey they can fill with music. Started in Milwaukee in 2007, it now has 80 chapters and has donated over 3,000 guitars to veterans with ptsd and other war-related injuries. See www.guitars4vets.org
The tone of his voice in describing what a guitar can offer to heal someone is almost heartbreaking. Emmanuel makes you realize something most musicians may well take for granted—how empty life can be without music—and by extension the arts in general—especially here in California, where we long ago defunded arts programs in schools growing up with the passage of Prop 13 to lower property taxes. Without any political comments whatsoever, Tommy put his considerable reputation squarely on the line—and on the side of those who value art over commerce, education over property, and personal growth for children over lower taxes. He also demonstrated his support of America's veterans—with deeds over words. It took me by surprise, and was the nonmusical highlight of his show.
His musical heroes were also celebrated by name throughout: Chet Atkins, Hank Williams, Jeff Beck, James Taylor, Bonnie Raitt, Byron Berline (for whom he wrote and performed a flatpicking fiddle tune) and above all, Ray Charles ("to whom you can trace it all back.") The Chet Atkins reference reminded this reviewer of his signature "Certified Guitar Player," that Atkins bestowed on five living guitarists, Tommy Emmanuel foremost among them. "There's Tommy and there's everybody else," wrote one reviewer.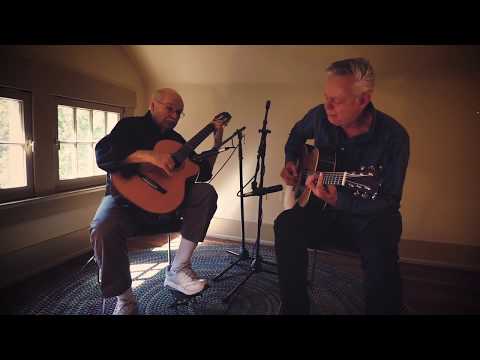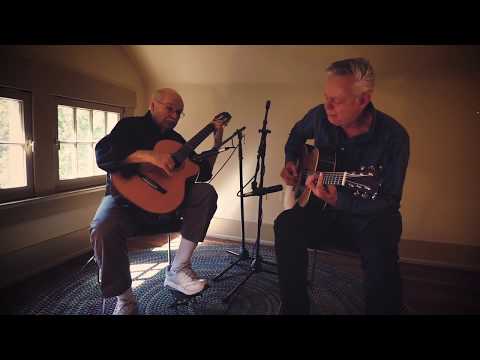 There are only three left, and Emmanuel's most recent record is a duets album with one of them—John Knowles—called Heart Songs. It contains one of my favorite modern folk songs, He Ain't Heavy, He's My Brother, with words by Bob Russell and music by Bobby Scott. Russell wrote the words during the final three weeks of his life, while he was dying of cancer. Its genesis is based on a true biblical story of a young girl who is stopped while wading across the stream, carrying her four-year old brother, and obviously struggling to hold him up. When asked if she needs help she replies with the refrain, "He's not heavy—he's my brother." It's a line that has never died, and finally evolved into the song we know today—which was a hit for the Hollies in 1969, Neil Diamond in 1970, and made its way into Rise Up Singing:
The road is long with many a winding turn
That leads us to who knows where—who knows where
But I'm strong—strong enough to carry him
He ain't heavy, he's my brother.
It's one of the great songs for the brotherhood of man—in keeping with the spirit of Tommy Emmanuel's entire repertoire. It is also an example of Phil Ochs' saying that in such an ugly time, "The true protest is beauty." Bravo to Tommy Emmanuel for keeping such words alive, "for I can hear your words, and they carry me." But it is his guitar playing that most mesmerizes me, particularly in his tribute to the late great Doc Watson, from Deep Gap, North Carolina. The two songs he played are so well known to folk music fans he didn't even bother to introduce them. You knew when he started the distinctive down the neck progression in "E" chords from the 7th fret to the 1st you are in for a treat—Doc's Deep River Blues:
Let it rain/let it pour/let it rain a whole lot more/
For I've got them deep river blues/
Let the rain drive right on/Let the waves sweep along
For I've got them deep river blues.
Doc picked up the tune from the Delmore Brothers—one of the early brother duos in country music—and created his distinctive finger-style guitar picking patterns in recasting his arrangement to cover a guitar duo with just one guitar. He played the alternating bass part with his thumb, and the treble line with his lead finger. In a memorable demonstration at Newport one year, he actually showed the audience how it developed—from progressions you can imagine yourself playing—to later progressions you are just thrilled to hear. Tommy Emmanuel played everything Doc put in it to some incredible patterns that would have challenged even the master. It was nothing short of breathtaking.
Then, just when you thought you've heard it all, he segued into Doc's signature instrumental Doc's Guitar, and played variations that seemed all but impossible, except you are actually hearing it with your own ears. It began with another immediately recognizable progression just on the bass strings in the key of "C," and then engaged the treble strings in a beautiful melody to develop the complex finger-style arrangement with both aural and visual delight. It's was a sonic and visual work of art. To think that Doc played it blind is awesome indeed.
Tommy Emmanuel saved the most amazing guitar piece for last—a hard-driving instrumental called by Arthur Smith called Guitar Boogie. It started slow and ended fast—and left you in a state of disbelief—fully saturated with his ability to recreate and go beyond the electric guitar sounds you associate with rock bands in a solo acoustic guitar. It was nothing short of uncanny and made me—if I was not already—a devoted Tommy Emmanuel fan.
I was sitting in the back row—where I moved early in the show to collect my own thoughts—right in front of his sound engineer and lighting designer who dovetailed his acoustic performances with a lightshow that enhanced each song with inspiring, ethereal and psychedelic lighting design. Thank you, Tommy Emmanuel, for raising the bar on acoustic guitar, and giving us all something beyond our grasp to aspire to.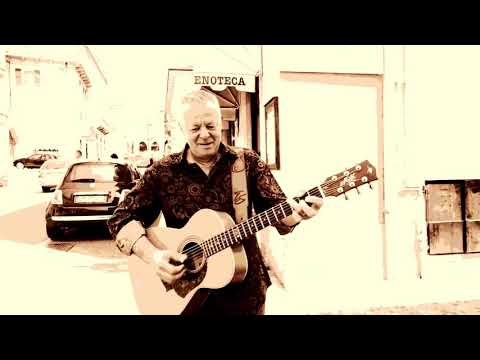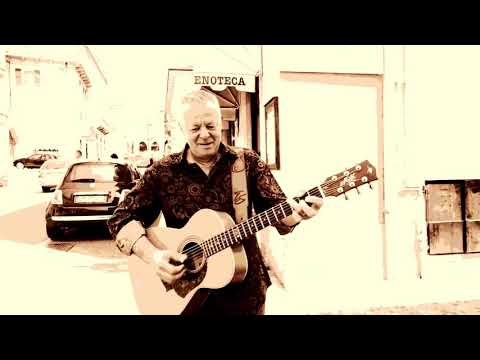 Thank you to Luanne Nast for the press pass. Don't miss Gordon Lightfoot on March 9 and Don McLean on March 23, 2019!
Folk singer Ross Altman has a PhD in Modern Literature from SUNY-Binghamton; he belongs to Local 47 AFM; Ross may be emailed at greygoosemusic@aol.com