I'M WITH HER:
SARA WATKINS, SARAH JAROSZ, AOIFE O'DONOVAN
With Opener The Brother Brothers
At The Lisa Smith Wengler Center For The Arts - Smothers Theatre at Pepperdine University
Thursday, October 11, 2018, 8:00pm
BAND OF DESTINY
I love when destiny and the fates and serendipity all pull together to create something completely new and unpredicted, totally unexpected and, at least, on the surface of things, unintended. That's what happened in 2014 when three talented women found themselves thrown together by happenstance and realized that something truly new had been formed right in front of their eyes. I'm With Her was born that day, with three fantastic musicians finding themselves collaborating on stage and then in a rehearsal room on the cusp of something great. Their concert here on Thursday night at Pepperdine's Smothers Theatre was a reflection of that journey, as three consummate musical virtuosos took the stage.
Their press material tells the story:
After years of crossing paths in their intersecting scenes, I'm With Her came together by happenstance for an off-the-cuff performance at the Telluride Bluegrass Festival during the summer of 2014. The multi-Grammy-Award-winners have individually released nine solo efforts, co-founded two seminal bands (Nickel Creek and Crooked Still), and contributed to critically acclaimed albums from a host of esteemed artists. The band has garnered tremendous praise for their unique blend of instrumental interplay and indelible harmonies.
The show at the Smothers Theatre was opened by a great set from the identical twin music duo, Brooklyn-based The Brother Brothers. David and Adam Moss offer strikingly beautiful two-part harmony singing with some of the most tender and beautiful male vocals I've heard in some time, backed by their tasty playing on guitar, cello and fiddle. The songwriting and presentation is one of gorgeously and heartrendingly beautiful, gentle songs of love and loss, humor and pathos, with a perfect pure blending of this warm sibling sound balance. Their sound has been described, and I agree, as "leaing towards the darker, moody elements of Appalachian folk, klezmer and bluegrass traditions." Their new CD on Compass Records is being released this month, called Some People I Know and I plan to get a copy from them when they will appear at McCabe's in mid-January 2019. After a short break, the stage was set for I'm With Her and the three women took the stage with full complement of guitars, electric and acoustic, fiddle, banjo and ukelele. Earlier this year the trio released their first full-length debut album See You Around on Rounder Records, and they are nine months into a world tour behind that recording. Co-produced by Ethan Johns and recorded in Box, England, See You Around has garnered praise from NPR, who instantly hailed the collection as "willfully open-hearted" and The Guardian calling their sound both "ethereal and purposeful."
The concert lived up to expectations and then some: the combined confidence and sonic power coming from just three players was full and gorgeous, multi-layered, complex with intricate songwriting and playing, mixed with bravado, virtuoso instrumentation, perfect vocal blending and humor-filled grace notes.
You realize as you hear I'm With Her the sheer depth of their innovations: descriptive words came to me like "intricate filigree" as I tried to comprehend all of the many complex parts of the music that, for all intents and purposes, could be compared with classical repertoire in that the finely-wrought composing from this songwriting team is so dynamically multi-layered that you are pulled in by the sheer weight of its complex purity. These quotes do them justice:
"…when the three women sang together, their voices became one instrument, sharing every breath." New York Times
"I'm With Her contains not only three of the most distinctive voices in Americana music, but also some of the most talented instrumental work." AXS
"I'm With Her combines the myriad talents of three of roots music's most beloved musicians to a result far greater than the sum of its already impressive parts." American Songwriter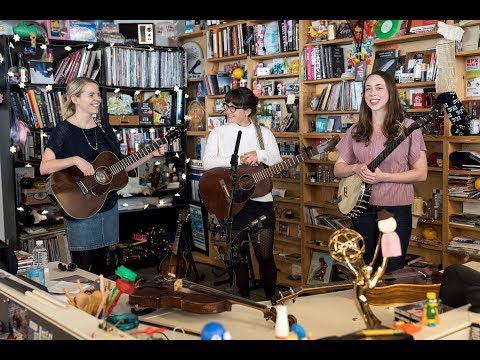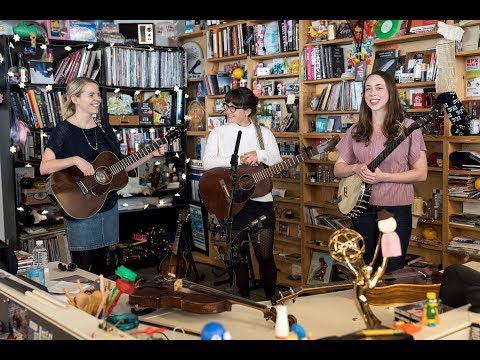 I noted that the vocals, in addition to the very tasty and clean instrumental playing, were a true study in mixology and purity. If these three hadn't been playing together before, the Universe has clearly conspired to bring them together simply because they should be collaborating, the work is so seamless and organic. I loved the combination of traditional elements (always a hallmark of Sara Watkins' work) and contemporary subjects that is beautifully realized. Their singing/writing can be percussive, lyrical and broad in equal measure, and you felt as you listened that they were playing for each other, singing to please the other, and equally inspired by each other. I also was strongly reminded of the vocal and music sounds of Gillian Welch in the work of this trio, especially in the singing of Aoife O'Donovan, formerly with Crooked Still. The tasty choices of leads and harmonies, weaving in and out of the lead vocal, is quite amazing with this group, and you so much feel that you're in the presence of three young music prodigies, ones who have made Americana a life-long understanding. They've mastered the forms, and are now re-making and re-inventing those forms even as they make use of the original templates. You can hear influences from country, bluegrass, gospel, blues, Celtic and contemporary pop sources in both writing and performance.
From their new album, I identified a few songs: the title track See You Around, Game to Lose, Ain't That Fine, Pangaea, Close It Down and Ryland (Under The Apple Tree) (which had been originally an instrumental by Julian Lage that was adapted with lyrics to make a new song Under the Apple Tree). Their combined repertoire from past band incarnations and solo work has given the trio an immense and diverse catalogue to use and refer to. Their show began with group songs, but half way through the set a single microphone was placed down center stage and the women gathered around this central spot to sing and play as bare and un-plugged and exposed a group of songs as you could find in contemporary singer-songwriter environments. Their vocal power was on full display here as they swooped up and pulled in, with crescendos and whispers in waves. Lyrics for their poetic compositions are often multiple quick syllables, and this is my only disappointment – that the lyrics are often inaudible, like the quick, light and confident moves of a dancer that might fly by without being seen.
From Game To Lose
Tell it to me
Spit it out
If you push me
I'll just get up
Tell it to me
Keep it coming
I'm on the ropes
But I got something
That you can't see
Keep it coming
There's always another corner
Makes me wonder
How much longer is it gonna be before I get where I'm going
Get what I need?
You gotta give to get, you gotta be game to lose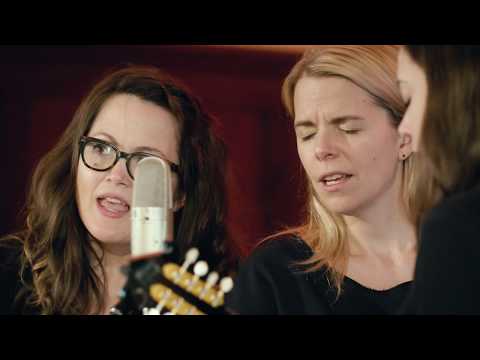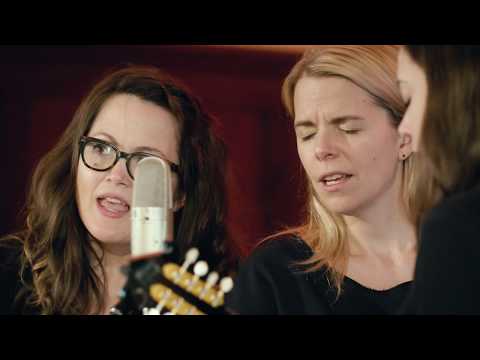 While on the downstage single microphone, each woman was given a chance to shine with songs from their solo albums. O'Donovan offered a song from her album Thursday's Child with backup from Watkins and Jarosz. Jarosz offered her song Still Life from the album Undercurrent. Watkins rocked with her soulful yet girlish sound on The Truth Won't Set Us Free as she thumped her guitar in an unrelenting country/blues rhythm groove. That tune led to a country instrumental, and God Lead Me On – with a rapid gospel blasting call and response.
I'm With Her is poised for major stardom and these three astonishing musicians are on the cusp of an even-bigger career. The combined talents are sonic perfectionists in writing, arranging and performing. What I hope for them is continued delving into the heart of what they've written, as they mature into the stories themselves, and create more accessibility for any audience they might know.
In case you were wondering, I'm With Her had been playing together for eighteen months when Hillary Clinton unwittingly commandeered their band name. "It wasn't the worst thing in the world," said Aoife O'Donovan. "If that campaign slogan had been on the other side, we might have rethought the situation."
Award-winning recording artist and critically-acclaimed folk and Americana powerhouse vocalist, Susie Glaze has been called by BLUEGRASS UNLIMITED "an important voice on the California Bluegrass scene." Her album "Blue Eyed Darlin'" was the winner of the Just Plain Folks 2006 Music Award for Best Roots Album and FolkWorks Magazine's Pick for Best Bluegrass Album of 2005. "One of the most beautiful voices in bluegrass and folk music today." (Roz Larman of FolkScene). The Susie Glaze New Folk Ensemble is the newest version of her ground-breaking Americana Folk Fusion in Southern California. With her legacy Hilonesome Band their recordings have been critically acclaimed by No Depression, FolkWorks, Pop Matters, M Magazine for Musicians, Music News Nashville and FolkWords UK, and their 2015 album "Not That Kind of Girl" was produced by LA acoustic music legend Herb Pedersen. Susie is also part of the new tribute album "Dear Jean - Artists Celebrate Jean Ritchie" alongside such artists as Judy Collins, Pete Seeger, Janis Ian, and many more. Visit www.susieglaze.com