EMMYLOU HARRIS AND THE RED DIRT BOYS
CAP-UCLA American Roots Series Premiere
Royce Hall at UCLA - Thursday, October 4, 2018, 8:00pm
Sweetheart of the Radio
Emmylou Harris and The Red Dirt Boys crashed this bastion of high culture last night and all I could think was, "Who let them in?" There goes the neighborhood.
On the day they hand out the Nobel Prize for Physics and Chemistry they bring this Southern Belle in black boots and jeans and black Levi jacket and black blouse singing songs about the whores on 2nd Avenue, and a couple outlaws named Pancho and Lefty, and quoting some scripture called "Every Grain of Sand" from a pseudo-poet from Hibbing, Minnesota—so far north that Emmylou let it slip he might as well have been from Canada—where all those draft-dodgers fled during the Vietnam War. She allowed that she liked his songs too, and forgot to mention that he fooled the Swedish Academy into awarding him the Nobel Prize for Literature.
The fade away to Bob Dylan's song resulted in the most charming moment of the concert to me: She looked up and smiled, "I remembered all the words! No teleprompter! The day I start to use a teleprompter is the day I retire." Amen!
She also wondered aloud if it hadn't been for him, where would music and language be today? Well, I don't know and I don't care. Milton and Shakespeare would still be here, not to mention Tennyson and William Blake. Well, as Wallace Stevens said, there's no accounting for taste—one likes what one happens to like.
And I like Emmylou Harris—so does the National Recording Academy, who gave her 14 Grammys—and the 2018 Lifetime Achievement Award. Is it any wonder she slipped through the back door of the Country Music Hall of Fame? Johnny Cash is there—Hank Williams is there—George Jones is there—so is Willie Nelson. And with a bigger voice than all of them put together, so is Emmylou Harris: Big voice—and big guitar—a Gibson J-200—a big blonde one. They both looked and sounded gorgeous.
Emmylou comes from Birmingham, Alabama—known for only two things: Martin Luther King's "Letter From the Birmingham Jail;" and the bombing of the 16th Street Baptist Church that killed four black girls on September 16, 1963. Wonder why they would want to remind me of that history. To answer that question, you need to go back sixty three years—to 1955.
Trivial Pursuit, Country Music Edition: How many Country Music Hall of Fame members have written a song about Emmett Till, the black teenager whose murder sparked the civil rights movement and inspired Rosa Parks to refuse to move to the back of the bus in Montgomery, Alabama on December 1, 1955? Spoiler alert: just one, and she is the reason I'm at Royce Hall tonight. Her name is Emmylou Harris and it's not her fourteen Grammy Awards that made me want to attend her concert for the Center for the Art of Performance at UCLA. It's her song for the fourteen year-old boy who was tortured and murdered on August 28, 1955 in Money, Mississippi—one of the many unsolved crimes against black people during the civil rights movement. No one has ever served a single day in prison for his murder. And no one else in the Country Music Hall of Fame has ever written or said a word about it. But Emmylou Harris is not like anyone else in the Country Music Hall of Fame. She is one of a kind, and it's an honor to be here.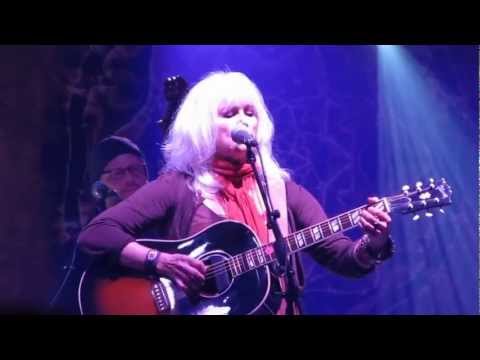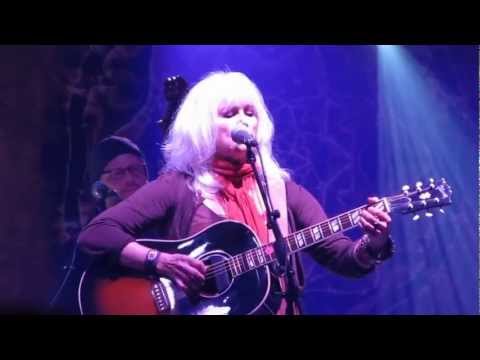 Her birthplace was part of her introduction to her song, My Name Is Emmett Till. Well, there you go Emmylou—no wonder they say you don't fit into Nashville. She plays it like a folk singer—finger-style in drop "D" tuning. And for more than half the song her band lays off—it's just Emmylou and her big Gibson J-200. Then slowly at first, so you just barely hear them, the Red Dirt Boys with Will Kimborough on lead guitar, Phil Maeira on keyboards, Eamon McLaughlin on fiddle, Chris Donohue on standup bass and Bryan Owings on drums, create a somber, beautiful undertow of sound to complement her haunting lyrics:
My Name Is Emmett Till
I was born a black boy
My name is Emmett Till
Walked this earth for 14 years
One night I was killed
For speaking to a woman
Whose skin was white as dough
That's a sin in Mississippi
But how was I to know?
I'd come down from Chicago
To visit with my kin
Up there I was a cheeky kid
I guess I'd always been
But the harm they put upon me
Was too hard for what I'd done
For I was just a black boy
And never hurt no one
And then the heartbreaking, moaning refrain, with echoes from Abel Meeropol's classic anti-lynching song Strange Fruit, sung by Billie Holiday:
Oh oh oh oh oh oh
Oh oh oh oh oh oh…
They say the horror of that night
Is haunting Heaven still
Where I am one more black boy
My name is Emmett Till
If Emmylou is known for "alt-country" this is as alt-as it gets—a lamentation for the inheritance of the South and America's original sin of slavery. Robert Frost once wrote that mediocre poetry comes out of grievances—great poetry is inspired by grief. That's a distinction Harris recognizes, and rises to Frost's bellwether of great poetry. Townes Van Zandt made a similar distinction—and Harris reminded her audience of it last night: "There are two kinds of music—the blues and 'Zip-A-Dee-Doo-Dah.'" Harris is drawn to the former, and that's what makes her a great artist. She did more than quote Van Zandt—she sang his greatest song as her first encore—
Pancho and Lefty
—and if I never hear another performance of it I can be confident I'll remember the best—it was transformative—
All the Federales say
They could have had him any day
They only let him slip away
Out of kindness I suppose.
Emmylou Harris owns the song as far as I'm concerned, and with Burl Ives' passing she also owns his theme song—the hymn The Wayfaring Stranger.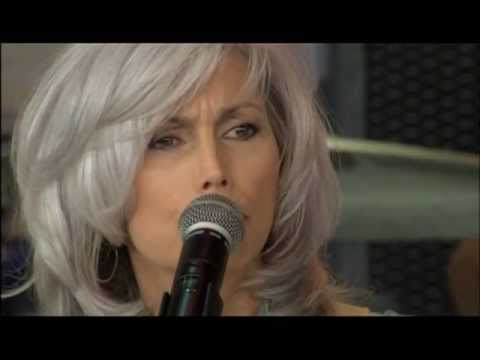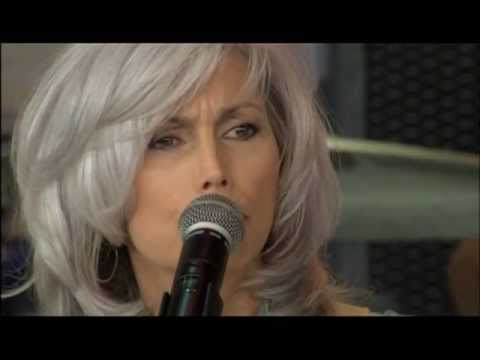 Now we know why Gibson Guitars of Bozeman, Montana filed for bankruptcy earlier this year. They don't sell guitars—they give them away—two big beautiful blonde J-200s to Emmylou Harris for this tour. She introduced them with the same charm and dedication she introduced the band—they were part of it after all. She stopped playing her signature guitar some time back because they were starting to wear on her back—she tried Pilates and playing a "smaller, ordinary guitar," until her strength returned, and is now proud to say, "We're back!" referring to her J-200. Highlighted against her woman-in-black denim outfit it shines like a star.
"Cosmic American Music" Gram Parsons called it—his then revolutionary fusion of country, rock, folk and blues—all of which her great band understands and propels to the forefront depending on which song is at hand, and that's the kind Emmylou plays and sings. Forty-five years after his tragic death from drugs and alcohol—which even his friend Keith Richards knew not to mix—on September 9, 1973 in Joshua Tree National Forest—Emmylou Harris is still singing her tributes to Parsons. She includes all three, From Boulder to Birmingham (her dynamite encore about the Laurel Canyon fire of 1973)—when Parsons died—Michelangelo—her high culture elevation of her singing partner/romantic aspiration for too few years—where she also compares him to Picasso "with a scar across your shoulder"—and her heartbreaking song for him, 1985's "Sweetheart of the Rodeo," evoking the Byrds' landmark album from 1968, when Gram Parsons had joined them and convinced them to record it in Nashville and go all-in country.
From Sweetheart of the Rodeo by Emmylou Harris
Waiting for the sweetheart of the rodeo
They're comin' down from Tonopah to Tupelo
She'll come to town to ride the radio
Like she's slidin' down the walls of Jericho
There goes the sweetheart of the rodeo
I stepped into the light you left behind
I stood there where all the world could see me shine
Oh I was on my way to you to make you mine
But I took the longest road that I could find,…
Then, in "Michelangelo" she asks:
Did you suffer at the end
Would there be no one to remember
Did you banish all the old ghosts
With the terms of surrender
And could you hear me calling out your name
Well I guess that I will never know
Michelangelo
Last night I dreamed about you
I dreamed that you were weeping
And your tears poured down like diamonds
For a love beyond all keeping
And you caught them one by one
In a million silk bandanas that I gave you long ago
Michelangelo
And finally, from her second encore to a nearly packed Royce Hall standing ovation, she sings her final words of the night to the ghost of Gram Parsons:
The last time I felt like this
It was in the wilderness and the canyon was on fire
And I stood on the mountain in the night and I watched it burn
I watched it burn, I watched it burn….
I would walk all the way from Boulder to Birmingham
If I thought I could see, I could see your face.
Well, Emmylou, I would walk all the way from Boulder to Birmingham if I thought I could hear your voice. It made the walls of Royce Hall come tumbling down.
With thanks to Holly Wallace of CAP-UCLA for the press pass, and Nicole Freeman of the Ace Agency, who has taken over her responsibilities, for the aisle seat in the orchestra section—and putting me on the guest list for the pre-concert CAP-UCLA lounge for Donors. Ace Agency is a class act!
Los Angeles folk singer Ross Altman has a PhD in Modern Literature from SUNY-Binghamton; belongs to Local 47 AFM; may be reached at greygoosemusic@aol.com