GARRISON KEILLOR IN CONCERT
CARPENTER CENTER FOR THE PERFORMING ARTS
CAL STATE UNIVERSITY LONG BEACH
MARCH 17, 2018 8:00PM
"JUST PASSING THROUGH"
How do I love St. Patrick's Day? Let me count the ways: there are no fewer than twenty-three ways to get yourself drunk to oblivion on March 17th on FolkWorks Music Calendar—and enjoy some music at the same time. And yet…here am I at the Carpenter Center for the Performing Arts at Cal State Long Beach to see a disgraced sober Norwegian Lutheran storyteller and former host of A Prairie Home Companion—Garrison Keillor in a show he calls "Just Passing Through." What brings me here? Well, I'm a sucker for a good story~ and Garrison Keillor has been telling good stories for 42 years on his show—from 1974 until 2016—the longest-running radio program in history.
You heard me right, and yet that's not why I'm here; I'm here to see if he has anything to say about the events which made him the story—and put him in the unwanted spotlight last November with other disgraced media personalities like Harvey Weinstein, Charlie Rose and Matt Lauer. Does he? Without skipping a beat he dives right into it, and lets us know how difficult the whole episode was to endure—without dwelling on the misfortune so much as the silver lining: "The truth is until you have been subjected to this kind of ordeal you don't know who your friends are." And he swiftly follows that with "I found out I have five friends~ and that's all you need."
Fortunately one of them is his wife—to whom he has been married for twenty-five years. He describes how they met—and fell in love—after a three-hour conversation during which they realized they would be talking to each other for the rest of their lives. They met in New York and when they found themselves downtown at 104th and Riverside Drive she suddenly pointed up at an apartment building. At first he didn't know why: "Gershwin lived there for a while—that's where he wrote Funny Face." That's when he started paying attention to everything she said.
What makes his stories unique is that they are not quite entirely true, nor are they entirely fiction—Garrison Keillor's stories are often fictions that grow out of narrative details that are as down-to-earth as any of your neighbor's. And yet, somehow they begin to spin out of control—until you suddenly realize that you are in an imaginative universe of his own creation—the same one that created "Lake Wobegone" out of the entirely real Minnesota town where he was born 75 years ago—Anoka.
That's the place he came back to in the second hour of the show—which went from the announced start-time of 8:00pm to 9:45pm without an intermission—just one man standing on stage and occasionally sitting on the stool with a handheld microphone. He is dressed in a Mark Twain-like just off-white suit, red tie above and red socks below. In short, he's a character, and without a guitar or harmonica or banjo or any other props than his voice, which has such musicality it performs as an instrument, he grabs your interest and doesn't let go. You feel like you are at a concert, not a talk or lecture, but rather an extended conversation, interspersed with an on-going flow of laughter—our part in it.
Before the conversation begins, however, reminiscent of his radio program he begins and ends the performance with songs—without the "Guys All-Star Shoe Band"—just his unaccompanied comforting baritone voice. Oddly enough, like Taylor Mac from two nights ago, he opens with "Amazing Grace," but without any reinterpretation, just the familiar unadorned hymn, sung to the most popular tune, New Britain:
When we've been here 10,000 years
Bright shining like the sun
We're no less days to sing God's praise
Than when we first begun.
And from Amazing Grace he segues into Christopher Marlowe's 17th Century poem, Come Live With Me and Be My Love, half-spoken and half sung, and from there into My Country 'tis of Thee, and then he responds to Saint Patrick Day in the air with a beautiful medley of When Irish Eyes Are Smiling, An Irish Lullaby, My Wild Irish Rose and finally, Danny Boy. Only then does he pause and whisper into the microphone, "Welcome the Carpenter Performing Arts Center in Long Beach." The audience says hello too, with a wild round of applause to let him know how happy they are to see him.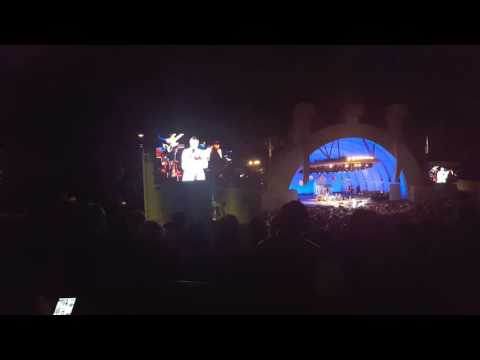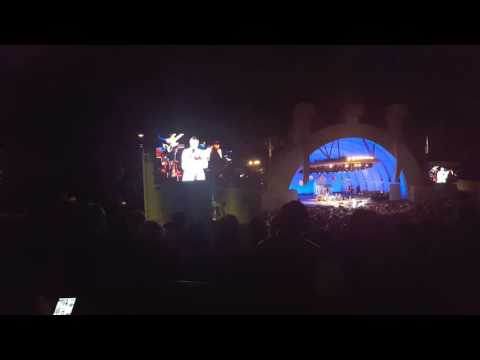 That's when I am reminded of Keillor's second great contribution to American letters, and why he was elected into the exclusive Academy of American Arts and Letters—for almost as long as he did his weekly radio program he conducted a daily one-man English Department on radio, The Writer's Almanac—filled with examples of great literature and anecdotes from writers' lives. That too was a wonderful show, and led him to open a book store in St. Paul, Minnesota, Common Good Books. It's typical of Garrison Keillor that he would call them "Good Books," rather than "Great Books," like English lyric poet Robert Graves preferring "good poets"~ "above the great how far"~ to great ones.
In addition to featuring both stories and poems on his radio shows, another thing that set A Prairie Home Companion apart from anything else on national radio was his championing of folk music. I have a hard time thinking of a folk singer who was not a musical guest on his show from time to time, like John Prine, Arlo Guthrie, Robin and Linda Williams, Iris Dement and Greg Brown, or one of his favorite guests, guitar legend Chet Atkins. Many of them I heard for the first time on his show—and only afterwards would notice they were coming to McCabe's. Now I am waiting for even one of them to have a good word to say about their host and discoverer Keillor. My mind draws a blank.
Had not Cal State Long Beach's Carpenter Performing Arts Center booked him before last November, when Minnesota Public Radio unceremoniously fired him after he had already retired, it is not at all clear whether this show would have taken place. That is the main reason I shelled out $75 and drove down to Long Beach to see him—I thought this may well be my last opportunity—even though before the public fall from grace occurred he was accustomed to performing at venues like The Greek Theatre. I am so glad I did.
For Garrison Keillor, like all great writers, created a world unto himself that reaches out to the common humanity we all share—like the "Common Good Books" he celebrates. He created "Guy Noir," private detective, neurotic cowboys "Dusty and Lefty," and Ruth Harrison, erotic Reference Librarian—a treasure trove of unlikely characters and heroes. Every time his mother called you knew you were in for a treat—the world's only Norwegian Lutheran clinging Jewish Mother—all of them as funny as anyone on the classic radio shows of the pre-TV 1940s. Like many if not most of you, I am sure, I listened to it every week on Saturday, and then made a point of hearing the reprise performance on Sunday, just to enjoy an encore of my favorite bits and songs.
And that's the real reason I am here in Long Beach, to repay him just a token of appreciation for the decades of great entertainment he presented through more than four decades. It's not going to be free anymore~ to hear Garrison Keillor, if you are lucky enough to be able to, you will have to buy a ticket. I am here to tell you, it's worth more than the price of admission. He let us know that he came by his storytelling gift honestly—from his grandmother—and to some extent from his aunts—from the women in his life. They were the characters he transformed and fictionalized into the stories he shared as "The News from Lake Wobegone, where all the women are strong, all the men are good-looking and all the children are above average."
He says that he spent a good part of his life trying to get away from there—the small town of Anoka, where he was born, but now toward the end of his life he finds himself wanting to do what Thomas Wolfe said cannot be done~ to go home again. He takes you out to the local cemetery, where his ancestors are all buried, and starts to wander amongst their tombstones, in a fond Proustian Remembrance of Things Past, telling you about a favorite uncle whose chief claim to fame was in having committed to memory all 87 counties in Minnesota. He charms you with the near absurdity of his uncle having done it, when just as you accept how absurd it would have been to want to do it, Keillor of a sudden transmogrifies himself onstage into his long-departed uncle, and recites from memory every single one of them—in a progressively faster rate of speed as the audience hangs on every word. It's an amazing feat of verbal prestidigitation.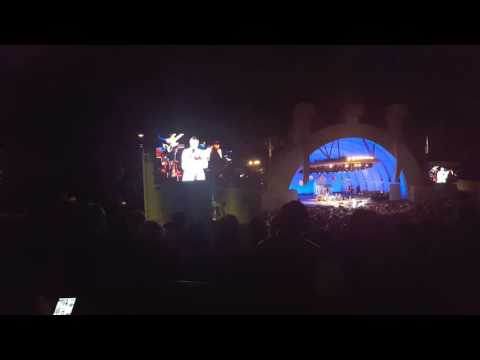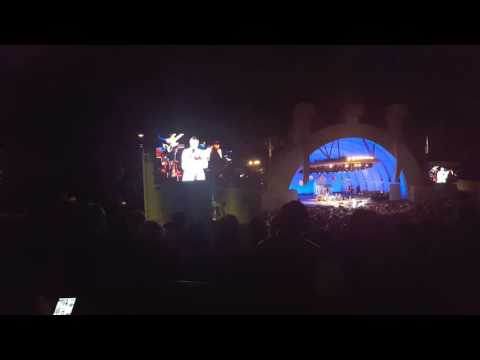 A dozen off-color limericks later, Garrison Keillor is not yet done. For as he catches his breath he walks back up to the front of the stage and offers to sing one more song. The songs are his framing device—they hold the show together. And at the end he turns to Elvis's romantic Can't Help Falling In Love, the whole song all the way to:
Shall I stay? Would it be a sin
If I can't help/Falling in love with you.
From there he embraces the audience with Louisiana's post-Huey Long Governor Jimmie Davis, who wrote You Are My Sunshine for Gene Autry. This is the song that paid for "The Sunshine Bridge" with the governor's songwriting royalties. Then he highlights Leonard Cohen's masterpiece, Hallelujah, and looking forward to Easter he invites the entire audience to sing "Amen, Amen, Amen, Amen." And from there he reaches back to Julia Ward Howe's Battle Hymn of the Republic,
Glory, Glory Hallelujah, his truth is marching on!
Only then does he for the first time since the show began return the microphone to the mic stand. And as the wildly enthusiastic standing ovation endures for his exit stage left until he finally returns for a curtain call, he leans into the mic one last time to signal the end, "Our duty to carry on~ thank you!" And that's the News from Lake Wobegone!
Ross Altman has a PhD in Modern Literature from SUNY-Binghamton; he belongs to Local 47 (AFM); Ross may be reached at greygoosemusic@aol.com