Susie Glaze New Folk Ensemble
An Americana Folk Fusion
Beckman Institute Auditorium at CalTech, Pasadena
Saturday Night November 11, 2017
Presented by The Pasadena Folk Music Society
I admit that I am a sucker for a menu of acoustic music splashed with Celtic seasoning. Especially when it's served up by artists with impeccable voices and musicians who care more about the song they are playing than what the couple in the second row thinks of their guitar licks or their hairdos. So when FolkWorks asked me to review the Susie Glaze New Folk Ensemble concert at the Caltech Beckman Institute Auditorium, it was a no-brainer for me.
Celtic modalities have a way of evoking a choke of anguished pleasure and Susie Glaze's pure soprano delivers a blade that can wound your heart with each note she sings. Then she can rescue you with a carefree air, sometimes even intentionally downright hokey. The show at The Beckman moved from mood to mood - Celtic undercurrent spicing the mix of traditional and contemporary story songs, ballads and plain fun in just enough proportion to keep the evening fresh start to finish. From the heart searing Jean Ritchie West Virginia Mine Disaster delivered acapella by Susie to the mirthful Albuquerque, a western swing romp, the evening unfolded like a well scripted play.
The instrumental and background vocal arrangements were carefully orchestrated – mostly by Steve Rankin, Susie's husband ("…and road manager and best friend…" – Susie). This is an important separation from most folk/bluegrass/country groups and should be noted. Everything played served the intent of the song. Instruments came in and out by design. Not enough can be said about this. The effect is subtle and engaging when done right.
I can't remember seeing a better, more satisfying show this year. The concert setting at the Beckman Institute Auditorium at CalTech bears mentioning. A lecture hall/classroom dressed in warm paneling - comfortable seats rising in a semicircle from the 'stage' area in front where it was easy to visualize a professor and a lectern. A green chalk-board covered the wall behind the five performers. The evening's set list was scribbled on it in white chalk. Perfect. Kudos to the Pasadena Folk Music Society, its directors, volunteers and supporters for providing such a warm and welcoming environment to enjoy an evening of superb music.
The Players:
Susie Glaze - guitar and lead vocals
Rob Carlson on guitar is a master of understatement, his Martin dreadnaught's muted clarity reaching forward to comment on a lyric, then pulling back to join the ensemble. (Rob was a long-time member of Susie's original group The Hilonesome Band. He left in 2016 and was invited back for this concert. He was and still is a major contributor of their music). When Rob left, the group rebranded themselves as The Susie Glaze New Folk Ensemble.
Susie: "…we were not making 'bluegrassers' happy with our complex story lines and weird chords…[The Susie Glaze New Folk Ensemble]…reflected a move away from bluegrass and towards a wider tent of folk and Americana influences…"
Fred Sanders on bass at times stood silently while Susie framed the story. Then a sudden fist in the stomach from a low bass string or a rumbling tear of the bow across the strings to plunge you headlong into the drama and to remind you that you are witnessing a movie being played out in words and music.
Mark Indictor - fiddle - a flawless string section soaring when needed, chopping a backbeat when needed, cackling like a blackbird on a fence outside when that is needed but always making the lyric more visual, never getting in the way. Mark's fiddle solo on White Swan, the closing number, lifted our little theater at least three feet off the ground by my reckoning as Mark strode up and down the aisle stoking the great musical engine that was lifting us all from reality.
And finally Steve Rankin…mandolin mostly (also a collection of guitars). Steve's playing was always what was needed - percussion - horns and the flutes - etc. As the principal arranger for the group Steve played whatever 'orchestral' part was needed with the joy an arranger feels when the little dots on the paper come to life. When the show needed a bit of comedy relief, Steve was there. Bad jokes don't count when the music is great. Steve is engaging. Who cares if the jokes sound like he got them from a friend he owed a favor to? He's a good guy and the jokes just proved it and allowed us all to relax with the knowledge that these folks we were watching were human.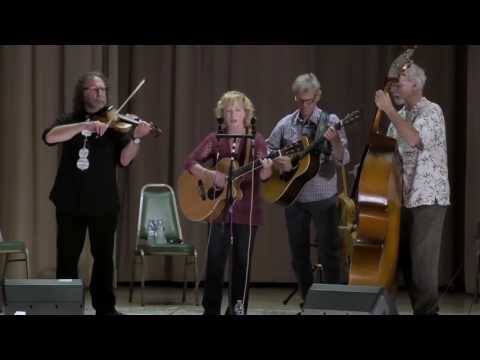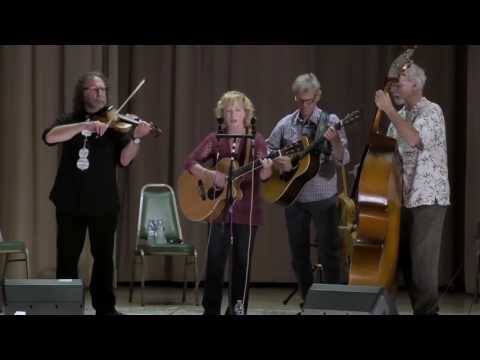 Everyone lent a hand on background vocals and each had their own solo spot during the show
The set list with a few comments – can't give the whole thing away, can I?
Millworker (James Taylor, composer)
Not That Kind of Girl (Rob Carlson) – from Susie Glaze & The Hilonesome Band's last album
Evangeline (Ernest Troost) – Ernest is a local So. Cal. Singer-Songwriter whose work suits a singer like Susie Glaze to a T. Dramatic, musical, pictorial. I would love to see and hear future collaborations between these two.
Harlan County Boys (Ernest Troost)
Millionaire (David Olney) – Steve Rankin step out…hysterical with a bite.
Heartland (Denise Hagen)
That's How I Learned to Sing the Blues (H Hipkens) – Performed by bassist Fred Sanders. Fred introduced the song in Spanish – why? Beats me. I guess just for the heck of it. That may tell you a bit about his personality that at times reminded me of the iconic Lou Gottlieb of the Limelighters. The skillfully arranged blues number, delivered half poker-face, half vaudevillian… spice.
Dog (Dr. John) – The Dr. John classic performed by violinist Mark Indictor tongue-in-cheek with the violin commenting like a truculent parrot on his shoulder and orchestrated like a 1930s-'40s Max Steiner movie score. Hysterical.
No Telling (L. Thompson) – One of the high points in drama. A gorgeous ballad of life, love, and a burning soul sung by Susie while the band painted the background for us.
Blue Eyed Darlin (R. Carlson)- A Susie Glaze standard
Albuquerque (R. Carlson) – Another (see above)
Intermission – Coffee, tea, water, and too many cookie varieties to mention.
Independence (R. Carlson) – A tasteful guitar solo played by Carlson demonstrating that the guy can play some hot guitar after all.
The Soldier/One I Love (Jean Ritchie)
West Virginia Mine Disaster (Jean Ritchie) – An acapella tour de force for Ritchie, now for Susie.
Home on The Hill (Daniel Jenkins)
Take Me Along (Fred Sanders) – Funny and sweet. Again, performed by Fred
River Road (R. Carlson) – about the St. Francis Dam disaster of 1928
Mississippi It's Time (Steve Earle) – A rare and powerful song by Earle that resonated with the crowd. It was most likely the only current 'message' song delivered at the concert. Tastefully placed in the show and powerfully performed by Steve Rankin leading the charge.
Do You Have This in Blue (Glenn Houston & Laura Zucker) – A modern day classic blues torch song that was an audience favorite. (Susie, you must record this one and keep the incredible violin playing by Mark I. in it!)
The Last to Leave (Ernest Troost) – Possibly one of the best and most tender melodies from Troost
White Swan (R. Carlton) – Power unleashed ending in a fiddle solo that raised the roof.
Who Will Watch the Home Place (Kate Long) – Encore – What better choice is there to end an evening like this?
There you have it. Susie Glaze will be around for quite a while and that's a lucky thing for anyone in Southern California who loves good music with its roots back there in the hearts of real people. To me everything Susie has done and is doing points to an evolution that is unfolding. We will be hearing much more from her and her newly broadened horizons should be as exciting for her fans as they will be for her as she discovers and explores. Stay tuned…
The review ends here. I had occasion to question Susie about the show and her vision going forward. The following are Susie's words.
---
'The Caltech show was a milestone for this performing ensemble for a few reasons. The first was that it marked a reunion with the inspiration for the formation of the original Hilonesome Band in 2003: Rob Carlson, our composer. Since his departure in summer of 2016 the quartet had been performing and adapting our work for the new formation, and had grown a lot through that process. It was interesting and enjoyable to have Rob back with us. The second reason was because I realized just how far we had come in only one year. Our growth and evolution was on display for me on Saturday night. Oftentimes when adversity hits the Universe is telling you it's time to evolve, to become stronger and clearer, and that big change last year certainly did that for me. I'm so confident and happy with our quartet that I look forward to where we can all go. We also performed recently as a trio, with Steve and Mark and I making a very nice traveling unit, with plenty of great playing and music to offer. After so long playing together, we have material enough to fill up many presentations.
In the coming months my focus will now be on Jean Ritchie tribute projects. My own work will revolve around a book concept I have in mind, featuring the articles I've written for FolkWorks in my column "Singing the Moon Up." I want to use those articles as a basis for presenting my friendship with my friend and inspiration, to champion her immense lifetime of artistic achievement and importance in the world of American music. I also want to develop a lecture/demonstration, much like one I presented at USC/Thornton School with Professor Ken Lopez, this time featuring my book project. There's also a short tour planned for the East coast in April with Dan Schatz (producer of "Dear Jean"), Jon Pickow (Ritchie son), and Kenny Kosek (famous NYC side man on fiddle). I'm excited about that trip and making music with these wonderful players who have become my brothers in song.
I feel a strong personal and artistic pull in the direction of my dear Jean. I feel passionately about the importance of preserving her legacy and making it more known around the world. I can even dream of taking her songs back to England, Ireland and Scotland, where the old songs originally sprang. Now wouldn't that be a dream come true?'
It is likely that most of you reading this newsletter are familiar with Susie Glaze, but for the record her information can be found online.
Art Podell was one half of the iconic Greenwich Village duo Art and Paul before moving to L.A. in 1961. An original member of the New Christy Minstrels, Art wrote songs for many of the artists of the day. He continues to perform and write and he rotates as a host of KPFK's Roots Music and Beyond.