Lampedusa Concert for Refugees:
Joan Baez, Steve Earle, Dave Mathews, Lucinda Williams
Patty Griffin, Brandi Carlyle, and The Mastersons
At the Wiltern Theatre - October 10, 2017; 8:00pm
Voyage of the Damned
A roomful of acoustic guitars and their hearts in the right place~ if music could change the world this concert would have saved the 366 Eritrean refugees who perished at sea before they could reach Lampedusa—an eight-square mile island off the coast of Sicily on October 3, 2013. That was the occasion for this earnest and impassioned benefit concert for the UN refugee program organized by the Jesuit Loyola Marymount University where I did my show with two Freedom Riders last month. Lampedusa has a welcoming embrace for refugees—which is why they were sailing towards it instead of the coast of Italy—which has an immigration program as right wing and hostile towards them as the current occupant of the White House. Lampedusa has become a symbol very much in keeping with the Statue of Liberty's pedestal poem by Emma Lazarus:
Give me your tired, your poor,
your huddled masses,
yearning to breathe free.
Steve Earle mentioned the island's name near the end of the concert, without going into details of the boating tragedy and lost lives. Nonetheless, arrayed across the stage from left to right Dave Matthews, Patty Griffin, Steve Earle, Lucinda Williams, Joan Baez Brandi Carlyle and the Mastersons—guitarist Chris Masterson and violinist Eleanor Whitmore all projected the sense that they were there for a good cause, and a wide range of liberal heart-tugging, original songs pleased the audience immensely for two hours.
The song that most closely spoke to the purpose of the concert not surprisingly was Joan Baez's first song by Woody Guthrie, with music by Marty Hoffman, Plane Wreck at Los Gatos—or Deportees. She introduced it with a hilarious anecdote about a friend of hers who was wearing a brand new T-shirt that said, "Make America Mexico Again." Woody spoke for everyone in the theatre in siding with the deportees who died in that tragic plane crash—their names unknown until just a few years back when an LA Times reporter dug them out of history's dustbin and saw that they were finally buried with dignity and a proper tombstone that said who they were and how and when they died. It was Woody's song that inspired their quest—having kept their story alive for sixty years, and the first of a dozen songs that were worth the price of admission and overcame its one sour note.
The note that surely did not belong in the concert was Steve Earle's new protest song—blaming the victims of the Northern California wildfires that have now claimed 31 lives, more than double the number of 12 that had been killed when Earle was singing about them, including a number of homeless people who share the territory with the wealthy homeowners. Earle commented that "they have no business building homes in this fire-prone land,"—to a resoundingly sympathetic round of applause from the audience. I could hardly believe what I was hearing—they were so tone deaf to what was happening up north in Napa Valley by both singer and audience. I had all I could do to restrain myself from shouting out after the applause, "None of them have as much money as you do, Mr. Earle." It was unseemly and disgraceful. Was this the same songwriter who wrote Jerusalem and Christmas in Washington? He should stop writing and start listening.
But Earle redeemed himself towards the middle of the concert with a comment I jotted down with approval, and a song. He left Nashville—where he recorded his first album, Guitar Town—a few years ago and moved to New York City. He said, "I wanted to be in a city where I could look out and see a mixed-race same-sex couple." Beautiful, and followed by his wonderful new song City of Immigrants, paying tribute to the amazing variety of the human family. It caught the spirit of the Concert for Refugees to a T.
In the same communal spirit was Brandi Carlyle's new song for her wife, to celebrate the love that only a few short years ago "dare not speak its name," to quote Oscar Wilde, who went to prison in London for being a homosexual who refused to be silent about it. His prison stay inspired his greatest poem, The Ballad of Reading Gaol. Carlyle's song won the hearts of everyone in the audience, and her bravery in being a well-known country singer who came out of the closet without apology was lost on no one. Bravo!
And the fifth song I found especially moving was Lucinda Williams count-your-blessings anthem, Blessed, which I was grateful to hear since I had to miss her recent concert at Pepperdine and opening set as well at Tom Petty's fateful last appearance at the Hollywood Bowl. The middle verse captures the idea and momentum of the song:
"Blessed"
We were blessed by the mother
Who gave up the child
We were blessed by the soldier
Who gave up his life
We were blessed by the teacher
Who didn't have a degree
We were blessed by the prisoner
Who knew how to be free
We were blessed
Yeah, we were blessed.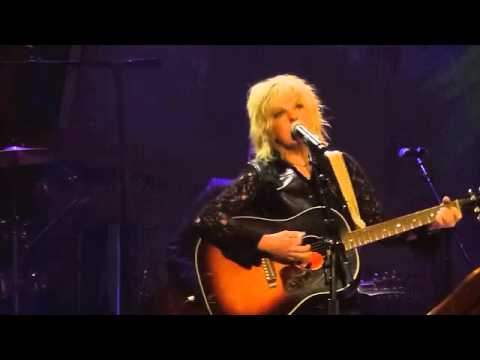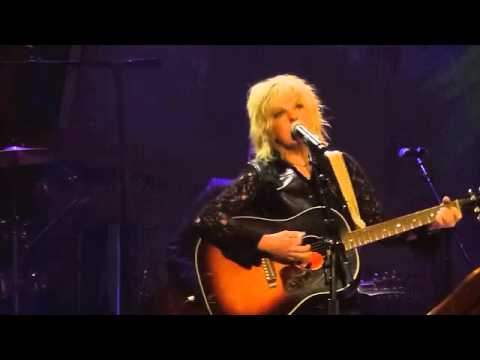 When Williams ended the song Joan Baez sitting next to her let out an exclamation of approval that spoke for the whole audience. It made me realize anew how powerful a song can be, and how powerful in general folk music is. The refugee boat people in whose honor we were there tonight inspired both performers and audience to a sense of gratitude for their bravery and determination—for they died trying to escape a military dictatorship that symbolizes the very kind of oppression folk music has always stood tall in opposition to. Woody's famous guitar sign, "This Machine Kills Fascists" spoke for them all, even if their boat never made it to Lampedusa—like the SS St. Louis in 1939 that carried 937 Jewish refugees from Germany never made it to America's shores either—or rather were turned back when they did. Like the SS St. Louis their journey of hope became "The Voyage of the Damned." The struggle is what counts. Sometimes it's all we have to remember.
Lucinda Williams' next song, though, ended on what radio pioneer Norman Corwin once called a note of triumph: We've Come Too Far to Turn Around. She paid tribute to all the activists who devote lifetimes to trying to change the world for the better, on behalf of the invisible people like the honored refugees in whose name they were singing. This was a "private event," not a regularly scheduled Wiltern public concert, so it wasn't as widely publicized as it might have been, and yet the theatre was almost full, and I got the least expensive $45 ticket at the door. Every organization (such as FolkWorks) represented in the audience did their own publicity and showed up to raise money for the cause—not just to see the all-star lineup. Lucinda Williams and the other artists on stage were singing to inspire us in our work—to continue in the struggle—in spite of the Brave New World we now find ourselves in.
The special appearance by guest star Dave Matthews (without his band) turned out to be a welcome departure from the earnest sincerity of most of the other songs—a hilarious highlight and comic relief ode to the "12-Bar Blues"—as in all the watering holes he has encountered in various cities where he performs—from downtown L.A. to NYC. It filled the hall with laughter and kept the evening from becoming overly solemn—a perfect antidote. The most memorable line of the song, though, was not a line he wrote, or that even belonged to the fellow artist he attributed it to—Kris Kristofferson. Kristofferson used it as an album title, which is why he was mistakenly credited with it. But he borrowed it too, from the author—America's Cowboy—the Duke, John Wayne.
And it summed up the infectious fight back spirit of the whole evening as well as one line could, so I pass it on to you now for your own future struggles—wherever they may be—on what Bob Dylan once called, Paths of Victory.
To wit, via Dave Matthews, via Kris Kristofferson, a few closing words from the Duke: "Don't let the bastards get you down." And, dear Reader, here's one more from the Duke, one that keeps me going when I'm ready to quit: "Courage is when you're scared to death and saddle up anyway."
Earle's 1999 closing song Pilgrim was a kind of modern day Wayfaring Stranger. Folk music is filled with many such songs, including Woody Guthrie's I Ain't Got No Home, and the one song of his I most missed tonight, Dust Bowl Refugee. Merle Travis wrote a similar song, I Am a Pilgrim, so Steve Earle was walking in a long line of troubadours when he sang,
"Pilgrim"
I am just a pilgrim on this road, boys
This ain't never been my home
Sometimes the road was rocky 'long the way, boys
But I was never travelin' alone
We'll meet again on some bright highway
Songs to sing and tales to tell
But I am just a pilgrim on this road, boys
Until I see you fare thee well
Ain't no need to cry for me, boys
Somewhere down the road you'll understand
'Cause I expect to touch his hand, boys
Put a word in for you if I can
~ Steve Earle (from Mountain, 1999)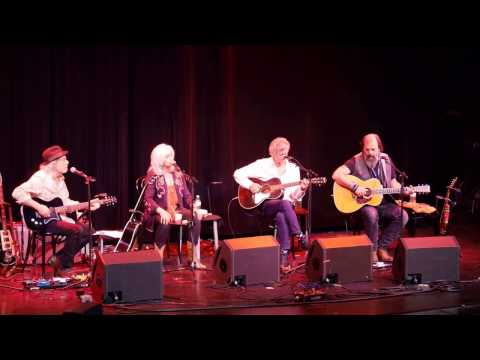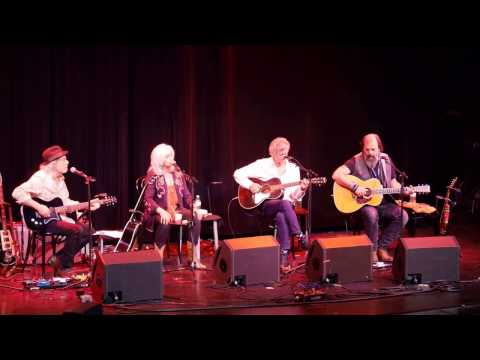 Halfway through the song my ears perked up—I suddenly heard Eleanor Whitmore's glorious violin playing harmony from the last chair on the stage, and she raised the sense of beauty to a resplendent level—the perfect note to end on.
But I came to hear Joan Baez, whose presence made this series of benefit concerts possible, and joined the most enthusiastic standing ovation of the night for her brand new anti-Trump song Nasty Man, which she confided was the only new song she has written in twenty-five years. It was worth waiting for, and stole the show. She put everything she had into it—a wonderful complement to her T-shirt emblazoned saying last year at Disney Hall, where she strolled out on-stage proudly announcing—in response to Trump's insult to Hillary in the final debate—she too was a "Nasty Woman!"
Joan will soon be going to France on tour, so it may be a while before she returns to L.A. for a full concert. Don't miss her! Even on a stage full of stars, she stands out with every song and story. The singers alongside her were every bit as much her fans as the theatre audience out front. And she didn't do "Diamonds and Rust," so we have something special to look forward to in 2018.
The eight-city Lampedusa: Concerts for Refugees began in Seattle and concludes in Dallas this weekend October 15, 2017.
Daniel Pearl's birthday (October 10, 1963)
The Wall Street Journal reporter was brutally murdered at the hands of terrorists in Pakistan, February 1, 2002. This essay is dedicated to his blessed memory, and to Daniel Pearl World Music Days. He was a violinist and old-time fiddler as well as a writer, and left his book of collected articles, At Home in the World. I wanted to observe his birthday listening to music that touched on his theme of Harmony for Humanity. Thank you, all.
Ross Altman will appear at Beyond Baroque Saturday, December 16 at 8:00pm for his CD release of The Man With the Blue Guitar; 681 Venice Blvd; http://www.beyondbaroque.org ; See his November/December column for background.
Ross Altman has a PhD in Modern Literature from SUNY-Binghamton; he belongs to Local 47 (AFM); Ross may be reached at greygoosemusic@aol.com