JONATHAN EDWARDS
In Concert at McCabe's - Friday, June 9, 2017
The Honky-Tonk Stardust Cowboy Rides Into McCabe's
If you still think protest songs have to be angry, bitter, and one-dimensional, you haven't met Minnesota-born folk singer-songwriter Jonathan Edwards. The original Honky Tonk Stardust Cowboy rode into McCabe's Guitar Shop on Friday night, and set the place on fire. "One man standing up there all alone with a guitar and harmonica—you gotta appreciate that," said my friend Ellen Sway as we walked out—and we both certainly did. It was like watching an episode of the Lone Ranger—except our hero—who saved the town in two hours—wore no mask. He was utterly self-effacing and transparent throughout.
"Let the honky-tonk stardust cowboy sing to you," (written by Darrell Statler) he sang way back in 1972, and here he is 45 years later still out there touring nonstop, and coming back to McCabe's for the first time since before computers made their way into our lives. Concert Director Lincoln Meyerson opened with his usual choice few words and mentioned that to discover when he was last there they had to go beyond their digital files—when the analog recordings I treasure from Edwards early catalog were made. He now lives in Portland, Maine—and traveled out with a light load—he didn't even bring his Martin guitar with the most beautiful brocaded fret-board I have seen.
He told us that the words "McCabe's Guitar Shop" kept playing over in his mind, and he figured they would probably have a suitable guitar for him to play—and did they ever—one that cost north of $6,000. Lincoln confided to him that he had "good taste in guitars." We were lucky to see him on "the first day of his California Tour;" then he paused just long enough to let the words sink in before adding, "The last day of my California Tour is tomorrow." Like all the other humorous asides in his show he didn't try to sugarcoat how difficult it is for a folk singer to make a living these days—but presented it all with a wry wit." He left the States way back in 1973 and like many another draft dodger moved to Canada, where he learned how to be an organic gardener—something he practices to this day, when he is not practicing his guitar and harmonica. The war wouldn't end for another two years—and while other protest folk singers were writing more hard-edged diatribes against the war—such as Neil Young's Ohio—Edwards brought a gentler sensibility to his craft, and while still living in Cambridge crafted his first big hit—the reflective antiwar song Sunshine. It graced his debut eponymous 1970 album Jonathan Edwards. How beautiful to hear it once again, especially in the wake of the recent presidential election: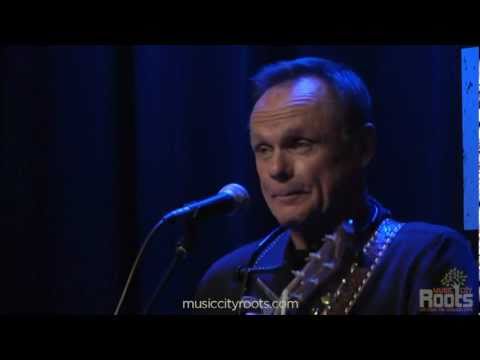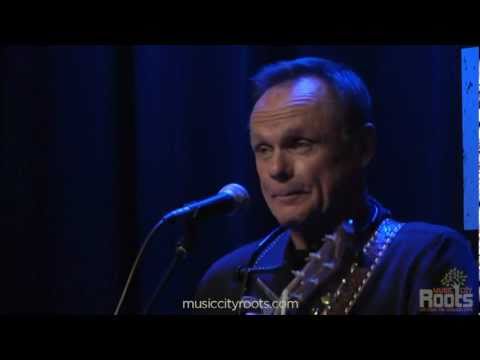 Sunshine, go away today, I don't feel much like dancing
Some man's come he's trying to run my life, don't know what he's asking
Working starts to make me wonder where fruits of what I do are going
When he says in love and war all is fair, he's got cards he ain't showing
How much does it cost?
I'll buy it!
The time is all we've lost--I'll try it!
He can't even run his own life,
I'll be damned if he'll run mine--sunshine
Sunshine, come on back another day,
I promise you I'll be singing
This old world, she's gonna turn around,
brand new bells will be ringing.
But Edwards did not dwell on political themes; for the most part his songs address universal themes of family, home, love and occasional otherworldly inspirations as well—traveling back and forth between his own songs and traditional works, plus other songwriters' classics, such as Dave Loggins' Please Come to Boston, which Jonathan Edwards sings with the conviction and passion of almost having written it himself. It was moving, tender and sublime—a conversational song that recounts a turning point in the lives of two lovers who must face the demands of a musician's life on the road—and the woman who proclaims herself to be "the number one fan of my man in Tennessee." (Edwards changes that one word in the refrain—"the man" becomes "my man" to great effect.) Then he pays homage to the author by adding that he wished he had written it.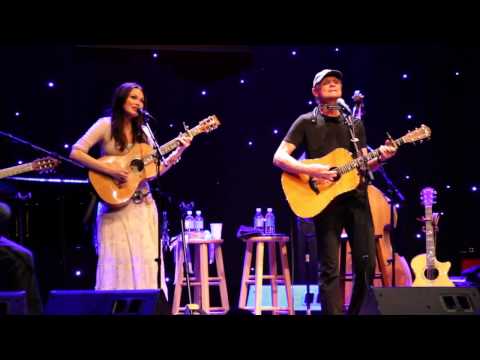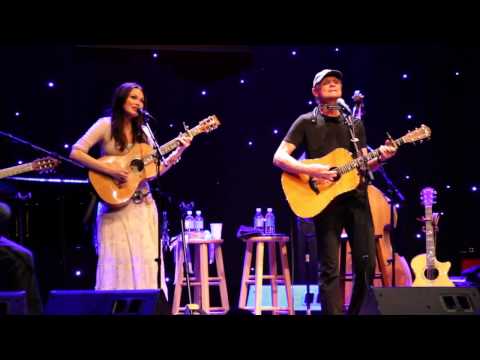 In an age when almost no well-known singer-songwriter sings anything but their own songs, how refreshing it is to hear someone who is happy to embody and represent the best works of their contemporaries and forebears as well—to embrace the message of Gil Turner's classic song Carry It On, and actually present them as a part of the great tradition they wish to pass on to the next generation. But that indeed is how Edwards sees himself. He had a new CD out in the lobby called Jonathan Edwards Top 40 Songs, (newly mastered from live performances) one of 18 CDs available on his web site with a great cover displaying an old-fashioned jukebox and the song titles in front. Except these are not the songs one would ordinarily see on a jukebox—he did a gorgeous version of a song he "first heard Pete Seeger sing," and then he paused for a beautiful spoken tribute to Pete, before presenting a song that none of all the recent tributes to Pete (since his death three years ago) had time or the insight to include—a lovely ballad written by his friend and late Weavers colleague Lee Hays' sister Fran Moseley, with music by Hays—Seven Daffodils. It is so beautiful you had a hard time holding back tears—and not the kind of song most associated with Pete. For me it was the highlight of Edwards show—a song I first heard from the Limelighters' co-founder and gifted tenor folk singer Glenn Yarbrough, who passed away just last year at 86.
I do not have a mansion
I haven't any land
Not even a paper dollar to crinkle in my hand
But I can show you morning on a thousand hills
And kiss you and give you seven daffodils.
To hear Edwards sing it was nothing short of revelatory—a demonstration that he has long since transcended his folk pop roots and taken on the mantle of a true folk singer—who is committed to being a tradition-bearer, not just a singer-songwriter. One might call his great show Touchstones: The Evolution of a Folk Singer. He ranged far and wide to find these touchstones, and included a lesser-known country song from the recently departed and still the greatest voice in country music—George Jones—a song he wrote called Choices. Here Jonathan Edwards tied his choice of Jones' song to last November's election, and gave the evocative title added resonance by framing it within the political choices represented therein. The song takes on a political dimension by describing in excruciating detail the bad choices one has made—in which (not surprisingly for George Jones) alcohol played a part. The twinkle in Edwards' eye as he descended imaginatively speaking into something approaching alcoholic madness made the song speak to larger concerns than it represented to George Jones original intent. And yet he also meant the song as a tribute to Jones' extraordinary and instantly recognizable country voice—and recapture it Edwards did—with every aching nuance of heartbreak and existential despair. It was a masterful performance.
These are difficult songs to do justice to, and a testament to Jonathan Edwards' depth as a performing and recording artist that he can fully express their different kinds of emotional power. He began this journey into modern folk music with a finely woven medley of spirituals that derived from "Keep Your Hands on the Plow," now more associated with the civil rights anthem Keep Your Eyes On the Prize. It was a perfect way of opening the show in that it was based in a group of traditional songs that have stood the test of time going back to the Civil War.
It also gave him the opportunity to present an unexpected and much-appreciated lesson in music—by demonstrating the differing emotional timbre of just two related guitar chords—what he called "the sad 'E'" and 'the happy 'E'." The first is E minor, and the second E major. Only one small note separates them, and yet they are worlds apart in terms of their emotional drive; which Edwards explained with both humor and clarity on his guitar—with examples to be sure we understood. It was unlike any concert performance I have seen, and it didn't even sound like he had rehearsed or planned it. The songs he was singing simply suggested the idea to him, and he went with it—as if indeed he was suddenly realizing an epiphany about some quality of music for the first time. It was wonderful—a memorable guitar lesson from a master. And what better place to experience it—he seemed to imply—than at McCabe's Guitar Shop?
It was in connection with this spoken departure from his set that Jonathan Edwards mentioned that he could go on—but he was in a 12-Step program, called "On and on and on…" that brought down the house. He subsequently added that the albums "are $20, but the jokes are free." He is a delightful performer—seamlessly transitioning from song to story and anecdote. Having never seen him live before, I enjoyed every moment of his musical storytelling performance.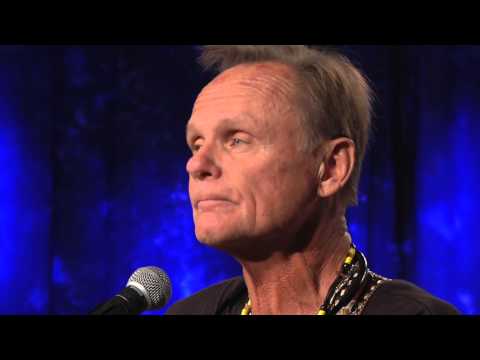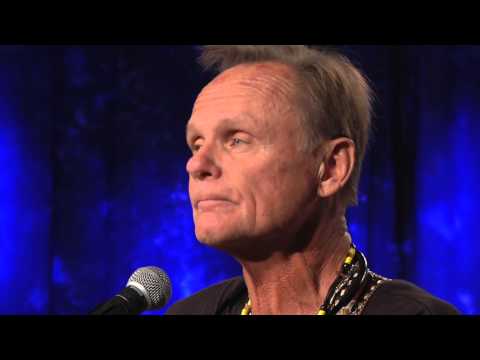 He did the title song from his "most recent—let's hope it's not my last album," called Tomorrow's Child." It's a hymn to the unrealized future in which he still has faith—in the symbol of the title. He rhymes "forever wild" as exemplar of the effort to preserve Thoreau's ideal of wilderness with his more personal love for "tomorrow's child." It presented a note of hope and optimism to counter-balance some of the more cutting edge darker hued songs along the way. These days a little hope goes a long way.
Ellen's favorite songs were performed from her long memory of his early albums—one of which she actually helped bring into being—Rockin' Chair from 1974. She was working at his record company at the time—Reprise Records—and put together the contract with a glamorous crew of fellow musicians, including Byron Berline on fiddle, Herb Pederson on banjo and Emmylou Harris on harmony vocals. Ellen also produced the listening party for Edwards and his once-in-a-lifetime band to appreciate their efforts once it was ready to release. She was hoping to hear a bluegrass song she referred to as "the shortest song I know, with the ironic title, How Long? He did a splendid job recreating its high voltage intensity, with a companion piece, Hearts Overflowing, written by Mike Brewer, of Brewer and Shipley. Ellen was thrilled to hear them again.
But the music—as great as it was—did not overshadow the heart-on-his-sleeve honesty of his quietly moving personal story, as when he spoke of having been an adopted child, and only finding his birth mother at the age of 40. Then he introduced his own daughter who he revealed was also adopted by him and his wife Sandy at the age of 22—years not months. Her name was Grace—one of his "three amazing daughters"—and she joined him on stage for the performance of a song he wrote for his other baby girl—Little Hands. "They now belong to a baby—soon to be a lady." It was exquisitely beautiful.
Jonathan Edwards is an outstanding musician, romantic songwriter, acoustic guitarist and blues harmonica player. He plays both flat-pick and finger-style guitar, and blues harmonica with extraordinary facility—especially on his showpiece closing song—an early hit—called Shanty. This song in celebration of some not-quite-legal forays into smoking a well-known natural herb he introduced with a hilarious catalog of states where it is now legal, including California. It is punctuated by a rollicking chorus that calls for laying around "the shanty and getting a buzz on." You could get high just listening to Edwards' song—it was that intoxicating. A standing ovation from the sold-out house brought him back for an encore. And with that, The Honky-Tonk Stardust Cowboy (from another of my old Edwards' favorites) rode off into the sunset. It was an unforgettable evening of story and song, performed by an American original. I am happy to report that Edwards is still alive and picking—and the next time you see his name in FolkWorks calendar be sure to get tickets and get to McCabe's on time. Real folk singers are increasingly hard to find—and with so many of them having passed away in the last few years, we must rejoice in those who remain and—as Jonathan Edwards does—with skill, humor, grace and love—"Carry It On." He's 70 years old, and we need him now more than ever. Even with a borrowed guitar, and 3,000 miles away from home, he makes you feel right at home, and like you've known him all your life. Bravo!
With thanks to Ellen Sway for taking me to his concert.
Check out Jonathan Edwards website for more info.
Los Angeles folk singer Ross Altman has a PhD in Modern Literature and is a member of Local 47 (AFM). Ross may be reached at greygoosemusic@aol.com