Joan Baez: Nasty Woman!
Disney Hall - November 5, 2016, 8:00pm
Joan Baez wore her politics on her T-shirt as she walked out on the stage of Disney Hall to a standing ovation before she even picked up her Martin OO-45 in front of the microphone. The audience was roaring at the proud irony of her black T-shirt—emblazoned with the words Nasty Woman in front—turning Donald Trump's putdown of Hillary Clinton in the third debate on its head—and wearing it as a banner. Her quixotic humor brought her long history of feminism back home to Disney's beautiful music hall last Saturday night. Then she picked up that 50 year-old guitar—which I was lucky enough to see up close once during the summer of 2006 when Ms. Baez turned up at South Central Farm and put her guitar once more into the struggle for poor families' right to eat their own home-grown food—before they got evicted from the urban homestead they had farmed for 14 years—since the LA Riots of 1992. Joan has always had her guitar out in front of people's struggles for a better world and taking a stand for justice.
Tonight her concert was a benefit for the Innocence Project—to which she has devoted this entire North American Tour—the effort on the part of a group of lawyers to intervene on behalf of unjustly imprisoned mostly black convicts when they are able to secure original DNA evidence to establish their factual innocence. Every once in a while a case of theirs will show up on 60 Minutes—as it did a couple of months ago when a man who had been behind bars for 30 years for a rape he didn't commit was finally freed. Joan talked to one of these prisoners and asked him how he had sustained his hope all this time; "my spiritual dedication," he answered her, "and the knowledge that I was innocent." I'm trying to recall the last time a folk concert gave a few minutes of stage time to raising awareness of one of the most egregious miscarriages of justice we have committed in "the land of the free and the home of the brave," but my mind draws a blank. That is why Joan Baez, who turned 75 last January 10, is a national treasure; she talks the talk and walks the walk. The songs she sings speak of justice and freedom, but she does so much more than sing on their behalf. She puts her money where her mouth is.
Her audience has grown up with her, and no doubt includes many members who are committed social activists like her. One man I overheard as I was taking the escalator to the 4th floor at the beginning told his companion that he first heard her when she 15—still a high school student. Joan sang a song she said she learned in 1959—"when I was still a virgin." The song was Silver Dagger, from her first Vanguard album, and she introduced it by saying the girl in the song must also have been a virgin—whose virginity was being protected in the song by her mother, who slept by her side with a silver dagger to keep prospective suitors away. Such charming personal asides that make each song a chapter of her own life story are what give her concerts so much warmth and grace.
She opened the show with a tribute to her longest-lasting influence—Bob Dylan—whose Love Is Just a Four-Letter Word made a perfect introduction to her saying that November was "Bob Dylan Appreciation Month," a quiet but meaningful reference to the Nobel Prize in Literature he was just awarded by the Swedish Nobel Committee. Then her charming wit took over and she added (in reference to the two weeks it took him to acknowledge the award) that "his manners sometime suck, but he sure does write great songs." She did a number of them tonight: It's All Over Now, Baby Blue, Don't Think Twice (with which she ended the concert in a comic imitation of Dylan's ragged voice that aroused a standing ovation), and most meaningfully to me, his antiwar classic With God On His Side—the song they sang as a duet at the 1963 Newport Folk Festival. Over fifty years old this song is, and it might have been written yesterday—the best example I know of timely and timeless. It brought down the house—including a wrenching "Bravo" from high in the balcony. Joan Baez sings songs that matter—that mattered yesterday, and will continue to matter tomorrow. She plays guitar—almost always finger-style—so well that you never tire of hearing them; she is truly a six-string orchestra.
Although tonight she had the benefit of being accompanied by a band she dubbed "The Bad Hombres," another upstaging of the third presidential debate, where Trump took another swipe at Mexican immigrants with that dismissive insult. These "Bad Hombres" included her son Gabriel—whose father was Joan's one-time husband draft resistor Stanford Student Body President David Harris, who served several years in prison for refusing induction and service in Vietnam on the grounds that it was an immoral war. When he was finally released he and Joan went on a national speaking/singing tour to raise awareness about the antiwar movement. That was in the early 1970s; and the man who put his name on that whole misguided venture—Secretary of Defense Robert McNamara—and was singularly responsible for the deaths of over 58,000 American soldiers and 3 million Vietnamese peasants and farmers, has since apologized for pursuing the costliest unjust war in American history, in a book-length tortured memoir that was too little and far too late. You can feel in your bones Joan's pride in their son, for whom she wrote two of her most beautiful songs, Honest Lullaby and simply Gabe.
He is a wonderful percussionist who gives her music its sturdy foundation and rhythmic jauntiness. But in the first encore she gave him a chance to really shine—playing an extraordinary drum solo during her tribute to Pete Seeger, with the song the Weavers would typically start their shows with—the Appalachian banjo hoe-down and clogging song Darling Cory. It was fabulous, especially as it was anchored by multi-instrumental accompanist and Nashville veteran Dirk Powell—who switched without missing a beat from old-timey claw-hammer banjo in this song to mandolin, piano, guitar, fiddle, bass and concertina throughout the show—with an amazing versatility and virtuosity on a stage full of instruments. He had a brilliant ability to add just the right all-acoustic musical texture to her songs without overwhelming either her stellar and elegant guitar accompaniment or still-splendid voice; "Bad Hombres" indeed.
But it was the self-described "Nasty Woman" I came to see, and after fifty-six years at the center of the folk music stage (and the Time Magazine Cover folk singer of 1963 who introduced a young Dylan to a national audience) she is still the torch-bearer she was then—an artist whose life and art are almost indistinguishable. One of the most moving anecdotes she had to tell was of her father Albert Baez—who was born in Mexico and came over the border as an eight-year old (one of the so-called "anchor babies" who have now become little more than a presidential debate punch line for a candidate who pledges to send them all back to Mexico). Well Joan has a story to tell about this particular Mexican immigrant, and it didn't take long but it challenged those who think that immigrants take more from us than they have to give. Joan's father became a well-known physicist who forty years later co-invented the x-ray microscope—a medical diagnostic tool that has saved thousands of lives, and all because—Joan was able to say with a single expressive shrug—it never occurred to Truman or Eisenhower to build a wall to keep him out or deport him once he was here.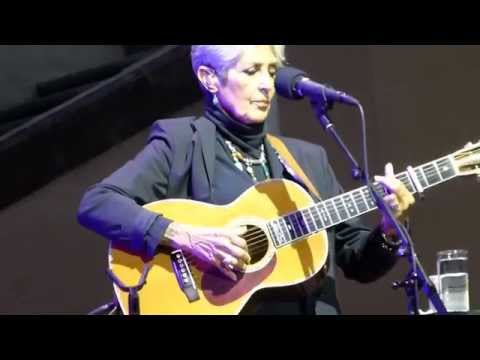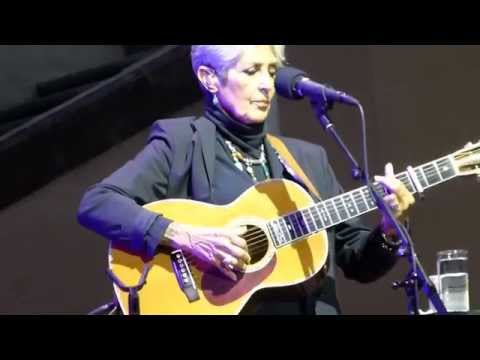 Her father also gave us—with his wife Joan Sr., who just passed away last year.—Joan Baez. It was for him and generations like him that Woody Guthrie wrote the song Joan put at the very center of her thoughtful and radiant program tonight—Deportee or Plane Wreck at Los Gatos—which he wrote in 1948, when Joan herself was just eight years old. She dedicated it to the "immigrants and refugees" that we read about everyday now, on whom Woody's song puts a human face.
Some of us are illegal
And others not wanted
Our work contracts out
And we have to move on
Six hundred miles to that Mexican border
They chase us like rustlers
Like outlaws like thieves.
Joan sings it not like an old favorite, but like the urgent battle cry for justice it remains. Wow! This amazing song written at a time when Mexican-Americans were skewered with the old insult "wetback" or "Bracero," has lost none of its power to raise the hackles on the back of one's neck, which is how Emily Dickinson defined poetry. A good part of its power derives from its gorgeous melody, written not by Guthrie—who was quite indifferent to the tunes to which he set his prolific lyrics, usually freely adapting a traditional tune to allow him to sing it—but by graduate student Martin Hoffman, who raised the working-class level of a Guthrie lament to high art. Joan sings it with passion and empathy that reveals her strong identification with the source. That's what makes her a folk singer in the great sense of James Joyce's Portrait of the Artist as a Young Man, "to sing the uncreated conscience of my race." The power and beauty of Joan's voice, guitar and lifetime commitment to social justice brings the whole human race into that construct.
Both Joan and Dylan turned 75 this year—how lucky we are to still have them in our midst, reminding us by their sheer presence of a better world to be made and remade in their image and of those who in turn inspired them—like Woody Guthrie and Pete Seeger (and Joan made a point of mentioning—Marian Anderson and Paul Robeson). One cannot easily lose faith in a country that somehow by the grace of God created two such exemplary artists to aspire to.
Her final encore, in disregard of many in the audience who shouted out her best-known hit The Band's The Night They Drove Old Dixie Down—was the African-American spiritual Swing Low Sweet Chariot. She sang it with such depth of feeling, and some wonderful flourishes of her impeccable finger-style guitar playing, that it brought the whole audience along with her—even the high balcony seats behind her for whom she would regularly turn around and wave to let them know they were just as important as those in front of her. It was utterly unaffected and charming. At the end she kept extending the song's conceit from "coming for to carry me home," to "carry you home," to "carry us home," then finally, after a long pregnant pause, "and even Donald Trump." Her compassionate sense of humanity is too all-embracing to leave anyone out—even someone with whom she may profoundly disagree. Her lovely closing thought reminded me of the great American poem by Edwin Markham I learned from my Indian Professor of Political Science where I earned my PhD in Modern Literature—Rhagavan Iyer—who wrote the definitive biography of Mahatma Gandhi. His lectures were dense and lucid at the same time, but what I everlastingly took away from his magnificent course was the Markham poem with which he summed up his teaching; it's called Outwitted.
He drew a circle that shut me out
Heretic, rebel, a thing to flout
But love and I had the wit to win
We drew a circle that took him in.
That is the essence of Joan Baez; and she reminded me of it tonight. Our greatest folk singer is a spiritual guide and teacher of the rarest heart and soul; one who can come into your darkest doubts with a light that continues to shine—for anyone with eyes to see and ears to hear. Disney Hall has hosted some great music—they are the home of the LA Philharmonic—but this evening devoted as they put it in their beautiful brochure—to the Songbook Series—is as good as music can be; and Joan Baez is why concert halls this beautiful were made. And on Eugene Debs' birthday (Nov 5, 1855) she sang Joe Hill!
One of the songs she sang tonight she learned from a lonely, depressed female prisoner she met when Joan herself was jailed for an antiwar protest, blocking the Oakland Induction Center. From an Oakland jail to The March on Washington to an opulent Los Angeles symphony hall—Joan Baez has sung in every imaginable setting—the voice of a century in an on-going quest for human rights around the world. The song she sang was not an unknown folk song—it was the pop song "Do Right Woman, Do Right Man," but Joan Baez didn't learn it from Aretha Franklin; she learned it from a woman prisoner who had been beaten and abused. And accordingly, Joan sang it for all the women—known and unknown—who have had similar experiences—and whose life stories she elevates and redeems. All their tears resonate from that newly-minted political T-shirt that may now be seen from the highest balcony seat before and behind her—a momentary interrupting insult transmogrified into a symbol of resistance: "Nasty Woman."
Joan Baez is my hero. Her lone guitar is worth an entire symphony orchestra. And that's all she needed to sing Diamonds and Rust, her classic love song to Bob Dylan—which she winsomely ended by saying, "And if you're offering me diamonds and rust," instead of "I've already paid," now with a gleam in her eye, "I'll take the diamonds."
Ross Altman hosts "Literary Bob: A Celebration of Dylan's Nobel Prize" Sunday evening December 11, 7:30pm at Beyond Baroque Literary Arts Center, 861 Venice Blvd.; Venice, CA. 310-822-3006 ; $10 with special guests Carolyn Hester, Lisa Finnie, Michael Simmons, Renee Safier and Andy Hill.
Los Angeles folk singer and Local 47 member Ross Altman has a PhD in Modern Literature from SUNY-Binghamton; Ross may be reached at greygoosemusic@aol.com