TOGETHER AGAIN - THE TIME JUMPERS IN CONCERT
The Smothers Theatre, Pepperdine University, Malibu, CA - September 30, 2016
The Magnificent Seven ride into Southern California Friday evening, and in place of Denzel Washington, or before him Yul Brynner, they bring 20-time Grammy Winner Vince Gill. He doesn't pack a gun, but a Gibson and a Fender Telecaster, and a gang of great Nashville studio musicians ready to take on Eli Wallach's gang of bandits and defend a vision of America that has been increasingly hard to see these past couple of years. In the face of corruption, greed, injustice, drone missile attacks, vulgarity high and low, ethnic prejudice, police brutality, and Tennessee Williams' "lies and mendacity," they bring the beauty of Western Swing, jazz, cowboy classics, blues, three fiddles, an upright bass, a double arm pedal steel, an accordion and keyboards—and for the coup de gras "Ranger Doug" Green, who once rode with Riders In the Sky, a thrilling yodeler who laid the enemy of boredom and depression low. It was a showdown the likes of which I haven't seen since Steve McQueen, Charles Bronson and James Coburn faced down the bandits and saved the little town of Mexican farmers and their families—the Magnificent Seven indeed. The audience's tumultuous standing ovation says thank you!
OK, it wasn't quite the Magnificent Seven; it was The Time Jumpers; and these Nashville funslingers were actually ten, not seven; but they were all terrific and put on quite a show. Casual as a front porch jam, with no western costumes—just one or two cowboy hats among them—a baseball cap here and there, and Vince Gill with a blue denim shirt hanging out of his jeans; they would have been booed right off the Grand Ol' Opry stage.
But without all the trappings of a big-time country band they have the chops of the best in the business—everyone of them is a major studio musician—the ones who make Nashville sound like country music—and they have a superstar sitting up front behind the off-center mic who has more Grammys than Paul McCartney and Tony Bennett and as many as Beyonce and Henry Mancini and—hold on to your Stratocaster—Bruce Springsteen. In fact he has more Grammys than anyone else in country music—20. That would be Vince Gill—the gold standard of country singers and guitarists. What makes him so special in my eyes is his steadfast avoidance of the superstar role his recording and performing achievements would entitle him to. He takes it all with a grain of salt—and blends right in with the group of fellow musicians on stage as if they had just been rehearsing in their garage. They play every Monday night at a local Nashville club, 3rd and Lindsey. After ten years somebody in the group got a little ambition (certainly not Gill) and said, "Let's get a bus and take this show on the road." Next stop: Malibu.
And for two hours they play Western Swing reminiscent of Bob Wills and his Texas Playboys—and throw in other related forms of country music—Sons of the Pioneers' songs and Will Rogers humor by "Ranger Doug" Green, with his "cautionary tales from the wild side of life," wonderful accordion and keyboard accompaniment by Jeff Taylor, great pedal steel guitar by Paul Franklin, upright bass by Brad Albin, fiddlers Kenny Sears, Joe Spivey and Larry Franklin, guitarist Andy Reiss and the strong and steady beat that holds it all together, drummer Billy Thomas. From one end of the stage to the other they pass the baton back and forth, each taking their turn in the spotlight.
And yet they all know why they are there—because of that unassuming guy in the middle—like Reggie Jackson, the straw that stirs the drink—Vince Gill. Every time he takes the lead he offers a master class in singing and guitarmanship. He is a moving tenor vocalist who touches the deepest emotions a song can reach—from Merle Haggard to the Bakersfield (title of their 2013 album) sound of Buck Owens with Together Again to Vince Gill himself. As one scrolls through his amazing catalogue of Grammys one sees they are divided roughly equally between singing and guitar playing. What is so illuminating about them both is his ability to achieve what Irish poet W.B. Yeats once described as a line you have worked over a hundred times to make it seem like a moment's thought casually tossed away. Nothing is ever forced or magnified in its sense of self-importance. That is Gill's peculiar genius—his performing always takes a back seat to the song he is serving. Every time he comes to the refrain "We're together again" in Owens' classic song of being reunited with the one you love it seems like it's heading for some kind of culmination. Lesser singers would have brought it up to that fever pitch—and then had nowhere to go but down. Gill brings it just up to before the raised note—and then steps back to an understated resolution. It's so much more powerful than giving in to the temptation to show off what your voice can do. Gill lets the song shine forth.
At the same time, with three great fiddlers who can take center stage at a moment's notice, they all sit this song out until the last five notes—helping to sustain the less is more understated feel of Buck Owens' tender ode to reconciliation. Steel guitarist Paul Franklin takes Tom Brumley's solo from Buck Owens' Buckaroos original 1964 recording ("one of the finest steel guitar solos in the history of country music" according to the CMA, and the solo that inspired Jerry Garcia to learn the instrument). After that they provide a celebratory closing, in support of Gill, finally reaching that high note he has been hinting at throughout the song. It's a breathtaking climax.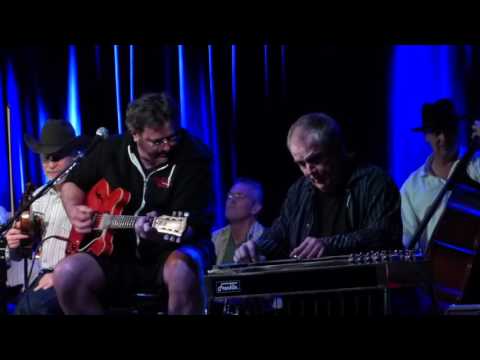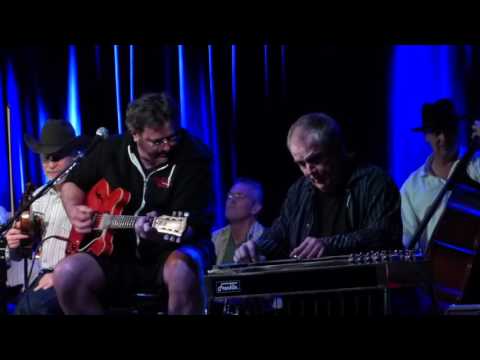 But it ain't over till the fat lady sings; and for that I am fortunate to hear Vince Gill perform Merle Haggard's heartbreaking song about his daughter Angie's birthday—Holding Things Together—to the mother who left him whom the late great singer-songwriter enshrined in a tale about a dedicated father whose birthday present he signed by saying "Love from Mama," so Angie would think her mother sent it; true love indeed.
Vince Gill also demonstrates how to play guitar in ways you will never hear at McCabe's or the Coffee Gallery or Boulevard Music—where champion finger-style guitarists hold forth, each one faster and more impressive than the one who came before—with the most complicated runs and dynamic multi-finger-picking to make your eyes pop out of your head and wonder how they did that. Vince Gill can do that too—and I'm sure he once did, but like Mike Seeger once advised his brother Pete when he was asked, "How do you play Old Joe Clark?" "Pete, when I started to learn this song I used five chords; after a few years I refined it down to four; then three; then two; now I play it with just one chord—"G" is all you really need." And that's how Pete played it from then on.
Vince Gill is that kind of guitarist—he has distilled all his arrangements down to their essentials; when he wants to play fast he can and does; but his truly distinctive guitar playing illustrates how you can create the most wonderful effects with a few sterling notes. As the evening goes on he reaches down to that magical level of simplicity and shows you what a truly great finger-style guitarist can accomplish with the right note in the right place. This is the blues song he stops your heart with—his version of Corrina, Corrina, for whom he named his daughter, first recorded in 1938 by the King of Western Swing fiddler Bob Wills and the Texas Playboys—on his Fender Telecaster with an understated blues arrangement that is deceptively simple—until you stop listening with your eyes—which would not be impressed—and start listening with your ears—which are taken to the depths of the blues experience, straight out of the Delta. It's an amazing journey that leaves you with nothing but gratitude for this modern master of the guitar—and the secrets he has unearthed from six strings and its shiny deep-grained wood.
I am enjoying the show with recording engineer Scott Fraser, who is the sound engineer for America's premiere classical quartet—Kronos—who will be performing their memorial of World War 1—1914-1918—tonight at Royce Hall. Scott has mixed their shows at Carnegie Hall and top venues around the world. He was nominated for a Grammy for an album they recorded for Nonesuch. He is not easily impressed, but he was grinning from ear to ear for The Time Jumpers concert. Any ensemble that can please Scott has to be good. Scott tells me a story about Dylan from his early days in Greenwich Village, circa 1962. A friend suggests that "Bobby" go uptown to a jazz club where jazz pianist Thelonius Monk is playing. After his show Dylan goes up to introduce himself and says, "Hi, I'm Bob Dylan and I play folk music down in the Village." "Son," replies Monk, "We all play folk music."
In the past I have taken Scott to see Bob Dylan and Paul Simon and now The Time Jumpers. It was a long time between shows—but they all perform at an equal level of excellence. Pepperdine is a class act; and music doesn't get any better than Vince Gill
Later on in the show—after an encore of his own Faint of Heart ("Love ain't for the faint of heart; love's for you and me") the Time Jumpers leave you with the perfect encore—All That's Left for You to Do is Leave sung to the lover in the song and the audience: Art and Life—together again. Is it, "folk?" Who am I to disagree with Thelonius Monk?
With many thanks to Chelsea Sutton of the Lisa Smith Wengler Center for the Arts at Pepperdine University for press passes to all of their folk concerts this past week.
For information on upcoming shows contact arts.pepperdine.edu@PepperdineCFA
---
Saturday October 29 at 2:00pm at the Allendale Branch Library, 1130 S. Marengo Ave. Pasadena, CA 91106 Ross Altman performs his show Ten Songs That Shook the World, originally presented at the Autry Museum of Western Heritage in 1999. 626-744-7260 .
Los Angeles folk singer Ross Altman has a PhD in Modern Literature from the State University of New York at Binghamton; Ross may be reached at greygoosemusic@aol.com