HELLO IN THERE: JOHN PRINE
With Jason Isbell And Amanda Shires
At The Greek Theatre, May 13, 2016
The fact that John Prine is not the permanent Poet Laureate of these United States from which he sprang is a crime upon natural justice that must be remedied and I hereby will begin a petition to place him there, along with a solid place in all the music halls of fame that can be found. He is also not a household name, except for those of us who revere his work beyond measure and consider it sacred territory along with other giant poet troubadours such as Hank Williams and Bob Dylan. I invite any of you reading this article to get his music, early or late, and listen and read, to understand what he's given to country folk singer-songwriter music and us in his grateful listening audience for this, an amazing and brilliant 40 + year career.
I was lucky enough recently to see John Prine at the end of April in concert at North Carolina's great Merlefest music festival, when my band and I played there. My husband Steve Rankin and I found ourselves sitting in the gallery seats which are on stage and enjoyed the show just a few feet from Prine and his fine band. For an additional thrill, I looked to my left and realized I was sitting next to Peter Rowan, another great in the country music world, and that he and I were both weeping to watch this giant perform his classic works.
The concert at the Greek theatre on May 13 was a revelation in many ways: seeing Prine, now 69, is itself a transcendental experience, as your mind's eye flashes back to the early 1970s as his gift was being sprung on the world. He was joined in this concert by "opening" act Jason Isbell along with Isbell's wife, fiddler Amanda Shires. I put quotes around "opening" for a few reasons: first, their set was long enough to count as a double-bill situation, which was fine for the audience, as they enthusiastically embraced Isbell's music. The second reason is that the successful trajectory of Isbell's current career is such that he could easily be headlining the Greek theatre, and at many times in their fine set you felt as though they could and should (and will soon) be headlining there. But there was a good reason that they were there to open: John Prine. In many respects, their music is a carry-on and homage to Prine's: sensitive subjects set in lyrical original songs with plenty of rough edges.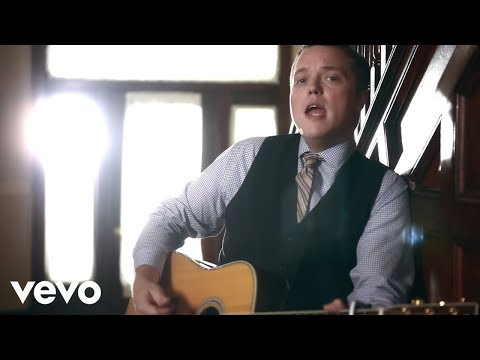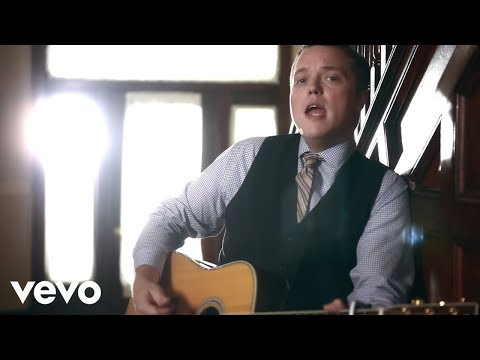 The sun hadn't quite set when Isbell and Shires hit the stage with guitar, fiddle and voices only in a well-orchestrated duet. Shires' fiddle was a perfect accompaniment to Isbell's powerful and intricate guitar work. But what stood out mostly for this duet, was the power and beauty in Isbell's fine, clear and rich tenor voice, passionately telling the stories of love and loss in his songs. The audience at the Greek cheered for many songs as they began, evincing a large and eager following for his work. Many songs sounded directly Prine-influenced, in word and melody, especially his Tired of Traveling Alone. What is most obvious in Isbell's songwriting that feels like Prine's is to find poetic heartbreak, country style, in a singer-songwriter, Americana, rough-around-the-edges set of circumstances. Described as Americana, alternative country, classic country and Southern Rock, Isbell sprang out of the Alabama music scene and his membership in the band Drive By Truckers. His songs were romantic memory pieces filled with regret and melancholy, and his wife accompanying him on soulful fiddle created a lovely and loving picture and sound. Powerful guitar work augmented and made a fully orchestral duet work satisfyingly. They received a standing ovation as the stage was re-set for the next section.
The lights came up on the great John Prine as he began his 17-song set (plus encore) that included all the greats that you pray he will perform. The Glory of True Love got things going on an upbeat note, with a great band of four: Jason Wilbur on lead guitar and harmonica, Pat McLaughlin on mandolin and electric guitar and Dave Jakes on a solid upright and electric bass.
This was followed by his Long Monday, and I have to write that it's difficult to resist the temptation to quote Prine on every song, as his words are superb and evocative:
You and me
Sittin' in the back my memory
Like a honey bee
Buzzin' 'round a glass of sweet Chablis
Radio's on
Windows rolled up
And my mind's rolled down
Headlights shining
Like silver moons
Rollin' on the ground.
Next up was the rocking Takin' a Walk, then favorite Please Don't Bury Me, which is one of the greatest in his songs of whimsical and hilarious word-play, this one a take on dealing with death in a practical sense, all set to a rollicking, Austin-flavored shuffle:
Please don't bury me
Down in that cold, cold ground
No, I'd rather have 'em cut me up
And pass me all around
Throw my brain in a hurricane
And the blind can have my eyes
And the deaf can take both of my ears
If they don't mind the size.
Prine is able, in writing and in performing, to make what seem to be sudden switches from a silly place like this right into something hard. But when you think about it, that's where life is: the silly, the sacred, the rough and immortal, living side-by-side in natural juxtaposition. He proves this with the next song 6 O'Clock News.
Wanda had a baby in nineteen fifty one
The father was a stranger and a stranger was the son
Call that child James Lewis, call these rooms a home
Changing all them diapers, polish all that chrome
C'mon baby, spend the night with me.
Sneaking in the closet and through the diary
Now, don't you know all he saw was all there was to see
The whole town saw Jimmy on the six o'clock news
His brains were on the sidewalk and blood was on his shoes
C'mon baby, spend the night with me.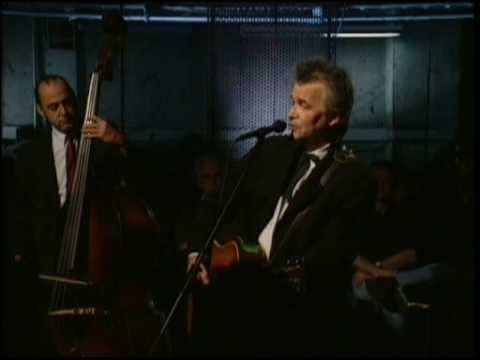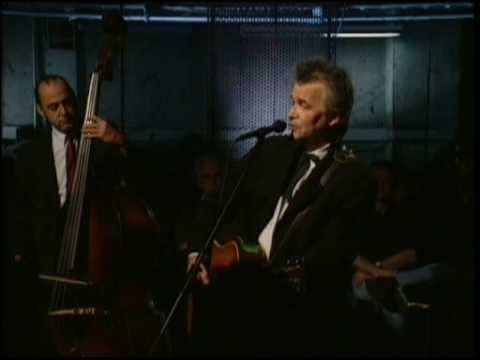 Prine continued in this vein for his old colleague Steve Goodman's, song Souvenirs and his own family-inspired piece Grandpa Was a Carpenter. He spoke briefly about spending time with his grandparents growing up and how his grandfather would always wear a three-piece suit to dinner every night, no matter the day or occasion. He said he, John, had always aspired from a young age: "what I wanted to be when I grew up was an old person….Congratulations!" Then he began his most exquisite composition, and why I believe his work will go down through the ages, because of the song Hello In There.
Ya' know that old trees just grow stronger
And old rivers grow wilder every day
Old people just grow lonesome
Waiting for someone to say, "Hello in there, hello."
To his credit, Prine knows that a song of this epic nature needed no more band than his sole guitar, but he did sneak in a bowed bass that was an exquisite and perfect addition for the sense of age and gravity.
Prine and mandolin player John McLaughlin's song You're Daddy's Little Pumpkin followed to bring the tempo up, a blues-rock-inspired tune with great slide guitar riffs.
Prine's classic Angel From Montgomery was next (a song that is covered with religious regularity by one Bonnie Raitt), followed by The Great Compromise performed without band. This led to the return of Jason Isbell and Amanda Shires as Prine hosted them graciously, performing several tunes as a trio. Shires sang two duets with Prine, In Spite of Ourselves and on his song Unwed Fathers. Isabel joined next for a great trio on Storm Windows.
Prine was alone again for a performance of his song Sam Stone, the devastating story of a returning war veteran - a song that has been covered by many artists over the years and with good reason:
Sam Stone came home,
To the wife and family
After serving in the conflict overseas.
And the time that he served,
Had shattered all his nerves,
And left a little shrapnel in his knees.
But the morhpine eased the pain,
And the grass grew round his brain,
And gave him all the confidence he lacked,
With a purple heart and a monkey on his back.
There's a hole in daddy's arm where all the money goes,
Jesus Christ died for nothin I suppose.
Little pitchers have big ears,
Don't stop to count the years,
Sweet songs never last too long on broken radios…
The whole band was back on stage for the rollicking Bear Creek Blues and ended the show with his brilliant Lake Marie which most resembles a Bob Dylan style, especially because of the long spoken-word storytelling. After a long, loud and passionate call for encore, Prine, along with Shires and Isbell, returned to sing Prine's most famous piece Paradise, about the demise of coal country at the hand of the tragic process of destruction. I would wager that everyone assembled sang along with that one:
When I was a child my family would travel
Down to Western Kentucky where my parents were born
And there's a backwards old town that's often remembered
So many times that my memories are worn.
And daddy won't you take me back to Muhlenberg County
Down by the Green River where Paradise lay
Well, I'm sorry my son, but you're too late in asking
Mister Peabody's coal train has hauled it away…..
Then the coal company came with the world's largest shovel
And they tortured the timber and stripped all the land
Well, they dug for their coal till the land was forsaken
Then they wrote it all down as the progress of man.
And daddy won't you take me back to Muhlenberg County
Down by the Green River where Paradise lay
Well, I'm sorry my son, but you're too late in asking
Mister Peabody's coal train has hauled it away.
Paul Zollo, in his fine piece on Blue Railroad called Prine "the songwriter's songwriter – in that he's written the kind of songs other songwriters aspire daily to write.…Even Bob Dylan, since the first night Kristofferson brought Prine and Steve Goodman into their Greenwich Village fold, has been awed. [Dylan said] 'Prine's stuff is pure Proustian existentialism.'"
Zollo goes on to write eloquently:
"Prine's lines are so evocative, so purely precise and finely etched, that they linger in our hearts and minds like dreams, separate from the songs. There's the rodeo poster from Angel from Montgomery, the hole in daddy's arm and the broken radio (from Sam Stone), the old trees that just grow stronger (from Hello In There.) The kinds of lines you carry around in your pocket, knowing they're in there when you need them. His is a prodigious gift for capturing intangibles with language, such as the anomalous texture of Sunday nights he translated into The Late John Garfield Blues or the ennui expressed so purely with the flies buzzing around the kitchen in Angel from Montgomery. Whether writing about old folks so sorrowfully isolated that people call Hello in there like talking to a kid in a well, or taking on the phenomenon of celebrity through the unlikely subject of Sabu the Elephant Boy, Prine has melded his staggering penchant for detail, his proclivity to be both hilarious and deeply serious (and often in the same song), with a visceral embrace of roots music. And doing so, he's made the kinds of songs nobody ever dreamed of before, or since."
See Paul Zollo's article.
In seeing John Prine in person, his work strikes me as a monumental gift to the world. I was also struck with how incongruous it might seem to have such vision, imagination and skill, wrapped up in one person, how such a body of work can be created and maintained over the long career he's had. You see him and understand the honesty, the humor, the skill, the artistry and the integrity of this artist is just remarkable. Here's someone you can trust to carry you through a hard story, with wisdom, empathy, clear observance in the truest sense that any artist can have on the world that's around him. He said in an interview that a songwriter didn't have to "make up anything…he just had to look around him."
His cancer changed his life as many of us know, and he's spoken about the process of dealing with it, and how surprised he actually was to finally get a voice back. Prine is rough as a singer, but he is out there, age 69, and he has all of those images, those stories, those melodies and those licks, right in his hands and mind and heart as he always has. And he's giving them to us again, each night of a live concert.
From the John Prine website:
With his career spanning more than 40 years Prine continues to perform at sold out shows all over the US, Canada, and Europe. Among the many awards and accolades John has received in recent times include is his 2003 induction into the Nashville Songwriters Hall of Fame, an Americana Lifetime Achievement Award for songwriting and was honored at the Library of Congress by US Poet Laureate Ted Kooser. Prine has become for many, not just a well loved and appreciated songwriter, but a bonafide American treasure.
For more on John Prine:
I recommend a great article recently published in the New York Times and the
: "In Common with Mike Leonard."
Award-winning recording artist and critically-acclaimed folk and Americana powerhouse vocalist, Susie Glaze has been called by BLUEGRASS UNLIMITED "an important voice on the California Bluegrass scene." Her album "Blue Eyed Darlin'" was the winner of the Just Plain Folks 2006 Music Award for Best Roots Album and FolkWorks Magazine's Pick for Best Bluegrass Album of 2005. "One of the most beautiful voices in bluegrass and folk music today." (Roz Larman of FolkScene). With her Hilonesome Band, their latest release "White Swan" was critically acclaimed by No Depression, FolkWorks, Pop Matters, M Magazine for Musicians, Music News Nashville and FolkWords UK, and their new album for 2015 "Not That Kind of Girl" was produced by LA acoustic music legend Herb Pedersen. Susie is also part of the new tribute album "Dear Jean - Artists Celebrate Jean Ritchie" alongside such artists as Judy Collins, Pete Seeger, Janis Ian, and many more. Visit www.susieglaze.com