Preaching the Blues with John Hammond, Jr.
The Late Show at McCabe's - January 29, 2016
John Hammond Jr.'s National Steel guitar is seven years older than he is. I saw Hammond in twelve bars last night, and the late show at McCabe's. America's greatest blues singer and guitarist and harmonica player is the wrong color—"Never was a white man had the blues," said Lead Belly. No one told John Hammond, Jr. who is now an elder statesman at 73 and still preaching the blues—ever since 1962, when he started his career right here in Los Angeles. I saw him on my late mother Rose's Centenary—January 29, 1916-January 29, 2016—for which I wanted to do something special to celebrate.
After all, it was my mother who brought real folk music into our home, when I was four years old, with 10-inch Folkways records of Woody Guthrie, Pete Seeger and Lead Belly—as well as Richard Dyer-Bennett, Burl Ives, Paul Robeson, the Weavers (their very first 10-inch Decca Record, before they were blacklisted in 1950), Josh White and the six-volume Folksay Series on Stinson Records, which included my guitar teacher Ernie Lieberman. What chance did an impressionable four-year old have against a line-up like that? I fell in love with folk music and as it turns out was set on my course for life. As I wrote in Red Diaper-Baby Boomer,
I blame my parents for everything
If it hadn't a-been for them
I'd be living in a condo, driving a Mercedes
and working for IBM.
I could not have celebrated in any more special way than getting to hear John Hammond again, who I reviewed in these pages a couple of years ago. He is so good a guitarist/harmonica player you tend to forget that he is pre-eminently a great blues singer. If you miss Sonny Terry and Brownie McGee as much as I do, they have been reincarnated in this one white blues man who carries on the songs and stories of the great black blues artists like Mississippi John Hurt, Robert Johnson, Sonny Boy Williamson, Skip James, Son House, Mance Lipscomb, Muddy Waters, Howlin' Wolf, Mississippi Fred McDowell and Roosevelt Sykes—whose old photograph with a young John Hammond, Jr. adorns the wall just outside the entrance—history in black and white.
To hear a John Hammond concert is to board an amazing time machine through the 1930s Mississippi Delta, 1940s North Carolina Piedmont and Chicago blues clubs of the 1950s. And his early performing opportunities led him into personal contact with many of these artists—some of whom were still performing in the 1960's—thanks to the Newport Folk Festival and in Los Angeles at The Ash Grove. John Hammond did not learn their songs from records—he performed with them and they all recognized his genuine commitment to America's greatest indigenous art form—pre-dating jazz and informing all of the music that came after. He learned from them and now embodies their blues soul and artistic genius. What a blessing it was to hear him on my mother's 100th birthday—her presence in the spiritual sanctuary of McCabe's luminescent back room concert hall was everywhere. Thank you to fellow John Hammond fan Ernie Spargur who gave me a free ticket out in front just before the concert started. Call it a random act of kindness and a senseless act of beauty, but it was like a birthday gift from Mom.
And yet, despite Hammond being a link on the chain of the history of the blues, he is at the same time a significant figure—one could argue the central figure—in the evolution of modern blues including the British Invasion. Before Purple Haze, before the Jimi Hendrix Experience, and before Eric Clapton and Cream, they were both playing in John Hammond's Blues Band at the Gaslight in New York City. Indeed, when the Seattle-born Jimi Hendrix couldn't get a gig in the US—before he first moved to England, before he was even known as Jimi Hendrix—he asked John Hammond to form a band just so he would have someplace to play. Hammond recognized Hendrix's musical genius the first time he heard him and followed through on his request. By their second booking in NYC, Eric Clapton fell into it too, and there was the folk revival's native son (Columbia Records A&R man and producer John Hammond's son) standing on stage with Hendrix and Clapton on either side.
A story like that you can't make up, and you can't forget. John Hammond, Jr. was forged in the fire of the '60s musical revolution as well as warmed by the coals of the mid-forties Delta and urban blues. He holds a unique position in American music—with one foot anchored in America's treasured past and the other skipping down the yellow brick road towards a future still in the making. And he loves all of it and performs all of it with equal enthusiasm, devotion and understanding. His stage presence is unequalled—his quiet unhurried, confident voice regaling McCabe's fortunate audience with amazing tales of his great musical ancestors and carrying on their songs and guitar voicing on both a vintage acoustic Stubbs Guitar custom made by Vinnie Smith in England and an eighty-year old emerald green 1935 National Steel Duolian Resonator Single Cone for his bottle-neck slide guitar arrangements—punctuated by thrilling blues-style cross-harp Hohner harmonica solos and grace notes.
Here are a few highlights from an evening and a concert to remember. He met harmonica blues singer Sonny Boy Williamson in Chicago and heard him at a club where he was visiting Michael Bloomfield—yes, that Michael Bloomfield, the one who backed up Bob Dylan in his breakthrough historic electric set at Newport in 1965—and in the middle of the first song was hypnotized by the sound of Sonny Boy's harmonica breaks, but he couldn't see where they were coming from. Williamson wasn't on the stage and was nowhere in sight. He leaned over and asked Bloomfield where the harmonica was coming from. "Follow the cord, John," for Sonny Boy was amplified. He followed the cord from the stage amp all the way out to the center of the audience, where Sonny Boy Williamson was playing harmonica for the band onstage while sitting at a table "with three women."
That was a sight Hammond had never seen before or since. In case you're wondering, that's what it means to be a legendary performer—a term you'll hear thrown around casually and meaninglessly these days. Sonny Boy Williamson was a legendary performer, and John Hammond tells his story and plays harmonica in his incandescent style. That's a sound you don't hear very often.
But John Hammond's show takes us all the way back to the very beginning—Los Angeles in 1962—the same year Bob Dylan's first album came out; they started at the same time. I suspect Hammond wanted to get as far away from papa—Hammond Sr. in NYC—as he could, to prove he could make it on his own. Who gave Hammond Jr. his first big break and his first gig in LA?—none other than Hoyt Axton—whose torch is now carried by my good friend Julierose Palmer—who sings his songs at every folk club.
And what a gig!—opening for Lenny Bruce; and his next gig, opening for the Staples Singers. After the show Pop Staples gave Hammond the compliment of a lifetime: "Son," he said, "I don't know where you learned to play like that, but whatever you do, don't stop!" You could see from the gleam in Hammond's eye that Pop Staples early encouragement has inspired him down through the decades—just one of the masters who inform the heart of the artist.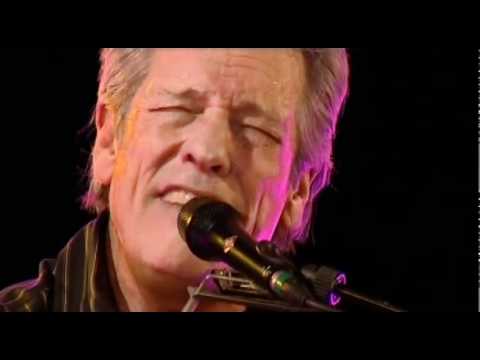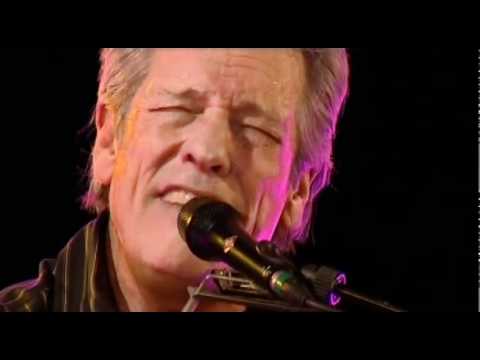 Two more highlights from the show will give you a glimpse of why John Hammond, Jr. matters to anyone who truly cares about folk music—one a song, and one a story. The song he performed like I had never heard it performed before was the first hit for Elvis Presley—That's All Right, Mama—which many singers have covered so as to put you in mind of the King. But that's not how Hammond performs it. He learned it from the composer, James Lane, also known as Jimmy Rogers (black blues singer, not the Singing Brakeman). Hammond sings it as a slow traditional 12-bar blues, and brings out the heartache and passion that is submerged and ultimately lost in the rock tempo that Elvis gave it. You have never heard it in all its grandeur until you hear John Hammond sing it and play it as an anguished, heart-wrenching blues.
Hammond's other great story I want to share he got directly from Son House, because it captures so well the eerie connection between old and new—the rural folk background of what eventually becomes transformed into rock and roll. Son House gave up music for twenty-five years to make a decent living—as a Pullman porter on the railroad. Like so many of our greatest blues singers he couldn't support himself or a family on what he could earn as a musician. Big Bill Broonzy, to take another example, even though he recorded for Folkways and was celebrated by those who knew what he stood for, like Pete Seeger who performed with him in concert, and Studs Terkel who put him on his radio show in Chicago, couldn't make a living as a blues singer. He supported himself as a janitor at Northwestern University—until he finally moved to Paris where for some strange reason he was regarded as a star and able to work as the great blues singer and guitarist he was never recognized for being in the states. Unfortunately, on the cusp of the Folk Revival, he died in 1958, when had he lived into the sixties he would have been rediscovered like Mississippi John Hurt and so many others, including Son House, and able to work full time as an artist.
Son House was rediscovered at just this time, and folks from Newport wanted to put him on stage at the festival and told him he would be able to make real money now as a blues singer. Did he think, "Oh my Lord, my time has come?" Not at first. What Son House told his would-be benefactor was "I haven't touched a guitar in 25 years; I have forgotten all my own songs, I can't do this anymore. I'm sorry." That's when fate stepped in: Newport folks knew a performer named Al Wilson in New York, who had the best old blues record collection of anyone—and knew all those songs of Son House that he had forgotten. When Al Wilson heard about this he got in touch with Son House and offered to teach him his own songs—and that offer Son House gratefully accepted. That is how he was able to get back on stage and become the great modern blues master we know today. Had it not been for Al Wilson we may never have heard of Son House.
So who was Al Wilson? Well, he started a band just a little after becoming Son House's volunteer tutor—the band was Canned Heat—and they stopped the show at Woodstock.
John Hammond shares these stories with love and gratitude born of fifty years on the road playing with so many greats—such as Tom Waits (whose songs he recorded for his best-selling album, Wicked Grin), Jimi Hendrix, Eric Clapton, and all of the great blues singers mentioned above whose songs and stories Hammond carries with him like the Bible—and the two great old guitars he uses to perform them. There is simply no way to estimate the debt we owe him for keeping this American tradition alive in all its glory.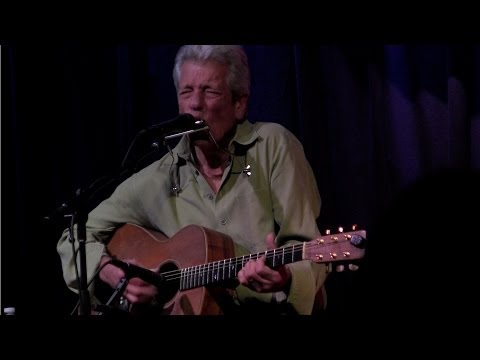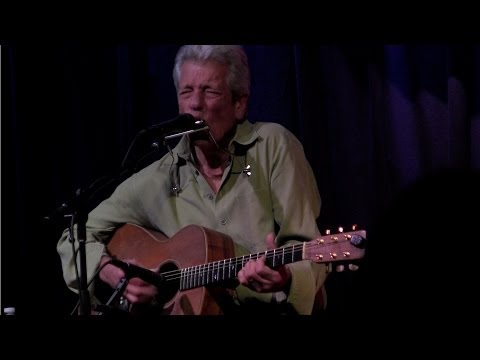 After telling that remarkable story to introduce the Son House classic Preaching the Blues he closes the show with it—on bottleneck slide guitar. The raise-the-roof standing ovation went on for more than five minutes, but John Hammond gave us all he had—after doing the same for the early show's audience. We kept on applauding until he finally came down the staircase leading from the green room to the stage, but rather than do an encore he graciously thanked us again. "Folks, I am fried, I don't have another song in me tonight. But I want to thank you for being here and encourage you to come back to McCabe's for Jorma Kaukonen and Chris Smither, who I know you'll enjoy. Everyone who plays at McCabe's is worthy;" spoken like a true gentleman and a veteran of 12 bars.
Whatever you do, John Hammond, Jr., don't stop preaching the blues. You made a believer out of me.
Saturday March 5 from 5:00pm to 7:00pm Ross Altman will perform a program of Woody Guthrie Dust Bowl Ballads and popular songs from the 1940s at the opening of a book exhibit about photographer Dorothea Lange and her classic Dust Bowl portrait Migrant Mother, Nipomo, California 1936, at the Old Town Newhall Library, 24500 Main St. Santa Clarita, CA 91321 661-259-0750 .
Saturday March 12 at Theatricum Botanicum in Topanga Canyon Ross Altman performs in their third tribute to the late Pete Seeger—RePete 2016! See their website for details.
Ross Altman performs in the Voice in the Well Production Chimes of Freedom Flashing with spoken word artists Sunday March 20, 2016, 5:00pm to 7:00pm; $10 at Beyond Baroque Literary Arts Center, 681 Venice Blvd, Venice, CA 310-822-3006
Sunday May 15 at 4:30pm on the Railroad Stage at the Topanga Banjo-Fiddle Contest Ross Altman performs his new show When a Soldier Makes It Home: Songs for Veterans and Their Families; for information about their 56th annual folk festival.
Los Angeles folk singer and Local 47 member Ross Altman has a PhD in Modern Literature; Ross may be reached at greygoosemusic@aol.com