Marty Stuart and His Fabulous Superlatives
FROM Music City to Surf City
Lisa Smith Wengler Center for the Arts
At Pepperdine University in Malibu: Thursday, September 17, 2015
When he was thirteen years old Marty Stuart ran away to join the circus—the Lester Flatt and Earl Scruggs bluegrass band. He was a child prodigy on both guitar and mandolin and at thirteen became their lead mandolin player. He never looked back.
I had a near-death experience last night in Malibu, ninety minutes in Heaven that made me a believer—in Marty Stuart's recreation of the traditional country music I grew up on—and have long since stopped hearing on any radio station or TV show claiming to broadcast country music today. I thought it no longer existed, except in my dusty LP record collection. And then I stepped into a time machine—Smothers Theatre at Pepperdine University—and got dragged kicking and screaming back into the mid-20th Century. It was a wild rollercoaster ride Jill and I were thrilled by and won't soon forget.
A bit of background: Marty Stuart was born in 1958 in Philadelphia, Mississippi—three years before the Freedom Rides came to Mississippi, and just six years before it became the most notorious town in America, site of the murder of three civil rights workers, Mickey Schwerner, James Chaney and Andrew Goodman who had gone to work for voting rights during Mississippi Freedom Summer in 1964, and next door to the related black church burning in Neshoba County, all orchestrated by the local Sheriff and Ku Klux Klan. This white three-year old born-to-be a country singer thus grew up in the epicenter of African-American culture—both secular and religious, and in the crucible of white segregationist resistance to the struggle for black equality.
Marty Stuart didn't have far to search for the black music that informs his entire approach to country music; it was all around him from Day One. Stuart has integrated blues, gospel, jazz and rock and roll (all black idioms) into country music, in both obvious and subtle ways. You will listen to any number of His Fabulous Superlatives arrangements of his traditional-sounding country songs and not be taken aback until they reach the last chord—the one that suddenly jumps out at you—and you realize, wait a minute—that's a jazz chord—it's suspended, augmented, there's a 9th you didn't expect—and it's simply perfect. That's when you discover that Stuart's roots have some branches all his own.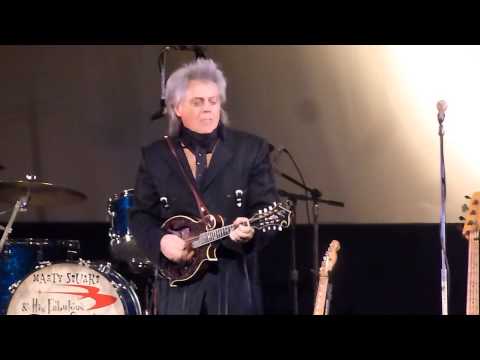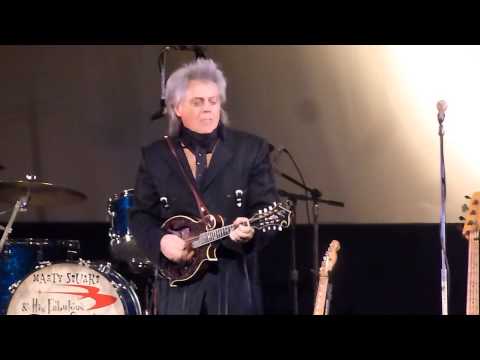 Five-time Grammy-winner Marty Stuart is to country music what U.N Secretary-General Dag Hammarskjöld was to diplomacy; its greatest ambassador. Fabulous Superlatives—the name of his band—is an understatement; they are the greatest band in country music, and Marty Stuart is part of the band; he is a great guitarist and an even greater mandolin player—who single-handedly carried the classic train song of all time, The Orange Blossom Special as a solo mandolin instrumental and song. His performance was incandescent and deserved the standing ovation it got—all by itself. Bill Monroe, father of bluegrass and the gold standard of mandolin for a generation, would have taken off his John B. Stetson cowboy hat and politely bowed to Stuart—that's how good it was; but saying that reflects the limits of language—for it was beyond words. The comic standout embellishment of his performance was his high-pitched vocal imitation of the song's composer, Ervin T. Rouse—whom Earl Scruggs introduced to Marty Stuart when on tour in his hometown of Jacksonville, Florida, where Rouse first saw the Special at its original train depot in 1938—and was inspired to write what soon became every fiddle player's showstopper, and the sine qua non to get hired in a bluegrass band. Stuart nailed it.
From the traditional blues opener I Know You Rider (Gonna Miss Me When I'm Gone) to the final encore audience-request of Tom Petty and The Heartbreakers' great American story of a band from the middle of nowhere trying to make it—Runnin' Down a Dream— I simply have never heard music this good, grand and uplifting, in any medium, in any genre—if the Lord said make a joyful noise he would have cancelled the Flood to hear more of Stuart's singular band of merry pranksters, on acoustic and electric guitar, drums, pedal steel guitar, electric bass, upright bass, and mandolin, and vocal harmonies that ranged from flat out rock and roll to pure traditional country to reverent gospel music that would have raised the roof on any church in town. Nashville came to Malibu tonight—Music City to Surf City—all the way to two amazing instrumentals from the great surf guitarist Dick Dale —played on his Telecaster by their master guitarist Kenny Vaughn, whose string-bean cowboy good looks and laconic facial expression put me in mind of the Dillards' unforgettable guitarist/comedian Rodney Dillard.
Like Supreme Court Justice Potter Stewart (regarding a different matter altogether) I can't define Americana, but I know it when I see it—and Marty Stuart and His Fabulous Superlatives are Americana if ever there was. I think it was the silver mullet that captured my eye—which Jill also called to my attention and added "He wore quite well." Then it was the purple Nudie costume—straight out of the Sunset Blvd/Grand Ol' Opry of the 1950s and '60s; and finally the vintage Martin D-28 in their concert poster. "If that ain't country," I thought, "then nothing is country."
This band shook me to the core, and made me realize why I fell in love with music in the first place. Marty Stuart indeed played the kind of country music I first fell in love with—hiding under the covers in my bedroom as a kid—with a transistor radio tuned into a small station in the San Fernando Valley that played programs from the Grand Ol' Opry.
That's where I heard the singers and artists and songwriters my parents were oblivious to—until Johnny Cash broke through their otherwise entirely meritorious commitment to the folk music they exposed me to from Woody Guthrie and Pete Seeger, Lead Belly and Paul Robeson. When Johnny Cash opened our door to real country music he let in the secret guilty pleasures I had to discover on my own—Hank Williams, George Jones, Win Stewart, Freddie Hart, Lefty Frizell, Faron Young, Little Jimmy Dickens, Kitty Wells, Merle Travis, Lester Flatt and Earl Scruggs, Roy Acuff, Charlie Pride, Grandpa Jones, fiddler Gordon Terry (from whom I first heard The Orange Blossom Special) and Marty Stuart's late great namesake, Marty Robbins.
And thereby hangs a tale. For Stuart let us in on a public rehearsal this evening—he and the Fabulous Superlatives will be playing on national TV in October, for the Country Music Hall of Fame Induction Ceremonies; one of the three new inductees will be session guitarist Grady Martin—who played on Marty Robbins' classic hit song El Paso—and carried one of the signature guitar accompaniments in pop music history—the single-note arpeggios that glitter throughout Robbins amazing narrative of a cowboy who loves, lives for, fights for, and ultimately lays down his life for his true love Felina—perhaps the greatest tragic romance in country music history. Marty Stuart and his band recreated the entire record—with every guitar note and three part harmony vocal surrounding Marty Stuart-as-Robbins' original solo performance. It was triumphant—another diamond-studded performance that brought the packed Smothers Theatre audience to our feet.
Nashville's "Best Guitarist of 2000"—or as he was soon dubbed—"GuiTarzan"—Kenny Vaughn did it all—on acoustic Martin D-28 and electric Telecaster, from a barnburner no-holds barred rock and roll classic like the closing Tom Petty song Runnin' Down a Dream to a quiet, reflective acoustic song like George Jones Old, Old House, which the Possum penned to underscore the rural roots of the country music he came to represent.
Now that the greatest voice in country music is gone we must be grateful for an artist like Marty Stuart who won't let his indelible portraits of America's Depression-era families just trying to survive die with him. Marty Stuart is a true folk troubadour in carrying the torch not just for his own music but for the best that has been thought and said and sung.
Chris Scruggs (Earl Scruggs grandson) played both electric and standup bass, and did an awesome solo instrumental on pedal steel guitar—once the defining sound of country music in the days of Hank Williams—but never played with the pure genius of Chris Scruggs Boogie—an unbelievable display of musical virtuosity.
And rounding out the Fabulous Superlatives is their steel-tight drummer and high lonesome tenor Handsome Harry Stinson, whose vocal solos were every bit as thrilling as Bill Monroe's back in the founding days of bluegrass—Harry Stinson can hold a note as long as the legendary Yma Sumac from high up in the Andes mountains; listening to him sing a slow languorous blues (I Want You But I Don't Need You Back Again) was like watching a tightrope walker traverse the Grand Canyon without a single misstep—truly inspirational. "Fabulous Superlatives" doesn't begin to describe them; they will lift you out of your seats time and again, involuntarily raising your spirits at the same time.
And guess what—the sound was superlative throughout—thanks to the Fabulous Superlatives touring sound engineer—the fifth member of their band, Mick Conley. He had a band T-shirt on and was mixing the show at the back of the hall—a big burly guy with a full beard and twinkling eyes. I thanked him for a wonderful concert as we exited the auditorium. He wasn't used to being thanked by the audience and was visibly moved.
Marty Stuart's first two albums as a kid were one by Lester Flatt and Earl Scruggs and one by Johnny Cash—prophetic as it turned out, for his only two jobs before striking out on his own as a solo country singer were for those very artists. He doesn't try to hide their influence, even including Scruggs grandson Chris as the newest member of his band. And don't let the colorful purple duds of his publicity photo fool you; when it came down to show time Marty Stuart was dressed like The Man in Black—and at the very end of the concert he played an instrumental tribute to Johnny Cash, with the instantly recognizable notes from Folsom Prison Blues. You could almost see Cash's shadow in the back of the stage—the musical evocation from the original Tennessee Two guitarist Luther Perkins and bassist Marshall Grant was pure, pitch-perfect and heartfelt. But he also paid reverent tribute to The Man in White, with one of Cash's songs written during a visit to the Holy Land—He Turned the Water into Wine. It was a sparkling gem.
Then he did The Pilgrim—from the album that saved his musical career when he had gotten burned out trying to be a crossover country/pop star singing in stadiums and wiggling his hips and decided to go back to the music he loved, traditional country/gospel. He told his friend and mentor Cash of his plans and asked for his advice. Johnny told him the truth: "Well, just know you're stepping up for rejection; potentially. Stuart said, "I understand, but I've got to do this." He said, "If you've got to do it, that's all the reason you need." So he formed the Fabulous Superlatives to travel this new path with him, made the gospel record and once again, Stuart never looked back: from then on he "let his heart be the chart."
"I love that song!" Marty Stuart would exclaim after this and other particular favorites. "Do you love it too?" We sure did, Marty; we sure did.
If you are curious where the band got its fabulous name I can take an educated guess: From The Fabulous Johnny Cash—the title of his first Columbia album—after leaving Sam Phillips Sun Records in Memphis. From "Fabulous" I think they were half way there, and Marty Stuart would surely been as charmed by it as I was.
Another musical highlight captured the economic downturn we still haven't climbed out of—with a Charlie Rich (Behind Closed Doors) portrait of a middleclass marriage beset by financial setbacks, Life's Little Ups and Downs. It was moving and sad and ultimately uplifting with its testament to the power of true love to pull us through the hard times that define (or used to define) the social context of country music.
From their new double-album Saturday Night, Sunday Morning, embracing both the sacred (as in The Staples Singers classic Uncloudy Day) and profane (as in The Whiskey Ain't Workin') sides of country music—and its roots in black gospel music as well, with Mavis Staples as a guest artist—Marty Stuart and His Fabulous Superlatives ended the pre-encore concert with an Oak Ridge Boys harmony-infused Angels Rock Me to Sleep. It was transcendent, and raised our eyes to the skies one more time. It's hard to be an atheist in the midst of such cosmic good cheer.
Who would want to? I can save Bertrand Russell for another time, another place. Let Marty Stuart and His Fabulous Superlatives do it for you, sometime. The ride was over, back on Terra Firma, Jill and I walked out to the parking lot. The cars were still there, we were in Malibu after all—not Heaven; but for ninety minutes, we got a glimpse of the other side, with our tour guides of the after life, Nashville's finest—on loan—from the Twilight Zone.
To see the next stops on their tour see Marty's website. With many thanks to Pepperdine's Lisa Smith Wengler Center for the Arts Publicity and Marketing Manager Chelsea Sutton for the Press Pass+1 and photographs she took of the show. They were great seats and allowed me to take notes without disturbing others in the audience.
Monday evening September 28 at 7:00pm Ross Altman celebrates Ethel Rosenberg's birthday in 1915 with the Ethel Rosenberg Centennial Concert; at The Los Angeles Workers Educational Center, 1251 South Saint Andrews Place 90019; $5.
Friday November 20 at 8:00pm Ross commemorates the Centennial of the execution of Labor's greatest troubadour Joe Hill at Beyond Baroque Literary Arts Center, 681 Venice Blvd, Venice, CA 90291 310-822-3006 ; $10.
Sunday evening December 20 at 7:00pm Ross Altman and a Small Circle of Friends celebrate Phil Ochs 75th birthday with a concert of his songs at Beyond Baroque Literary Arts Center, 681 Venice Blvd, Venice, CA 90291 310-822-3006 ; $10.
Los Angeles folk singer Ross Altman has a PhD in Modern Literature; for further information about any of these events Ross may be reached at greygoosemusic@aol.com