Leo Kottke in Concert - As Good As It Gets
Pepperdine University - Smothers' Theatre—Lisa Smith Wengler Center for the Arts - January 31, 2015
He fingerpicks without fingerpicks, can't keep a steady beat, spends half his time tuning on stage, and the other half lamenting the fact that he wanted to be a trombone player—will somebody teach Leo Kottke to play guitar? Unfortunately, he is the best guitar player in the country, which limits his choice of qualified instructors. That's the bad news.
The good news is that even with his limited skills, poor attitude, and barely presentable attire—just a pair of jeans and denim shirt with the tails hanging out—virtuoso finger-picking six-and-twelve-string guitarist Leo Kottke presented a master class in a rare art-form last night, bringing a sold-out full-house to the edge of their seats time and again, as he built each piece with a tantalizing opening, expanded on its riveting theme with wildly inventive variations which led to a finely honed close that left us breathless, fully engaged and thoroughly entertained. And that was just his storytelling.
In between his fanciful tales he played his six-and-twelve-string Taylor guitars for a two-hour reverie of instrumental brinkmanship and sang a few deftly original songs that proved beyond the shadow of a doubt there is simply no finer folk guitarist on the planet—and none foolish enough to contest the question. Whoever your favorite guitarist might be—and I am thinking only of the greats—Chet Atkins, Merle Travis and Doc Watson—they wouldn't want to be in the same room with Kottke, which is probably why he plays solo.
Even as I write there are a number of well-known touring "Guitar Quartets" and "Guitar Quintets" who would be humbled by Kottke's solo guitar instrumentals. If you weren't seeing it with your own eyes your ears would automatically assume there must be an ensemble on-stage to account for the rippling, staccato, syncopated, alternating bass and treble lines with amazing harmonic and propulsive, percussive effects that create a dynamic range of symphonic passages in diminished, augmented, blues, ragtime, and hypnotically beautiful major keys that just as suddenly modulate into a minor key transition—like a mountain climber ascending some steep terrain to be able to look out from the summit on the view below. All the while Kottke lifts you up and carries you with him, like George Reeves' original Superman describing Metropolis to a blind girl in his secure arms as he flies over the city. His concert was nothing short of astonishing.
I couldn't help but think of Martin Luther King's last speech in Memphis: "I've been to the mountaintop—I've looked over and I have seen…the Promised Land;" for Promised Land read Leo Kottke and you'll know what it felt like to be at the Smothers Theatre at Pepperdine University in the presence of this singularly gifted guitarist and composer. His concert was sponsored by the Anza Hotel, who definitely got their money's worth.
He's been touring and recording since 1968, when he released his first live album, 12-String Blues on Oblivion Records, a tiny label started by the Minneapolis Scholar Coffee House where Kottke began playing after dropping out of college after one year—the same starting point that launched another Minneapolis dropout—Bob Dylan.
Kottke sent that record to his own favorite guitarist—the only one whose name belongs in the same sentence with Leo Kottke—that would be John Fahey, who reinvented finger-style guitar before Leo came along and raised it to a whole new level. Fahey was duly impressed with his young protégé—enough so to add him to his own label—Takoma Records, on which Kottke's second "the Armadillo record" came out. That led to his major-label debut, Mudlark, which came out on Capitol Records in 1971. Kottke was not completely happy with the arrangement, however, as they wanted him to be a singer-songwriter, which they deemed more marketable than the instrumentalist they had signed.
Nonetheless he stayed with Capitol for several records, Greenhouse, My Feet Are Smiling and Ice Water, and flourished as a singer, songwriter, and interpreter of other's songs while continuing to grow as his own finger-style master. Fourteen albums later, on several labels, in 1999,he was finally able to encapsulate his own vision on the groundbreaking record on Private Music called One Guitar No Vocals. It was the result of a change in his playing technique as well, forsaking fingerpicks for fingertips, of which he said, "It was like somebody turned the lights on." My concert companion finger-style guitarist Jill Fenimore plays the same unadorned way, and enjoyed Kottke's performance as much as I did.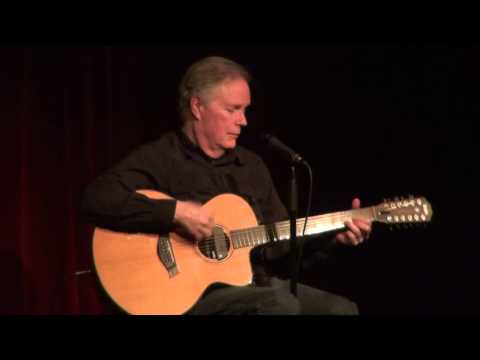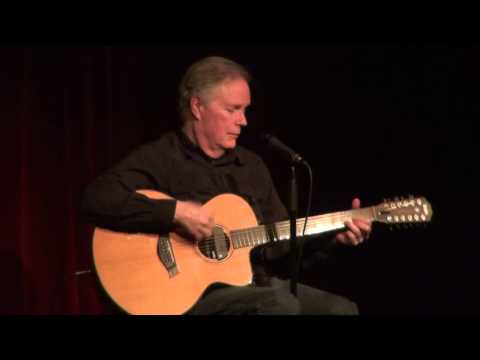 One of these early songs is so much a part of Kottke's show and personal mythology he performed it twice last night—Pamela Brown, in two different guitar arrangements. This winsome, compassionate song of love lost and never found endures as Shakespeare's Dark Lady of the Sonnets, Dante's Beatrice, Keats' La Belle Dam Sans Merci, or Graves' White Goddess—the muse who continues to inspire him down through the decades. Whoever she is, or may have been, she remains Kottke's Mrs. Calabash, the haunting lover the late great consummate entertainer Jimmy Durante dedicated every show to.
One of Kottke's leave 'em laughing tag lines will have to serve as a small memento of his raconteur's enthralling shaggy dog tales: "I want to die like my grandfather—fast asleep with a great big smile on my face—not like the screaming passengers in his car."
Nor was he above playing what he cheerfully referred to as "bubblegum music," which he diverted to late in the show, after an oral (and aural) history of a London nightclub he had once played, "Lonnie Scott's," (both the club and musician for whom it was named). However, leading into it was the darkest song and melody of the concert, In the Bleak Midwinter—the 1872 Christmas Carol by Pre-Raphaelite poet Christina Rossetti—which he played on the 12-string as he immersed you in a world of ghostlike chord progressions that were both complex and inevitable in their symmetry. It was a glorious journey through a barren landscape that was somehow beautiful in its moonlike existential despair—and unforgettable.
Then like the master entertainer he is, Kottke shifted moods to the evocative and pretty "bubblegum music" he remembered and adapted from the 1950s—which he highlighted with the children's rhyme "Yum, yum, yummy, something good for my tummy," a delicious Tango composed by Leroy Anderson, which Kottke confidently mentioned must have been written on the guitar. "Enter Leo," he blissfully added, as he played it for us the way he imagined it was first composed, before the producers and arrangers and bands had a chance to overwhelm it with too many instruments and not enough soul. It was simple as could be, finger-style in drop "D" with his capo on the second fret—and ethereally sublime.
He played my favorite tune the same way—on the 12-String—Living in the Country by Pete Seeger, to which he added a number of his own variations toward the end. His most recent recording of this wonderful melody was done in the Bahamas on the 2005 album Sixty-Six Steps, inspired by legendary Bahaman guitarist Joseph Spence—who played most of his songs in drop "D" tuning. ("What else do you need?" Ry Cooder once told me.) Having been involved in ten tributes to Pete Seeger since his passing on January 27, 2014, (with an encore coming up March 28 at Theatricum Botanicum) to my mind Leo Kottke's informal, understated tribute was the most moving—no mention of Pete's politics or legacy of social change or having been blacklisted by HUAC—just the power of his music that raised his voice to the highest level and emphasized his gift as a great composer that made what he had to say memorable and enduring. Kottke got it right.
Then, just as mysteriously as he had entered from stage left two hours ago, he picked up both guitars, stood up from his chair, took a quick bow, and walked off the stage. The audience had other ideas. We stood up as one and a rolling crescendo of a standing ovation cascaded from the back of the auditorium to the high ceiling above and down to the small spotlight on center stage—insistent, calamitous and pleading all at the same time. This incomparably original guitarist composer with ears of gold must have heard us from the wings, because he finally responded and slowly strolled back to his seat, his two great Taylor acoustic guitars in tow.
As he re-tuned his six-string he began to reminisce about John Fahey—"the last man," he said, "who ever waved a gun in my face." Well, that certainly got our attention; I guess that's why he left Takoma Records. "Or maybe he was the first,"…"no"…he drolly continued…"the first and the last." Then he teased us with the mention of Mississippi John Hurt's name, but finally changed his mind about his encore—settling on a Dwayne Allman tune he said "came to him in a dream." It was stunningly beautiful, Little Martha. Capoed on the fourth fret, fully half the song was done with sensuous harmonics on the twelfth, thirteenth and fourteenth frets, where only the brave dare to tread.
Wherever we were, on whatever mountaintop, I knew it was a long way down to the terrestrial plains below where most of the music we listen to occurs—and I mean even the music you will go to the Greek Theatre and Hollywood Bowl to hear. This small college auditorium just off the Pacific Coast Highway in Malibu, was therefore mislabeled. The sign from the highway said, "Malibu Canyon Road." But on the way up the winding hill you pass through a hidden dimension, the one where Rod Serling once presided, "a dimension not only of sight and sound but of mind; a journey into a wondrous land whose boundaries are that of imagination. That's the signpost up ahead - your next stop," based on where we wound up, should have read, "Mt. Everest, 1 mile."
But once in a while you have to take that chance—that you will hear something so good, so rare and extraordinary you will never want to pick up a guitar again. That is how good Leo Kottke is—you will either be so inspired you will start practicing with a new relish and fervor, or so discouraged you will just quit and think, what's the use? This morning I opened up my guitar case, tuned my E string down to drop "D," and practiced. I am sure Jill practiced too, Doc Watson's Gambler's Yodel, including Doc's triplets, one of the most demanding songs in her repertoire. Leo Kottke gave us something to strive for—the North Star. You may never get there, but you know you are heading in the right direction.
Jill's final endorsement, "This was the best concert you have ever taken me too," was the highlight of the evening for me; Leo Kottke, if you're listening, there is no higher compliment you will ever be paid. That's as good as it gets.
LEO KOTTKE DISCOGRAPHY; Visit Leo Kottke's website.
1) Twelve String Blues—1968 Oblivion Records
2) The Armadillo Record—Takoma Records
3) Mudlark—1971 Capitol Records
4) Greenhouse—1972 Capitol Records
5) My Feet Are Smiling—1973 Capitol Records
6) Ice Water—1973 Capitol Records
7) Chewing Pine—1975 Capitol Records
8) Leo Kottke—1976 Chrysalis Records
9) Burnt Lips—1978 Chrysalis Records
10) Balance—1979 Chrysalis Records
11) Live in Europe—1980 Chrysalis
12) Time Step—1983Chrysalis (produced by T-Bone Burnett)
13) A Shout Toward Noon—1986 Private Music
14) Regards From Chuck Pink—1988 Private Music
15) My Father's Face—1989 Private Music (produced by T-Bone Burnett)
16) That's What—1990 Private Music
17) Great Big Boy—1991 Private Music
18) Peculiaroso—1993 Private Music (produced by Rickie Lee Jones)
19) One Guitar No Vocals—1999 Private Music
20) Clone—with Phish bassist Michael Gordon—2002 Private Music
21) Sixty-Six Steps—with Mike Gordon—2005 Private Music.
Saturday, March 28, from 1:00 to 4:00pm Ross Altman will participate in REPETE, the Will Geer Theatricum Botanicum annual tribute to Pete Seeger at 1419 N. Topanga Canyon Blvd in Topanga Canyon. For information and tickets go to their website
Los Angeles folk singer Ross Altman may be reached at greygoosemusic@aol.com