Dirk Hamilton: Reconsider Me
How Warren Zevon's Roadkill Became LA's White Rodriguez
At the Alva Showroom in San Pedro - November 22, 2014
Nine months before the Oscar-winning movie Searching for Sugar Man was released in July of 2012 Los Angeles had its own white Rodriguez hiding in plain sight in San Pedro at the Alva Showroom, where he first performed in November of 2011. Rodriguez we now know was a hit in South Africa long before he was discovered and became a belated star in his own land—where he had recorded his first two records in 1970 and '71 in Detroit—and then fell off the radar screen of contemporary music.
Dirk Hamilton it turns out was a hit in Italy unbeknownst to himself when his label Elektra Records dropped him after his label-mate Warren Zevon kicked him under the bus and off the tour where Dirk was the opening act—because members of Dirk's band stayed up late one night after a show, got drunk and started badmouthing Zevon to members of his band—calling his show "too theatrical" because certain stunts were being pulled on stage every night at the same time. When Zevon's band reported back to the boss about the criticisms of Dirk's band Zevon got enraged and went to Hamilton's hotel door and summarily fired him from the tour—even though Hamilton apologized and pleaded with him not to and sent his own band-mates packing, telling Zevon that his label would drop him if he didn't finish the tour—to no avail.
Sure enough, when Hamilton got home—despite the rave reviews from Rolling Stone about his 1978 album Meet Me at the Crux—Elektra dropped him and thus ended his brief but promising recording career. The Next Big Thing became the latest casualty in the Music Wars. Hamilton went on to do odd jobs and hard labor for ten years before figuring out how to get back into music without reentering the Music Business.
Sound familiar? It should: that is roughly the story arc of Rodriguez's own rags-to-riches fairy tale life of the past two ½ years since the documentary about his rediscovery by a Swedish filmmaker led to him being able to tour internationally for the first time in forty years. Hamilton just performed a great concert at Alva's Showroom in San Pedro—a small venue attached to a music store on W. 8th St. in the heart of LA's Harbor District.
Hamilton may just be on the verge of a rediscovery of his own—having completed a one-hour live recorded documentary about his new music—which he was performing this evening with raw abandon and renewed enthusiasm at Alva's to the delight and confirmation and cascading requests for some old songs from his still loyal following in San Pedro—where he began his career thirty-five years ago—in the same milieu that produced Jackson Browne, Linda Ronstadt and the late Warren Zevon, not to mention the Laurel Canyon heyday of Crosby, Stills and Nash and Joni Mitchell. Those were the circles Dirk Hamilton once traveled in and got swept up by before the ill-fated tour that ended Parts 1 & 2 of what has turned out to be an epic trilogy.
Part 3 is the most satisfying of all—in which Hamilton has since moved to Plano, Texas, near Dallas, become a fulfilled father who now writes songs about his daughters and not just girlfriends and still tours Italy where his most dedicated fans remain. He regales the audience with tales from his adopted homeland—in which a bottle of Italian whiskey becomes a symbol of civilization and punch line of a hilarious story about Oscar Wilde (how many folk rockers have you heard conversant with the author of The Importance of Being Ernest and the Ballad of Reading Gaol) who expressed the opinion that "America is the only country that went from Barbarism to Decadence without passing through Civilization." On the 51st anniversary of the assassination of JFK I knew what he meant.
When Dirk Hamilton is not quoting Oscar Wilde, he reaches down into the literary wellsprings of some of his best songs for a poem by the wheelchair bound polio-victim and Beatnik poet Kenneth Patchen - out of which Hamilton fashioned his own homage Black Dog Blues—which includes the lines that one day we will have a poet in the White House and lawyers down in jail. He observes in another song that:
Iron Mike Tyson taught me that
There isn't anybody who can't be knocked flat
- a lesson in humility where you least expect it.
Hamilton has a wonderfully wry modern day cowboy song that turns the mythology of his adopted home state on its head—I Should Have Never Left Texas—where the really tough guys in a neighboring state leave him wishing he had stayed home; not the sort of Texas braggadocio that you'd ever hear from Willie Nelson or even Kinky Friedman. He tells a hard-to-get woman in Unreachable Woman:
Magic Woman, I call your bluff
You don't have to love me, my love for you's enough.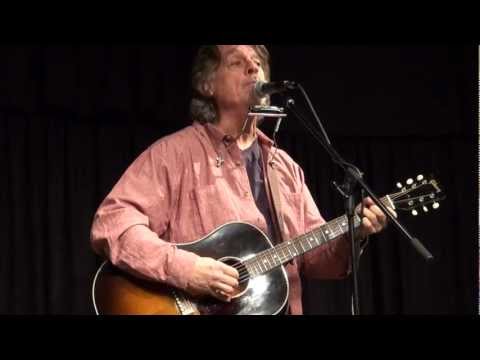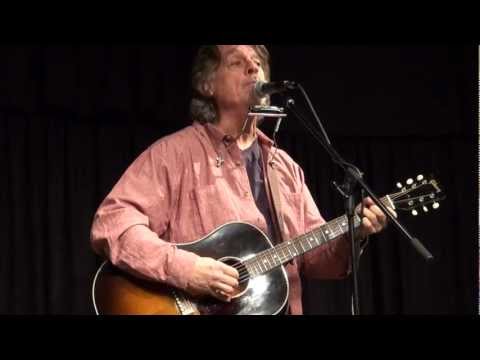 This gifted guitarist and white blues singer can follow a hard-driving acoustic rock song with the most heartbreakingly tender fingerstyle song about Everybody's Blues, in which he describes the common humanity of us all where
Everyone from everywhere has everybody's blues
Everybody gets everybody's blues
and by the time he has finished you have no reason to doubt him.
He also dips into the Great American Songbag of rock and roll but from his own sometimes skewered perspective—calling forth Otis Redding's classic Sitting On the Dock of the Bay where Hamilton imagines a boy now "Watching a thousand fish decay."
It's a compelling image that brings a new tortured vision to the music we are now accustomed to using like comfort food, from which Hamilton rings a contemporary truth.
Dirk Hamilton—who my ever-searching editor dubbed "LA's white Rodriguez"—glanced down at his guitar after one song as he was wondering what to play next and confided to the utterly rapt audience—including your reviewer—that he had "No set list, just a suggestion list," to everyone's responsive and delighted laughter. That was also their cue to start hollering out their own suggestions—for his songs it soon became clear to me were their songs. "Get your deflector shield on," he hollered in conclusion to his song Dangerous—in which he challenged Joseph Heller himself with all the dangers lurking out there that Catch-22's anti-hero Yossarian once morbidly fantasized awaited the unsuspecting soldier.
Hamilton's own morbid sense of humor was nowhere better served than in his far-reaching song that turned the sentimental People Who Need People upside down and made it a foreboding warning about overpopulation in which the singer wishes that about half a billion of these "People Who Need People" would take a rocket ship to outer space and leave a little more space for him—who needs art and music and poetry more than people. What a delightful turnaround in a world so beset by encomiums to "People," from Up with People to We the People, from Carl Sandburg's The People, Yes to People Magazine. Dirk Hamilton—as all great artists do—forces us to take a different look at the homilies we take for granted, to see them once again from an original point of view. His songs bring a wide-eyed sense of wonder at the world still capable of surprise—at times with a child's eyes.
Speaking of which his most moving love song was for a young daughter of two of his best friends whom he had known since she was a child and then met again as an adult—when to both of their surprise they fell in love. It was a powerful ode to true love that turned out to be as ill-fated in its own way as Romeo and Juliet—due to the fact that she—who was 26 to his mid-forties—wanted children and he already had children by his previous marriage and could not contemplate taking care of anymore—especially considering that his tenuous musician's income already had him stretched to the breaking point, and having lost his way as a musician once before was not now willing to sacrifice his poetic muse to a new and promising love. They realized that they each had to pursue their dreams and hard as it was—they did. It was doubly moving when after his heartbreaking song to her he filled in the real-life ending of the story by telling us that "Kalea," the young woman's name, had met and married a wonderful man and was now seven months pregnant—with her former poet lover's blessing.
Few of Dirk Hamilton's extraordinary songs have what might be called a conventional happy ending, but I sensed that this one did—even for its author. The smile on his face as he came out from under its and her lasting spell was a wonderful thing to behold, and made the long drive down to San Pedro worth every mile.
Dirk Hamilton is back, and his well-decorated beautiful orange Carleton guitar case—which he proudly displayed in the middle of the stage almost as a part of his show—gave proof through the night that his passion for music is still there—with vivid stickers from every folk festival and small-town one-night concert stop along the way from Texas to California. After a two and a quarter hour show the audience still was not ready to say goodbye—they tried to get him to return to the stage for a third encore; but by that time Hamilton was out in the front lobby ready to sign his CDs. I got two, More Songs from My Cool Life and his most recent, Solo Mono—in which his songs can be heard the same way we heard them—with just his brilliantly-played vintage Gibson J-45, deeply expressive voice and wailing blues harmonica. What more do you need?
With thanks to Jayni Shuman for the last-minute press pass and a CD
Ross Altman has a PhD in Modern Literature; Ross may be reached at greygoosemusic@aol.com