JORDIE LANE at HOTEL CAFÉ
October 16, 2013
Folk singer-songwriter, Jordie Lane, performed a set of acoustic ballads last Wednesday at the Hotel Cafe. Nestled back behind the busiest strip of Cahuenga, the dimly lit venue is a cozy refuge from Hollywood bar hoppers. An attraction for high profile, low amplitude performers, it was the perfect setting for an evening of silky fingerpicking and melodic storytelling from one of Australia's rising talents.
Adorned with a vintage Gibson acoustic, a wide-brimmed, felt hat and an exceptional half-beard, Jordie Lane appeared at first to be just another LA hipster. However, no sooner than his Aussie twang talked of Vegemite, kale smoothies and a failed attempt to recreate a Tim Horton sausage McMuffin, preconceptions of his hipster haughtiness vanished.
Recounting his recent Canadian tour in terms of fast-food breakfast stops, he casually described a grueling tour schedule. The 26-year-old continues with an Australian tour next week with Old Time banjo songster Old Man Luedecke, playing on through the New Year and performing 55 shows in nearly 40 cities. After a long Canadian tour last month and another long tour schedule in the months to come, Lane seemed pleased to be in California and grateful for the calm nature of the LA show.
The Melbourne native rattled off a well-practiced and effectively programmed salvo of fingerpicked ballads. Mixing tunes from albums past as well as from his recent EP Not Built to Last, he showcased his influences of Townes Van Zandt and Gram Parsons. I particularly enjoyed his carefully choreographed footsteps, which, as he marched in place, resonated a miked tambourine on the floor adding a street performer type of charm.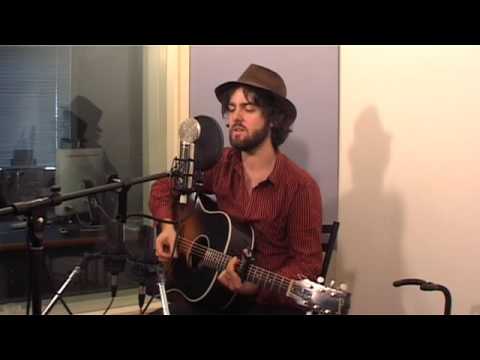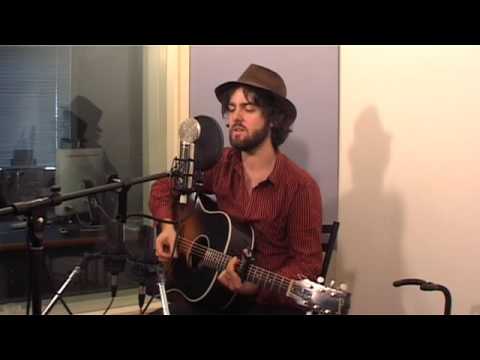 Of all his musical abilities, however, his voice left the most lasting impression. Soothing but powerful, his quivery, tenor voice spanned each song like a single monosyllable and resonated throughout the entire room even after he had strummed the final cadence. A little bit of vocal reverb didn't hurt either.
War Rages On (Sleeping Patterns, 2009), a song written about his first departure from Australia, recounted moving experiences from a backpacking trip to Vietnam. My favorite line is the one that yields the title:
I gave her some food and a fifty thousand dong,
but nothing compensates for the world that's done her wrong.
She was born into a life where a silent war rages on.
Lane isn't an artist of manic tendencies thankfully, but rather is a person of generous (and often hilarious) perspective.
His lyrics and melodies are approachable yet deft; they evolve in slow motion, describing a revolving world of colorful characters and evoking the spirit of nighttime reveries. The melody of "Feet Fall," from the 2011 release Blood Thinner, accurately threaded dynamics and generated momentum from simple, oscillating chords, very much like the Velvet Underground's minimalist hit Heroin.
Savannah Jo Lack and Ben Tolliday provided violin and cello accompaniment for the final three compositions. Lost In You, from his new EP Not Built to Last, exploits a romantic play on words and punctuates legato melodies with contrapuntal string lines. Black Diamond, a tune inspired by a mining disaster in Australia, completed the set with Lane miming the lyrics to the anthemic chorus.
Lane's onstage presence and storytelling were consistent with his boy-next-door disposition. He charmed with flippant cultural observations, self-deprecating statements, and made palatable his enviable powers of observation and reflection. Afterwards, when I walked out into the melee of Hollywood night-goers, I felt reassured that the art of storytelling from real and relatable musicians is still very much alive… and a bit curious to know what Vegemite tastes like.
Jonathan Shifflett is a recent graduate of USC's classical guitar program, who has since seen the light and traded the guitar for a banjo. When not tracking down train car murals or searching for hobo hieroglyphics, he enjoys pretending to play the fiddle and thinking about the folk music world at large.