Stefan Grossman: The Picking Fool from Kicking Mule
In Concert at the Fret House in Covina - January 25, 2014
Kicking Mule Records co-founder fingerpicking guitarist Stefan Grossman sashayed into the Fret House in Covina last Saturday night and burned the house down. I mean he burned it down to the ground. With fingerpicking and ragtime and blues classics by Reverend Gary Davis, Mississippi John Hurt, Skip James, Furry Lewis, Son House, Big Bill Broonzy, Merle Travis, Chet Atkins and an unspoken original tribute to the late great Steve Mann (the title song of his CD Blues for the Mann), going all the way back to the birth of the blues with William C. Handy's St. Louis Blues. It was a night of the best guitar playing this side of Heaven, because you won't find any of these guitar masters still alive down here on earth.
Thanks to Stefan Grossman's obsession with the six-string unplugged acoustic guitar, however, their music still lives—and not just lives but thrives. He radiates such joy in how he relates to both the music and the audience you can't help but be carried away on his syncopated flying fingers and thumb with—as he described from Blind Gary Davis—"all three hands." "A piano player only has two hands," said Gary Davis to his then fledgling guitar student, when Stefan Grossman first found him up in the Bronx in 1963 and started taking lessons three days a week—every day he wasn't otherwise occupied in the more traditional school he was required to attend in Brooklyn, where he was born in 1945. He then went home to practice—up to ten hours a day! He couldn't put the guitar down—and he didn't want to be shortchanged—he wanted to include every note that he heard his mentor the Blind Reverend Davis play.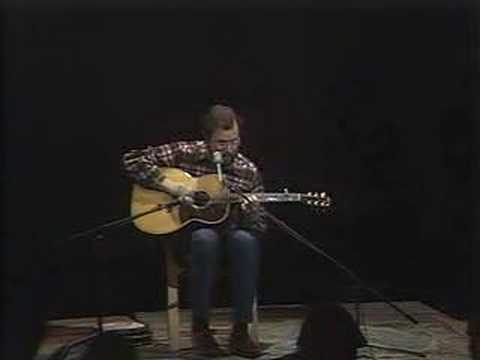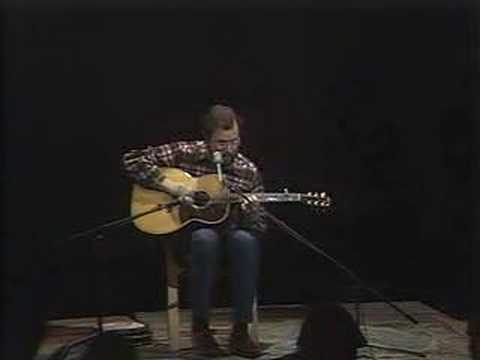 "A guitar player has three hands," continued Davis, his blind eyes twinkling with his new found original insight: "Your left hand on the fret board—that's one hand; your right thumb playing the bass notes and runs—that's your second hand; your third hand is your right index finger playing the treble strings, both picking and pinching them against your thumb." Needless to add, Stefan Grossman plays with all three hands. He held court with Davis's signature fingerstyle masterpiece Candyman:
Little red light
Little green light
Little red light
Little green light
Little red light
Little green light
Stop on the red
Go on the green
Don't mess with Mr. In-between.
Run and get your pitcher fetch your baby some beer
Run and get your pitcher fetch your baby some beer…
Wished I was down in New Orleans
Sitting on a candy stand.
The only other performer I have heard who could play that song was Rambling Jack Elliott on his early albums.
Granted, the lyrics are deceptively casual, but it's really a paean to the street drug dealers of Harlem, where Reverend Gary Davis preached the gospel on the street corner with his Gibson J-200 and his head filled with biblical stories that became his "texts," such as Samson and Delilah and Oh, What a Beautiful City. Eventually he no longer felt comfortable playing his "sinful songs" alongside his sacred songs, so his students like Stefan Grossman (and Roy Book Binder, previously reviewed in these pages) who were there from the beginning tapped into a gold mine of musical treasures that would become increasingly hard to mine as the Revered got older and would only play spirituals.
Stefan Grossman sings like the storyteller he is—with more emphasis on the phrasing than the tune—more often than not he sings on the offbeat, adding yet a fourth layer of syncopation to the multiple guitar lines of his contrapuntal arrangements.
From an opening set of Davis songs—which Davis first learned how to play as early as 1907, Grossman leaped in what he thinks of as "the modern era," that is 1928, when John Hurt made his first recordings in Mississippi, the ones that were rediscovered by young white folk revivalists in 1962—who traced him back to his home in Avalon, Mississippi. They didn't have a GPS device or any mobile apps, just a single track on one of his original records, Avalon, My Home Town. That's where Ralph Rinzler found him, on a bound and printed Rand-McNally Map, still living there in his sixties. He didn't even own a guitar at the time, so they brought him one, and his old hands remembered his old songs—it was as if the years fell away like scales from his eyes. They brought him up to the Newport Folk Festival in 1963 and he won them over with his slouch felt hat and understated courtly manner that perfectly captured his elder statesman role to the youthful folk revival.
Grossman played John Hurt's Richland Woman Blues, which also won the heart of my concert companion Jill Fenimore, who recorded Hurt's song on her second album, Take Two. Whose version was better? A gentleman never tells. So let's just say that somewhere Mississippi John Hurt was smiling—and happy that both musical renegades had captured the deft lyrical and harmonic textures in his great song.
Later on Grossman also played the Hurt classic My Creole Bell, all the while regaling the Fret House audience with an impromptu lesson on the basics of finger-picking—a carryover from his three-hour guitar workshop from earlier in the afternoon. He even added—as an afterthought to demonstrating the alternating bass played on an "F" chord with the left thumb wrapped over the top of his Martin SG Signature Model guitar, "Segovia could never do that!" It brought down the house with laughter, if any part of it was left standing from his guitar wizardry. It was as entertaining as it was elucidating, and ended with him also teaching us to sing male and female harmony on the irresistible chorus:
My Creole Bell
I loved her well
My darling baby
My Creole Belle.
He turned the Fret House into his own front parlor and everyone felt completely at home. What a joy Stefan Grossman was to be with, as an entertainer, a teacher, a storyteller and above all a consummate musician.
During the intermission I had the added pleasure of reuniting with one of my oldest friends since returning to Los Angeles in 1980 to pursuer my dream of becoming a folk singer—and finding to my amazement that he was in fact one of the original owners of the Fret House—Tom Barr. He came up to me with a big grin and when he introduced himself I spontaneously threw my arms around him. We hadn't seen each other in twenty-five years, since we used to play music together at Marie Poll's Music Nights in West Los Angeles.
Marie hosted the first House Concert Series in LA, and when she wasn't hosting concerts she hosted more informal music gatherings where I met Tom. He had been a probation officer during his working life, but was equally devoted to his second passion—music—and was the best guitarist in our small circle of friends (with apologies to Phil Ochs). Tom was the only one among us who could master the rhythmic challenges of Greek music—which he also enjoyed dancing to. I was just delighted to learn that he still plays and now belongs to Songmakers in Agoura and Thousand Oaks. How lucky they are to have Tom Barr—whose original folk club is still going strong in Covina over thirty years after he co-founded it. It still bears his signature; his father's artwork—painted on wood—still adorns the basement wall—creating a thing of beauty to behold as a visual backdrop to the great music the Fret House's current owners bring in throughout the year.
After the intermission—with wonderful homemade red devil's food cake (appropriate for the blues to have the devil in attendance as well, considering it is so often referred to as "the devil's music"—Stefan Grossman returned and—as if he had overheard Jill's question, "Does he play other things besides the blues?"—retuned his guitar to open "G" and performed a lovely lilting Irish tune called—as if it were the title of a Rembrandt painting—Pretty Girl Milking a Cow. It was slow and gorgeous, and then effortlessly segued into an Irish reel and jig in 6/8 time. Just beautiful.
And from there another sudden turnaround—which he described as a ragtime tune played like a Prussian tank rolling over the desert—by Lonnie Johnson. This time, instead of singing along, Grossman got the whole audience clapping along—with full syncopation to the beat. He wanted to prove to us, he said, "that white people have rhythm." It was as much fun as I've had in a concert, courtesy of ragtime and blues master Stefan Grossman. He told us more than once that he wanted us to play the guitar with—"commitment!"—a descriptive word he picked up from one of his female students—who offered it as an alternative to variously-sized round objects males use to play baseball, football, basketball and of course, golf.
The grand finale was Stefan Grossman's tribute to the only two white guitarists he placed on the same level—not in so many words, but just by the music that defines his repertoire—as the black artists he first fell in love with in Greenwich Village in 1963 when he—fresh out of Brooklyn—walked into Israel Young's Folklore Center next door to the Gaslight—and heard the music and saw the records of all the musicians who were the Invisible Men of the so highly-touted Coen Brothers' Inside Llewyn Davis. Let me put it as delicately as I can: Llewyn Davis was no Reverend Gary Davis. Those black artists were the source material for Dave Van Ronk—who was supposed to be the model for Llewyn Davis—but Dave Van Ronk—like all the rest—went up to Harlem to take lessons from Reverend Gary Davis—and then went down to places like the Gaslight and Gerdes Folk City (as I put it in my review of Roy Book Binder) "to be discovered."
It's only due to the great authentic voices of comparatively unknown guitarists like Roy Book Binder and Stefan Grossman that the truth is able to be told in even a small way—that this was African-American music in its heart and soul. They keep the flame burning and are the ones handing this epoch-making American art form down to a new generation.
And in that context Stefan Grossman is only too happy to add his own homage to the white artists who truly belong in that august company: Merle Travis and Chet Atkins. He played Walking the Strings as both Travis and Atkins played it—and kept pulling audience members in the back out of our seats just to watch and see what in the world he was doing that made us think there must be two or three guitars up on stage—not just the one he was playing. In his case, seeing is not believing. But it sure was worth an hour plus trip along the "10" freeway east of Los Angeles to see this high-wire six-string circus act in person. And for committed guitarists Stefan Grossman offers up full-scale tablature with all his guitar records and CDs—so you can actually study and learn what he is doing—the same way he learned it: one note at a time.
He ended the sold-out show with a song from the Great American Songbook—Billy Hill's Glory of Love—and had the whole Fret House audience on our feet at the end—to applaud an American guitar hero—one of the last living links to the great Delta and Piedmont blues masters that transported an American art form around the world.
You will hear a lot about "The British Invasion" this year—the fiftieth anniversary of the Beatles landing in the USA in February of 1964. But if you want to find out where the Brits like George Harrison, Keith Richards, Eric Clapton and John Renbourn learned to play the blues why not go to the source? Stefan Grossman did, and he has transcribed "A Collection of Country Blues" on his new CD—Blues for the Mann. In addition to his fully realized tablature transcriptions of their tunes his pdf liner notes include a generous sampling of pictures of his early guitar heroes. From here you can go to the original blues masters themselves, and you will have, as Greenwich Village poet e.e.cummings once so eloquently put it, the ears of your ears awakened, and the eyes of your eyes opened.
Stefan Grossman has created the musical road map for a journey you will never forget. Your guitar will thank you.
Thank you to my old friend Tom Barr for building the Fret House in Covina, for if you build it, as Field of Dreams said, they will come. And come we did—to hear why G-d created the opposable thumb. It had to be for guitarists like Stefan Grossman. Kicking Mule may be gone, but the picking fool plays on.
I thank You God for most this amazing guitar player.
You can visit Stefan Grossman's web site
Beyond Baroque presents Los Angeles folk singer Ross Altman with special guest Venice Literary Diva Deluxe Suzy Williams accompanied by Brad Kay in "A Valentine's Day for Literary Lovers" concert of songs inspired by literature at Beyond Baroque on Friday, February 14 at 8:00pm, 681 Venice Blvd, Venice, CA, 90291; $10. 310-822-3006
The Ash Grove Foundation presents modern broadside balladeers Ross Altman and Len Chandler in Sing Out the News: A Social History of Broadside Ballads at the Silver Lake Branch of the Los Angeles Public Library on Saturday, February 22nd from 2:30 to 4:30pm; 2411 Glendale Blvd, LA 90039; 323-913-7451 . Free and open to the public.
On Saturday, March 8; Ross Altman will be interviewed by Gerry Fialka on stage at the UnUrban Coffee House—4:00. to 6:00pm; talking and singing about his work, folk music and the creative process; 3301 Pico Blvd., Santa Monica, CA 90405 310-315-0056 ; free and open to the public.
Ross Altman may be reached greygoosemusic@aol.com