Folk Mutants Spawned From Cyberspace Collisions
SHEL at Hotel Café – January 28, 2014
A folk ensemble consisting of a violinist, mandolin player, keyboardist and beat-boxing djembe player might at first seem like a group struggling with identity. The members of SHEL filed on stage at 7 o'clock sharp, wearing casual dress, one with suspenders and another in a customized top hat. By 7:03 it was clear that they could not only play the heck out of their instruments but that they could successfully combine their varied, folk influences into a unified image. The four sisters that comprise SHEL compliment instrumental precociousness and dynamic sensitivity with folk-pop compositions. The subtle interactions of chiding glances, wry smiles and a witty exchanges were indications of the personal and musical familiarity that bonds them. As Sarah said at the start, "If you haven't guessed yet, we're sisters. And our dad is very proud, just in case you were wondering." The group visited Hollywood on the start of a tour that will take them through the Midwest, stopping over in the Virgin Islands before returning to their home state of Colorado.
Standing in a row in front of the velvet curtains of the small Hotel Cafe stage, the sisters performed an hour-long set of energetic, fusion-folk. Like a folk mutant, spawned from cyberspace collisions their collective sound oozed with jazz piano fills, Celtic fiddle lines, and African polyrhythms, restrained by four part harmonies and embellished with enigmatic stories. The simple keyboard ostinatos made room for eager mandolin and violin lines, which filled out harmonies and added dimension to the cyclical patterns of the djembe.
Sarah played her violin with intuition and diversity. She could solo like a madwoman but more often than not, settled for chopping chords when the texture was thick and improvising only when the opening for a fill presented itself. Stained, a selection from their 2012 release, featured Celtic fiddle lines that stretched and yawned between the verses, nimble and catlike.
Hannah, a pianist with classical and jazz backgrounds, constituted the background of the group, establishing clear bass lines and filling out the acoustic texture. Not until the last song did she let her influences show, contrasting a bouncy pop tune with a driving samba rhythm.
Eva, the primary composer and lead singer of the group, plucked her mandolin in perfect time with the djembe off beats, adding a crystalline accompaniment to her willowy voice. Her vocals shone on Paint My Life, a melancholic and introspective pop ballad, which evoked tango postures with accented rhythms and elegant violin and piano arpeggios.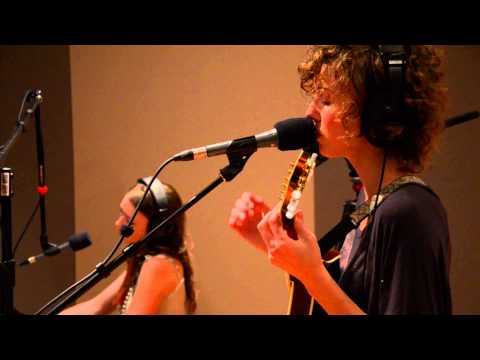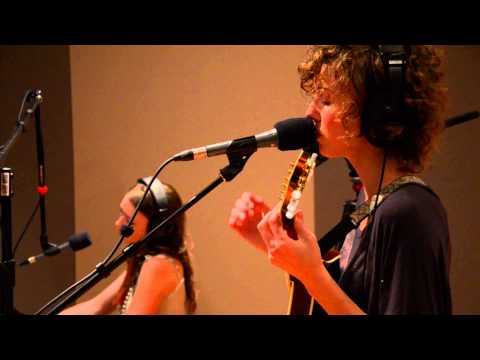 Liza, the drummer, settled for a djembe as opposed to her drum kit on Tuesday night. With the extra elbow room, the youngest of the sisters was free to demonstrate her rhythmic dexterity by beat-boxing in unison with her djembe on the final verse of Paint My Life. After impressing the crowd with a quick demonstration of dubstep vocalizations, she beat-boxed a breakbeat behind an R&B-influenced, diva breakdown, Running to You.
The quartet could have easily performed like a jam band experiment gone terribly wrong. After cycling through pop ballads, Appalachian-tinged harmonies, Latin rhythms and Scotch-Irish melodies, anything seemed possible. Yet, the performance was not so much a display of genre-bending muscle as much as it was an honest testament to their diverse musical upbringing. The sisters are from Fort Collins, CO and enjoyed an artistic upbringing with an artist for a mother and musician father. After being mentored by their father, they went on to work with Grammy-winning producer Brent Maher before releasing their eponymous, debut album in 2012. Off to a good year already, SHEL has seen their music featured in the ABC show "The Fosters" and their most recent music video played on CMT (Country Music Television).
What can be said of a band that mimics every style? Some might shrug and remark that the world is simply their oyster. Skeptics, however, may see it as a facade for colonial tendencies. Speculation aside, the packed crowd at the Hotel Cafe recognized the superior talent of the opening act and applauded with abandon. You've got to tip your hat to any folk group that can impress a surly crowd of Hollywood hipsters.
Jonathan Shifflett is a recent graduate of USC's classical guitar program, who has since seen the light and traded the guitar for a banjo. When not tracking down train car murals or searching for hobo hieroglyphics, he enjoys pretending to play the fiddle and thinking about the folk music world at large.