JOAN BAEZ & GINGER AT THE GREEK
WHEN BAD THINGS HAPPEN TO GOOD DOGS— JULY 3, 2014
I never thought I'd be reviewing a dog for FolkWorks, but Joan Baez's Dog-God-Dock Boggs-and-Bob Tour just rolled into town and I knew you'd want to hear about it. Her dog Ginger stole the show without even playing guitar. The late great actor Jack Lemmon when asked if he had any advice for young actors boiled it down to this: "Never do a play with a dog—they'll steal every scene they are in." Whenever she'd get up and approach the front of the stage to get a better look at the limousine liberals in the first three rows Joan would quip, "Attention follows motion, not sound," meaning if the audience would stop moving around, so would Ginger. She was also given a tall glass of water during the show, and Joan let us know that she "couldn't sing until Ginger had finished her water." As far as I know she wasn't a seeing-eye dog, so why was she on stage at the—ahem, Greek Theatre? It seems that Joan Baez has been stricken with a sudden crisis of lack of self-confidence and thinks she needs a huge bag of tricks to hold the audience's attention—I assume we can all look forward to a dog-and-pony show the next time she is in town. (Memo to Joan: you know Dylan has a dog too—judging from the back cover of Self Portrait—but he doesn't put him on stage when he's performing.) Anyway, Ginger did a great job of being just who she is—a dog—and all Joan would have to do to present a great concert is to be just who she is—a folk singer—in case she has forgotten.
At 73 Joan Baez is still an amazing performing artist with a beautiful voice and guitarist of rare skill and taste. When she took the stage last night at LA's Griffith Park amphitheater she wasted no time in reminding us who she was speaking for—as a voice for the voiceless—and it turned out to be…God. But songwriter Steve Earle's "God" is not the one-note samba of your typical TV revival preacher—for the point of his song is that God is not our doppelganger, but separate from us in a way that ought to be deeply humbling. His unusual hymn lets us know that we have no business trying to assume what is in God's mind or what He (or She) would do.
It's a perfectly good song, if you believe in miracles and prophecies and seers and all the supernatural nonsense of religion that Steve Earle believes in. But it's not With God On Our Side, the most important antiwar song of our time and the song she recorded live with Dylan at the 1963 Newport Folk Festival—with the best Goddamn harmony she ever put on record—and a song that is even more relevant and disturbing today than when it was written—considering all of the fanatical religious war-mongers here and abroad who claim God's support for any war they want to wage. Perhaps she avoids that song because she is on record as being an early and devout supporter of the current White House occupant in whose name we are currently at war in Afghanistan and (with 300 advisors ominously on their way back) Iraq. You can be sure that were Bush still in the White House Joan would have pulled that song out of her hat and made it ring loud and clear. Are her antiwar principles driven by her politics, or her politics by her principles?
The first time Bob Dylan heard Joan Baez sing he said his ears slammed shut. It was like looking directly into the sun—too bright—you had to avert your gaze. Her voice was too beautiful to listen to he said, especially when he was cultivating the opposite aesthetic. "The only beauty is ugly, man," he told himself, and he refused to let himself be moved by her extraordinary soaring soprano. That held for the second time too, and the third, but gradually her irresistible force pierced through his immovable object. In spite of himself, against his better judgment, her voice rang through and changed his way of thinking.
He gave her the best tribute anyone ever has, in the liner notes he wrote for her second live in concert album, describing so vividly how she won him over, when he found out that in her own childhood she had to overcome the ugliness around her too, and came to the rescue of abused animals with the same tenacity of spirit that made her such an effective voice for human rights and Amnesty International. Dylan found himself helpless on the ground, pulling weeds out with his bare hands and unable now to get her voice out of his head. "Don't stop," he now thought, keep singing; the ugliness of this world needs to hear it. A half century later and Dylan is still very much a part of Joan Baez's psyche—still whispering in her ear to keep singing.
She did sing a Dylan song early on, but not one of his timeless ever more timely songs like With God On Our Side or Masters of War; rather the song with which he said goodbye to all that, just like Robert Graves autobiography said Goodbye To All That when he left England for Majorca at the end of World War I. It's All Over Now, Baby Blue was Dylan's farewell to the Newport Folk Festival of 1965, where he was booed for plugging in and going electric. Joan Baez sang it as an ode to her old flame, including a touching and delightful impersonation of "the original vagabond" during the last verse. It brought down the house. I almost thought they were back on stage together—just like at Newport in 1963 or the Hollywood Bowl later that same year.
The still reigning queen of American folk music let us know right off the bat that this was not going to be a confrontational show, when JB brought out her beautiful and gentle large dog on stage—a one-eyed Bouvier named Ginger she described as "the most laid-back creature" she'd ever known. And Ginger may have rung the curtain down with the most amazing dogdamn harmony I have ever heard—captured on Joan's cell phone during a rehearsal when Ginger suddenly joined her in mid-song and stayed with her until the last note. If there is a Grammy for dogs she has my vote.
Her multi-instrumentalist accompanist Dirk Powell is a one-man band who played banjo, mandolin, lead guitar, bass, and Garth Hudson's magnificent intro for The Night They Drove Old Dixie Down on the piano. The last instrument he unfortunately also played on one of his own songs—I Need You Just the Way You Are—which came too close for comfort to plagiarizing Billy Joel's classic 1977 (I Love You) Just the Way You Are. Billy Joel just sang the original at The Hollywood Bowl; did you think you could smuggle in this fake at the—ahem, the Greek—and no one would notice the difference?
My ears therefore perked up when Dirk Powell picked up his banjo. But if you're going to put an Appalachian tune—Dock Boggs' Corn Bread When I'm Hungry, Whiskey When I'm Dry—in the show why bury it beneath Gabriel Harris's (Joan's son with draft resistor David Harris) show-stopping drum solo that had nothing whatsoever to do with the original, or even the idiom of the song, just to prove that he knows how to play? (Memo to Joan: Lose the dance routine interlude with Dirk—one more in your designer bag of unnecessary tricks and gimmicks to divert the audience's attention from the fact that you're not always playing your best stuff and—excuse me, but how can I resist with Ginger on stage—letting the tail wag the dog?)
For the record—just so you know where this is coming from—I haven't changed my opinion of you as described in my review of your last Southern California concert, at the Queen Mary, that you were the "voice of the millennium," and "the reason sound recording was invented." Granted, that angelic voice is gone, but you have replaced it with the beautiful voice of a mature woman and still great performing artist—and what you have had to give up in the loss of your soaring soprano you have gained in depth of character and richness of expression, as demonstrated by your a capella version of Swing Low Sweet Chariot. You are the best American folk music has to offer, and you don't need all those bells and whistles to hold an audience. Every one of your novelty acts just whittle away at the core of what has made you endure for half a century—a passionate faith in the power of song to speak for the voiceless and change the world. Have you forgotten that you sang We Shall Overcome at the March on Washington—the greatest song at "the greatest demonstration for freedom in our nation's history" (MLK). Who backed you up? No one; nada; you didn't need your band of second stringers then, and you don't need them now.
And now for the bad news: The Indigo Girls put on a terrific opening set, but they did not belong on the same stage with Joan Baez at the end of her concert. Justice John Paul Stevens once said when asked to define pornography, "I don't know how to define it, but I know it when I see it." I don't know how to define the difference between mediocre songs and great songs, but I know it when I hear it. All songs are not created equal.
It was sad to see Joan Baez—who graced the cover of Time Magazine in 1963 as the reigning queen of American folk music—reduced to reading their tendentious lyrics off an 8 ½ x 11 piece of paper, because something deep in her heart refused to let her waste her time by having to memorize them And this at THE GREEK THEATRE—where they charge $50 to $75 a ticket for the privilege—and leaving Imagine for another day.
Their one-size-fits-all performance of Dylan's classic finger-picking blues Don't Think Twice was living proof that less is more. If you want to hear Joan Baez play it the way she has played it—with just her and her Martin 00-42—which by the way sounded beautiful last night if you could separate it out from the joyless noise around it—go back to her classic Dylan album—Any Day Now. It's all there. If you want to hear her perform it live go back to Joan Baez in Concert—Part 2. You can even hear it on YouTube—straight, no chaser.
Now for the highlights: Phil Ochs' classic song of compassion There But for Fortune, which she made into a hit, the unaccompanied Swing Low, Sweet Chariot, just beautiful, the folk song Flora, the Lilly of the West; Chile's Violetta Para's Gracias A La Vida (Thanks to Life), the title song from Joan Baez's Spanish language album; a delightful comic song by the late Anna Russell, You Make Me Miserable; a moving House of the Rising Sun and her other hit song, Robbie Robertson's The Night They Drove Old Dixie Down—all great songs brilliantly performed which made the surrounding clutter all the more distracting.
Now for the good news: There was a third set last night—that all but surpassed the two performed by the Indigo Girls and Joan Baez and Ginger. That was the signing-for-the-deaf concert Jill and I were lucky to be seated next to—the view from the terrace. Two sign language interpreters, Kathryn Deal and Norman Galapin, took turns communicating the lyrics and expressive content of each song to a small but vibrant section of deaf listeners. It was (in Jill's words) "a great artistic performance" and a joy to watch; they were remarkable actors each—who conveyed every subtle nuance of the songs' stories with their finger, hand, arm and facial movements that were totally immersed in the emotional depth of the sound of silence.
And we couldn't help but notice the corresponding sign language from audience members themselves, including a charming couple of women in the back who carried on an animated though silent conversation throughout. I felt like Rip Van Winkle who had awakened after being asleep for 20 years, only to discover he had slept through the American Revolution, for that is exactly how long I discovered Kathryn Deal, Norman Galapin and others have been signing major Los Angeles concerts at the Greek and other venues—one of the many tiny ripples of hope which emanated from the Americans With Disabilities Act of 1991—the one passed by Senator Ted Kennedy and signed by President George H.W. Bush. This was the first time I had noticed it, and on the eve of the 4th of July no less. Happy Birthday, America.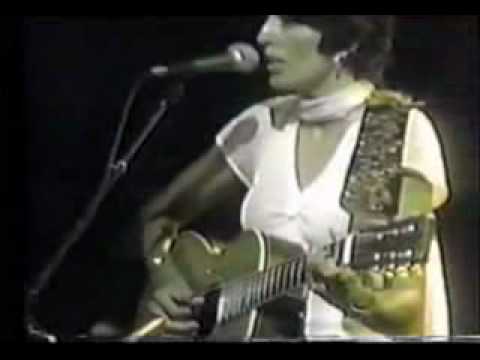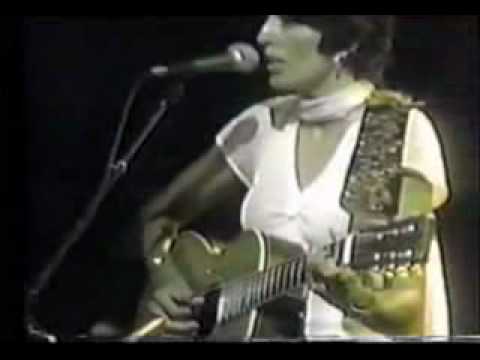 Thankfully, Joan finally sang her own best song, Diamonds and Rust, and made a couple of charming changes to the lyrics, thus reinforcing my belief that Joan Baez and her exquisite guitar accompaniments are enough to put on a great show. Instead of buying Dylan those cufflinks "ten years ago" it is now "fifty years ago" and one raise of Joan's eyebrow at the passage of time brought the house down with laughter. But she still had a killer punch line; instead of following "If you're offering diamonds and rust" with "I've already paid," she—with all the winsome charm of that 19-year old voice from another planet we fell in love with the first time she sang at the Newport Folk Festival in 1959—added "I'll take the diamonds."
Are you listening, Bob?
Ross Altman will perform a solo acoustic tribute to Pete Seeger Saturday, July 19 at 2:00pm; Santa Monica Public Library; 601 Santa Monica Blvd Santa Monica CA 90401(outside, in the North Courtyard); sponsored by the Topanga Banjo-Fiddle Contest Free Family Concert Series;
Saturday July 26, 8:00pm Ross Altman and Jill Fenimore perform at the UnUrban Coffeehouse Gallery Opening for an exhibition of the late Change-Links Editor's 1960s Perspective: Oil Paintings by John Johnson; Jill will play Joan Baez's finger-style guitar arrangement of Diamonds and Rust. Don't miss it! 3301 W. Pico Blvd. Santa Monica, CA. 90405 310-315-0056 ; free.
Ross Altman may be reached at greygoosemusic@aol.com