Discovering Jordie Lane:
On Being John Hammond For a Day
In Concert at The Mint
May 13, 2013
Who wouldn't want to be John Hammond for a day? The man who discovered Billie Holiday, Bob Dylan and Bruce Springsteen? Well, that's how I felt last night at The Mint on Pico Blvd just west of Fairfax, where folk singer Jordie Lane, newly arrived from Down Under was giving his American concert debut. He put on a great show and now I also know how it felt to be Robert Shelton at Gerdes Folk City in 1961, whose rave review alerted John Hammond to the new kid in Greenwich Village.
Like Dylan camping out on Dave Van Ronk's couch when he first blew into town (recounted in Talking New York on his first album) Jordie Lane also had a story to tell: he and his girlfriend (who covered her Suzie Rotolo locks with an impressive headpiece) spent their first night sinking into an inflatable bed that mysteriously developed a hole and started losing air until by morning they were flat up against a hardwood floor. Hard times in LA Town, one could almost hear the song a-birthing.
His girlfriend's name is Clare Reynolds and she accompanied Mr. Lane on what he called a "guitar bass," actually his well-worn guitar case, which she held up with every bumper sticker visible to the enrapt audience as she thumped a bass-line to his songs, all of which he accompanied on his vintage Gibson sunburst dreadnaught, in a rather remarkable combination of rhythmic strumming and finger-style picking. It was quite original and a virtuoso performance unto itself, honed during many years of busking in his native country, along with various kinds of percussion generated from his feet against the stage.
During a conversation after the one-hour concert he credited Steve Earle's son Townes (named for Texas singer-songwriter Townes Van Zandt) Earle with some of those lightning-fast stage moves used to sustain the sometimes short attention span of street audiences during years of street corner performing—in the same live tradition that made Reverend Gary Davis such a captivating performer. If one is any doubt that folk music and its variegated styles is being passed to a new generation one had only to sit in the favored corner I found at The Mint to be utterly convinced that it is in no danger of dying out.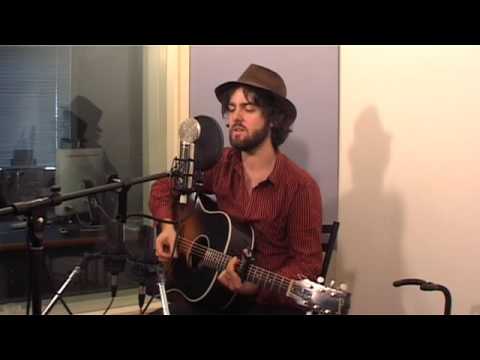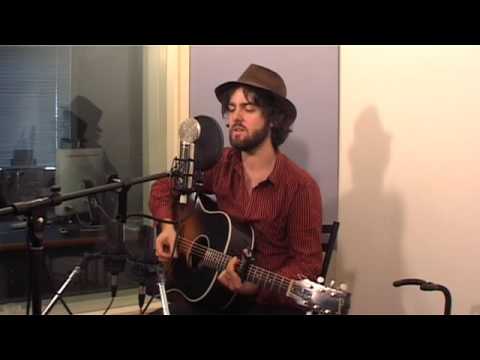 Who would have thought that there was one more anti-Vietnam War song to be written? Well, the 20-something Jordie Lane has recaptured the full horror of that modern Heart of Darkness in his new song The War Rages On, an apocalyptic tour of Saigon's streets reflective of the postwar era. It's a remarkable tour de force. Rather than being a protest song, however, it simply stays true to the narrative, and shows rather than tells.
And yet even that is quite contemporary compared to the song he did late in his set—a mining ghost song set in Australia in 1903—in a town called Bulls Eye. It's both haunting and embracing—with his charming and almost Pete Seeger-styled sing along chorus that had everyone in the room joining in—with Lane's enthusiastic coaching; it was quite irresistible.
There were love songs that went to the mat as if he were channeling Hank Williams or his own modern hero Gram Parsons, with the title I Could Die Looking at You. He demonstrated his commitment to the smallest details of the tradition he embodies by noting that he first recorded the song in the same room in which Gram Parsons died—in Joshua Tree National Park. And not satisfied with that communality he also was determined to record it on cassette tape—which took a considerable amount of shoe leather research, since no one in town (this was long after CDs had replaced cassette tapes) even knew what a cassette was. It therefore took Lane twelve hours to find the medium to properly convey his message, but he would not quit until he found it. What do you call that kind of persistence, if not artistic character?
He had a longstanding dedication to Gram Parson's memory, which he first paid homage to back home in Australia playing the lead role of the late ill-fated singer in a stage production of Grievous Angel: The Legend of Gram Parsons. Lane's singing partner Clare Reynolds co-starred in the production as Parson's heartbroken surviving friend, singer Emmylou Harris. Modern country legend Parsons was one of the original members of the Byrds and the Flying Burrito Brothers, and is highly esteemed by no less than the Rolling Stones, whose Wild Horses he covered with their blessing. He died of a drug overdose at just 26, in room 8 at the Joshua Tree Inn—where Lane in homage made his own reservation in order to write songs and begin work on that new album.
Jordie Lane has recorded two albums in Australia—Lover's Ride and Blood Thinner—and will soon be going to Nashville to record his debut American album. If last night's performance is any indication he surely has a significant career ahead of him in this country as well.
Some might think it is premature to make such bold predictions: I can already hear some skeptics out there who might even think it is uncharacteristic of me to go out on a limb for a new artist, when I spend most of my time reviewing the classics with a deeply embossed Good Housekeeping Seal of Approval already on their careers—like Arlo Guthrie, Buffy St. Marie, Janis Ian, Bob Dylan and Judy Collins, to mention only a few whose concerts I have covered in these pages.
But I know what I know, and when an artist can turn a flubbed line into a concert highlight, as Jordie Lane did last night, making up a whole new and brilliant verse about forgetting the line he was looking for, (with lines about the curse of first being in Los Angeles), and then from there launch into an impromptu and hilarious story about stage mishaps in general, only to finally reconnect with his original song in its correct lyrics and to recover its original mood to boot—well that is living proof that he is the real deal.
Indeed I hope that someone within listening range may even refer to Jordie Lane as Altman's Folly. They may need to be reminded that John Hammond suffered the same fate; back in 1961, when Columbia Records would only budget $402 for the recording session of a young vagabond who looked like Huck Finn and sounded like Woody Guthrie, everyone in the studio called him Hammond's Folly.
His name was Bob Dylan.
And this young Australian's name is Jordie Lane. Welcome to America, Jordie.
Ross Altman may be reached at greygoosemusic@aol.com Ross will be performing next Sunday May 19 on the Railroad Stage at The Topanga Banjo-Fiddle Contest and Folk Festival; see www.topangabanjofiddle.org; and on Saturday, June 15 Ross returns to Claremont for the 30th Claremont Folk Festival; for info on tickets, a complete list of performers and volunteer opportunities go to www.claremontfolkfestival.org
Ross Altman has a Ph.D. in English. Before becoming a full-time folk singer he taught college English and Speech. He now sings around California for libraries, unions, schools, political groups and folk festivals. You can reach Ross at Greygoosemusic@aol.com