TITLE: PAUL BROWN
ARTIST: PAUL BROWN
LABEL: TIKI-PARLOUR RECORDINGS
RELEASE DATE: APRIL, 2018
I received my copy of Paul Brown's eponymous DVD/CD release with Tiki-Parlour Recordings (the brainchild of David Bragger and Rick Hocutt) in the mail last week and fired up the DVD player immediately.
I was watching it, trying to come up with profound words to describe it, like "homey" and "mellow", but in the intro to the set, celebrated novelist and writer on American music, Tom Piazza sums up Brown's first solo banjo and fiddle outing by saying "It's the understatement of the year."
It is at that, and it's such good stuff. I love that Brown, who has worked so hard to preserve and share old-time music, is himself being preserved and shared!
Paul Brown is a journalist, broadcaster, performer, record producer and storyteller. His mother, who was from Virginia, inspired him with her songs and her love of music. He spent years collecting traditional music and stories from older musicians of Virginia and North Carolina, particularly Mt. Airy and Round Peak.
This recording of Brown has all the hallmarks of Old-Time Tiki Parlour offerings: the now-familiar gold bamboo wallpaper and red couch; reverence for the musician and what the hands are doing' keeping it simple but offering top quality; great art work and layout; and, liner notes to be savored.
The lighting is especially good in this one; it's like Brown is being bathed in late afternoon sunlight. Watching the DVD for the first time, it inspired me to go for a drive in the country with that same kind of light, and the music by Brown coming through my car speakers fit that moment perfectly.
What's different from other Tiki Parlour recordings, like the Stuart Brothers, Spencer and Rains, Rafe and Clelia Stefanini, or Bruce Molsky for example, is that the front cover is a photograph of Paul Brown in all his glory, as opposed to the folk artwork by Tiki Parlour's old-time folk artists. Although Brown is a giant of this music, the photo makes me think: "Hey, here's a man who loves sharing the music and stories!" He looks welcoming, happy and grateful, his sturdy arms cradling a modern Chinese fiddle upgraded by Rafe Stefanini.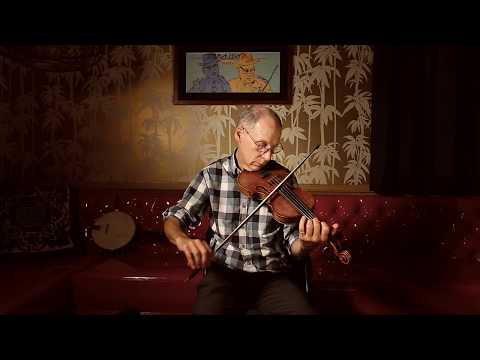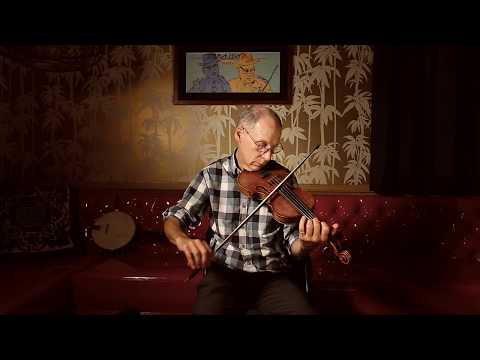 Mind you, there are still wonderful drawings to be had on the liner notes and on the DVD and CD. Howard Rains' evocative art will be familiar to many old-time aficionados. Here he illustrates Brown's dedication to the many angels, past and present, "whose spirit and companionship gently guide me along." Brown has also added some great photos from his own collection.
You can hear Brown channeling these angels, who include Matokie Slaughter (best name in old-time if you ask me), Fields Ward, Benton Flippen, and Tommy Jarrell…all passed through to us "via the Paul Brown filter."
You can hear these angels in his playing, and Brown talks a lot in the liner notes about learning from them and what drew him to them: their real style. "Their music carried strong, honest, undistorted signatures" and Brown liked that.
There is no mugging for the camera; this is straight ahead, no-nonsense playing and singing, and no pretentions. Brown truly has filtered his many, many influences into his own honest, undistorted sound.
There are sixteen straightforward and enjoyable tunes, with Brown playing 2-finger, 3-finger and clawhammer banjo, as well as a few fiddle tunes. They race by at 2 or 3 minutes each, the longest song being Little Maggie, which clocks in at 4:39. This album just begs for repeated listening, which enables the listener (and viewer) to discover endless treasures in Paul's playing.
Track 14, Cousin Sally Brown, is one of those driving good old clawhammer tunes that was over all too soon. Brown says: "That's one of my favorite kinds of banjo tunes!" as he finishes.
I especially enjoyed his solo finger-picked banjo interpretation of Brushy Fork of John's Creek, based on the playing of Art Stamper, for whom he recorded the album Goodbye Girls, I'm Going to Boston (County). Tuning the fifth string to G and playing in g-EADE gives it a hypnotic quality, or perhaps that's the "spookiness" of the various tones Brown heard in this melody. It is a banjo meditation.
I am also particularly drawn to Brown's version of Fisher's Hornpipe, which he is also playing in g-EADA, according to his informative and compelling liner notes (as I read through them, I wanted to know more, and ended up listening to several episodes of Across the Blue Ridge, Brown's weekly radio show). In Brown's interpretation of Fisher's, I have found a version I want to learn!
I'll say with great conviction that this DVD/CD set is entirely worth it for the glorious music, but the DVD alone is worth watching just for the end of Hop Light Ladies – Brown's crooked smile filled me with glee!
Here is another reason Old-Time Tiki Parlour recordings are so great. Unlike Brown, I cannot work in truck stops and sawmills, as he did so he could play with the "old guys." But I do have access to Brown's playing through the DVD recording and can use it to learn his version of Fisher's Hornpipe.
But I suspect he would not want me to play it exactly like him. He would want me to find my own "real style."
Christine Lovelace is Academic Archivist for the University of New Brunswick in Canada. She plays old-time fiddle and banjo, thanks to her online lessons with David Bragger!