TITLE: HURRY UP AND WAIT
ARTIST: DUET 2 IT
LABEL: ET ENT.
RELEASE DATE: 2015
Once, when I was at a concert, I overheard someone say (about the artist), "She could sing the telephone book and it would sound amazing." That's the kind of voice that Erin Montgomery brings to Duet 2 It. And her abilities are matched, on lead guitar, by her partner, Chris Roullard. Together, in Hurry Up and Wait, this young duo has created a debut album that fairly explodes with talent, vitality, and a sophistication that belies their years.
With nothing more than Erin's powerfully versatile voice and acoustic rhythm guitar, and Chris's smooth-as-silk electric lead guitar, they have produced a blues-infused, jazz-inspired, folk-rock/pop album that is as musically complex and rich as it is improvisational; a full sound that is alternately playful and sultry, intricate and earthy – with a seemingly effortless artistry that often evokes legends like Billie Holiday and Etta James.
There are no other players on this album, yet (true confession) it took me two listens to suddenly realize that these very dynamic tracks had no percussion. No drums. No congas. No shakers. Not even a bass. Instead, the rock-solid beat is created entirely by Erin's rhythm guitar...often used with a slap strum to mimic brushes on a snare.
All but one of the eleven tracks on the album have been written by Erin Montgomery (the last song, Lunatic, was written by Sandi Thorn). But all are more about mood than message – love songs with a groove and whole lot of soul...bending the notes in all the right places (both vocally and instrumentally) and taking the listener on a cool ride of rhythm and rhyme.
What is clear from the start is that Montgomery and Roullard are divinely paired in terms of fluid style and innovative delivery – each one complementing the other's ability to slide up and down the scale, finding all those bluesy, jazzy riffs; all those addictive places "in between" the notes. From the opening title track, Hurry Up and Wait, the pair takes turns supporting each other's creativity. The song starts out slowly – with gentle strumming – featuring Erin's perfectly nuanced vocals. Chris adds a few tasteful licks, never stepping on her lyrics. But soon the song picks up the beat, and then Chris takes center stage with (one of many) inspired instrumental breaks.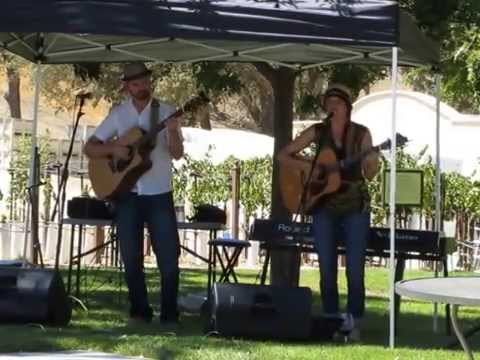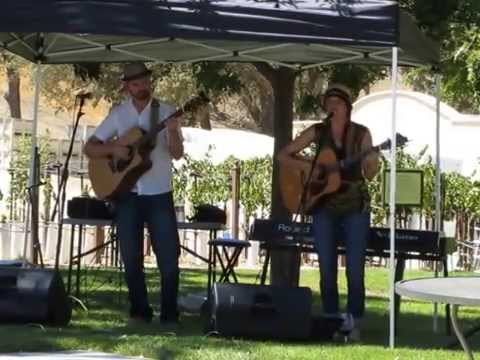 The album displays a welcome variety of tempos, too. The folk-pop sound of the first track gives way to a bluesy "wah-wah" sound in Blew; then Touch of the Crazies evokes an old-time jazz vibe with slap strum percussion and a bluesy lead guitar. Love Addiction recalls the folk-rock feel of Jimi Hendrix; while Walk on Water is a delicate acoustic folk number with overtones of Joni Mitchell. But my favorite song on the album is The Blues Song. Chris sets the tone in a long, bluesy intro – lots of sinuous slide, vibrato and agile fingering set against a background of soft strums. Then Erin's sensual, bluesy vocals add a whole lotta soul, with a tell-it-like-it-is delivery that reminds me of Etta James.
Based in San Luis Obispo, Erin Montgomery and Chris Roullard have been playing together up and down the Central Coast for almost six years now, and their polished interaction as Duet 2 It is reflected in Hurry Up and Wait. I would most certainly suggest, hurry up, find them playing up in San Luis Obispo and buy it! Hopefully, in the near future, they will make it available for purchase online.
A New York transplant to the tiny town of Carpinteria, CA, Jackie is a freelance writer and singer-songwriter whose music can be heard on Pandora. Her third album of original Folk/Americana songs was among Top Folk Albums of 2011 on the Folk Music Radio Airplay Charts, and her new newly-released fourth album, Can't Fix Crazy, is among Top Folk Albums of May 2014 as well as Top 100 albums of 2014 on the RMR Americana Country Charts. Jackie is also an active member in such acoustic music communities as SummerSongs, SongMakers, and FARWest Folk Alliance.