TITLE: BEYOND THE BLUE
ARTIST: THE DUHKS
LABEL: COMPASS RECORDS
RELEASE DATE: 2014
The Duhks are back...flying higher than ever with their 5th CD, Beyond the Blue. After taking a hiatus of two years, this celebrated Canadian neo-trad folk band demonstrates, yet again, the bold, beautiful, eclectic, exciting and innovative music that has consistently earned them critical acclaim. All of their previous CDs have been nominated for Juno Awards - winning Best Roots & Traditional Album by a Group in 2005, and a Grammy nomination in 2007.
Beyond the Blue is a stunning album, almost addictive in its adventurous rhythms, harmonies and arrangements....mixing a strong Celtic base with a lot of everything else: Appalachian... old-timey....a little blues....a little soul...a French song from Mali...and a lot of driving folk-rock and Afro Cuban rhythms.
But the road to this creation has been a winding one. Established in Winnipeg in 2001 by banjoist, singer and songwriter Leonard Podolak, the 5-member acoustic band that comprises The Duhks has undergone several reincarnations. It presently consists of Podolak along with original lead singer, Jessee Havey; Kevin Garcia on percussion; Colin Savoy-Levac on guitar and bouzouki; and Rosie Newton on fiddle.
In addition, for this album, several former band members have contributed to various songs. The 12 guest musicians include such previous Duhks as Jordan McConnell (guitar) and Tania Elizabeth (singing harmony as well as co-writing one song on the album).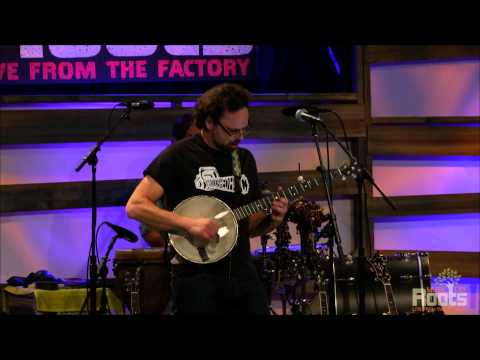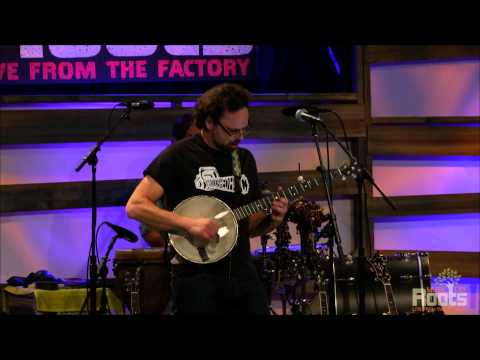 Perhaps most noteworthy in the "behind the scenes" department is that original Duhk, Jessee Havey – who left the band in in 2007 to pursue other interests – returned to the flock in 2013 to add her gorgeous, rich alto to the mix. And her ability to "own" this very diverse group of songs is impressive. Whether she is singing the dreamy, wistful title track, Beyond the Blue (Ruth Nielsen Chapman/Gary Nicholson)...or nailing the 1960s Soul sound of These Dreams (co-written by Podolak with Tania Elizabeth and Duhk co-producer, Ruth Ungar)...or delivering a powerful Gospel number in Just One Step Away (Ruth Ungar).... her voice is always so natural, so right, and so inviting, it sounds almost effortless.
Nor is she alone in her exceptional musical talent. The entire band makes some major magic together – from the first track to the last. The album opens with the title track....to the sound of Podolak's clawhammer on the harmonics of his banjo....and soon blossoms into a mesmerizing mix of violin, acoustic percussion and, of course, rich dreamy vocals. The effect is both soothing and energizing at the same time, a very hypnotic song. It is followed by Banjo Roustabout, a traditional song that is anything but traditional in the hands of The Duhks. A driving drumbeat on steroids provides an edgy excitement to this rocked-up version; yet far from obscuring its African underpinnings, the Duhks' arrangement actually serves to amplify the "roots" feeling.
The third song, Suffer No Fools, is a heartfelt original written by Havey. With a lovely, traditional-sounding melody and memorable words, it reflects a hard-won wisdom that will resonate with many: "Make a promise to be true to all that you are."
It's followed by Podolak's powerful cover of Burn (Lydia Garrison), a folk-rocker with a beat that can't be ignored, great harmonies and a compelling fiddle groove.
And so it goes on for all 12 tracks....each one a gem. There are two spirited, ethnic-hybrid instrumentals co-written by Podolak; a traditional, Cajun-flavored toe-tapper freshly spiced up by The Duhks; a delicate, sensual French song featuring guitar and violin, smooth-as-silk vocals, and exotic acoustic percussion; and, as mentioned before, and a vibrant gospel-styled number that adds full-on drums, horn and piano to create a mix that is downright uplifting.
Still, among my favorites is the haunting Black Mountain Lullaby by Caroline Herring. Based on a true story of 3-year-old child in Appalachia who was killed by a boulder loosened by irresponsible mountain-top removal, the Duhks sensitive interpretation of this beautiful song captures the sorrow and injustice in a way that is quietly powerful and powerfully moving.
Beyond The Blue was produced by The Duhks' long-time music friends, Mike + Ruthy (Mike Merenda and Ruth Ungar, formerly of The Mammals), who shared many folk festival stages with The Duhks in the past. It is obvious that they shared The Duhks stated intention to "create something as fresh, exciting and forward thinking as possible." They certainly succeeded, and then some.
A New York transplant to the tiny town of Carpinteria, CA, Jackie is a freelance writer by profession and a singer-songwriter by passion. Her third album of original Folk/Americana songs was among Top Folk Albums of 2011 on the Folk Music Radio Airplay Charts, and her new newly-released fourth album, Can't Fix Crazy, is among Top Folk Albums of May 2014. Jackie is also an active member in such acoustic music communities as SummerSongs, SongMakers, and FARWest Folk Alliance.