BILL BRYSON
(November 10, 1946-April 30, 2017)
Remembering bluegrass musician extraordinaire
We have lost a delightful presence and fine musician, universally acclaimed as the best by the best, and those accolades reach back many decades. Most music fans knew him only as a consummate artist of the upright bass, and formidable vocalist. A few lucky folks knew him as fine dinner company after the show. There was so much more to Bill Bryson.
Laurie Lewis tells us, "Patrick Sauber called me Monday morning with the news of Bill Bryson's death. Bill played a huge part in helping to shape young Patrick's mind, intellectually and musically, and played with him in numerous bands, chiefly Loafer's Glory."
Tom Rozum wrote, "I first saw Bill at the San Diego Folk Festival in the mid-1970s, when he was playing bass and did all the talking on stage with the then California-based Bluegrass Cardinals, and a year later when they played at the Old Tucson Bluegrass Festival. I thought it was cool how he would speak so eloquently, and because he was shorter than the rest, how he would immediately hoist the center microphone up so that the trio could all gather around it and commence playing. In 1979 I just about jumped out of my seat with joy when I saw and heard Bill and Tom Sauber on the silver screen playing honest-to-God, real old time music in the hit movie, 'The Long Riders' (musical direction by Ry Cooder).
"Most people know Bill as the solid bass player in the 80s country rock band, Desert Rose, which included Chris Hillman, Herb Pedersen, John Jorgenson, Steve Duncan, Jay Dee Maness, and later, Tom Brumley. Bluegrassers know him for his strong bass playing, singing and powerful songwriting with The Bluegrass Cardinals, Bluegrass Etc, Loafer's Glory, and The Brombies. But Bill was very adept at old time banjo and had a big background in finger style country blues. He told me once that while in high school, playing in an old time stringband with David Lindley, David took him over to hear a bluegrass band rehearse at someone's house in Pasadena. It was Bill's first exposure to hearing bluegrass. What a great thing to first hear it live! Oh yeah, it didn't hurt that the band was not too shabby-The Kentucky Colonels (with Clarence and Roland White)!"
"Bill was the consummate sideman, always did his homework, had one of the most dependable beats in the business, and then when he'd step up to the mic to sing he held the audience in the palm of his hand. Such a wonderful songwriter. Bill had a brilliant mind and was a sun worshipper. I can see him sitting in the sun outside a motel room in the sun, ingesting Volume 3 of 'The Quasi War With France,' a weighty tome on British naval battles. I remember him playing at RockyGrass with someone a number of years ago, and a young musician said, 'I've gotta go listen! they have a legendary old bass guy, from Cuba or somewhere.'
"A tip of the hat to Bill's ever-present SoCal tan. Our hearts go out to Bill's many friends and to his wife, Annie."
Laurie Lewis posted this video of Bill Bryson performing — and singing — with the Brombies, including Patrick Sauber, at their long-running Monday night residency at Viva Cantina in Burbank, CA. It was April 15, 2013, when many patrons were celebrating getting their taxes done. Bill and the Brombies are playing Small Things. Small things from a short guy who was a giant in so many ways.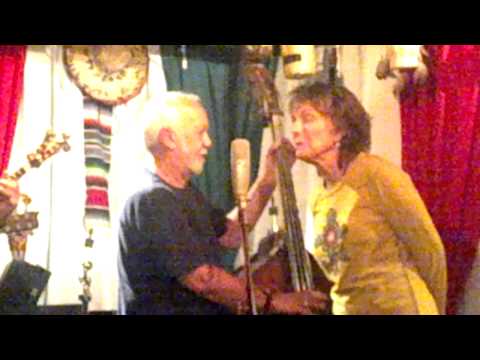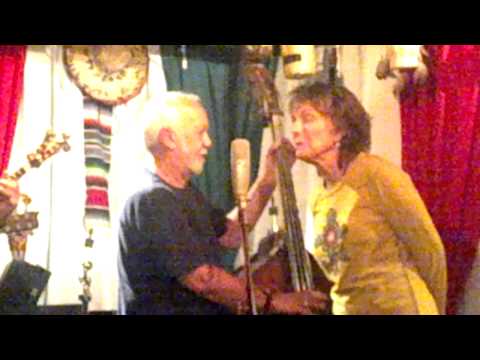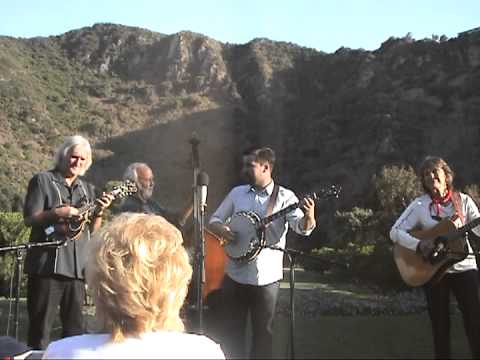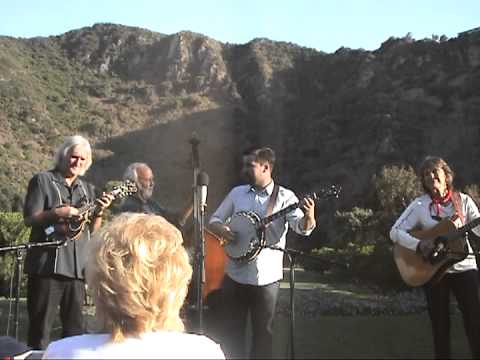 You can read Larry's Acoustic Americana Music Guide with its extensive descriptions of upcoming folk-Americana and acoustic renaissance performances, and its companion, the Acoustic Americana Music News; both are updated frequently. He contributes regularly to No Depression. Contact Larry at tiedtothetracks@hotmail.com.