SUNRISE, SUNSET: THEODORE BIKEL RIP
(MAY 2, 1924-JULY 21, 2015)
Let others write about his versatility, his songs in 21 languages, his character actor roles from all over the globe, and his celebrated beginnings as Captain Von Trapp—the role he created for the original stage production of The Sound of Music.
To me Theo Bikel will always be Tevye—the put-upon dairyman from Fiddler On the Roof, a part he played for an epic 2,000 performances. And first and foremost he will always be the quintessential Jewish folk singer. Theodore Bikel died last night in Los Angeles at 91 years old—a world away from Vienna, Austria where he was born May 2, 1924—and which he always disowned for their "shameful treatment of my people."
He came to America from an Israeli Kibbutz to open The Sound of Music as Captain Von Trapp—and which after he had played for two years was happy to turn over to Christopher Plummer who played it in the film. Bikel said he had done everything artistically there was to do with the role, and he didn't want to repeat himself. It was most notable in terms of musical history in that Rodgers and Hammerstein wrote the song Edelweiss especially for him—when they learned he was a folk singer, and Von Trapp had not been slated to do much singing. In Theodore Bikel's hands the song became a classic, transcending the theatre and becoming a part of the Great American Songbook.
Theo Bikel did the same for Sheldon Harnick and Jerry Bock's If I Were a Rich Man from Fiddler. I, personally, have never been in the show, but I have sung that song a thousand times for old folks' homes, nursing homes, rehab and residential psych treatment centers.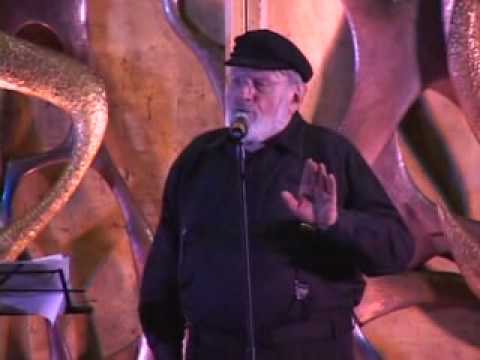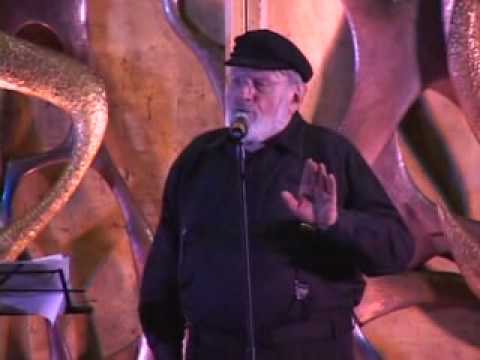 Like a clown conjures up a whole circus, If I Were a Rich Man conjures up a whole play.
Theodore Bikel would have loved this story—which actually happened to me at a retirement home with—as it is often called a "mixed population"—translation: "Jews and others." I had sung a number of Jewish folk songs in Yiddish—the repertoire I had also learned from Theodore Bikel's two early Elektra records, Jewish Folk Songs and More Jewish Folk Songs. Finally a non-Jew interrupted me and complained "Why don't you sing something American?" Hecklers were my stock-in-trade and without missing a beat I followed up with this question, "Do you have a request?" She looked at me in frustration and replied, "You know, something American—like Fiddler On the Roof." She brought down the house, and was perfectly satisfied to hear If I Were a Rich Man—unlike all those "Jewish" songs.
More than once Theodore Bikel saved the day for me, and allowed me to make a living in my personal "Rolling Thunder Review" of retirement homes throughout the Fairfax district of L.A. and the Valley. Had Theo not spoken to me at an early age I would have had to work for a living. Pete Seeger gave me hope; Ramblin' Jack Elliott taught me to play guitar; Woody Guthrie gave me a social conscience and a voice; but Theodore Bikel gave me my people—and a song-bag big enough for a full-time troubadour.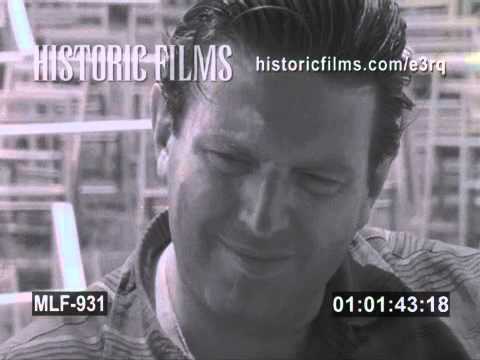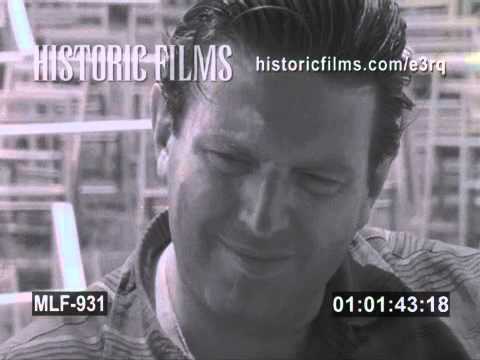 Theodore Bikel was a co-founder of the Newport Folk Festival—with George Wein, Pete Seeger and Oscar Brand—in 1959. He is one of the performers we will be paying tribute to in this weekend's recreation of highlights from The Folk Festival That Changed America—the 50th Anniversary of the 1965 Newport Folk Festival, on the precise 50th anniversary of the day Dylan plugged in and went electric—July 25. It was Theo Bikel who saved the day for Dylan, when he was booed by fans of his Woody Guthrie persona they had fallen in love with during the 1963 Newport Folk Festival.
They didn't want to see him go electric and he was shaken to the core by their less-than-welcoming response to a plugged-in Maggie's Farm. He left the stage and went backstage where Theodore Bikel—an enlightened old troubadour who never played an electric guitar in his life—nonetheless told him, "Bob, if you fall off your horse and get back on right away you'll ride off as if nothing happened. But if you fall of your horse and don't get back on, you may never ride again. Now pick up your acoustic guitar and go out there and give the audience what they came for." In that defining moment Bikel was very much like a father to Dylan, who had left home in Hibbing, Minnesota at the age of 20 and came of age in NYC almost like an orphan. He took Bikel's counsel to heart and went back out on the Newport stage, where in the perfect exit line to a life he no longer aspired to or needed he sang It's All Over Now, Baby Blue. No one could write a better ending than that.
But that was not the only major contribution Bikel made to Dylan's life story. He was also there at the beginning of his folk troubadour self-made myth. In 1963, before he sang it at the Newport Folk Festival in July, Dylan, along with Theodore Bikel and Pete Seeger went down to Greenwood, Mississippi in June, to sing his brand new song about the assassination of civil rights leader Medgar Evers, Only a Pawn In Their Game. But how did he get to Greenwood, Mississippi? He had no plans to go there—until unbeknownst to him Bikel interceded with his manager Al Grossman and told him Dylan should go. Grossman told him frankly Dylan couldn't afford to go—to which Theo responded "Don't tell him where the ticket came from; I'll pay for it. It's time for Bobby to see the South." That trip was covered by Life Magazine and has become a part of the Dylan legend—photographed in black and white standing on a back porch in Greenwood, Mississippi singing for an audience of black people,
A bullet from the back of a bush
Took Medgar Evers blood
A finger fired the trigger to his brain
A handle lit out in the dark
Two hands set the spark
Two eyes took the aim
Behind a man's brain
But it ain't him to blame
He's only a pawn in their game.
The following month he would sing it at Newport, along with another new song—Blowing In the Wind. Another classic photograph would record the moment at the closing concert, with Dylan standing arm-in-arm next to Theodore Bikel, Joan Baez, Pete Seeger, Peter, Paul and Mary and the Mississippi Freedom Singers—who Bikel had introduced him to on his first trip to the south. Call them the Odd Couple of Folk: Theo Bikel—the consummate member of the Old Guard, a respectable, well-groomed, London Academy of Dramatic Arts trained and accomplished actor/musician and the Original Vagabond—an untrained, play-it-by-ear Chaplinesque hobo figure from Woody's Dust Bowl—but Theo Bikel stood by him when Pete Seeger wanted to cut the mic cables. Bravo Bikel!
His song has come full circle, just like Sunrise, Sunset told us it would:
Sunrise, Sunset
Sunrise, Sunset
Swiftly flow the days
Seedlings turn overnight to sunflowers
Blossoming even as we gaze
…
Share the sweet wine and break the glass
Soon the full circle will have come to pass.
Soon after Theo Bikel turned 90 last year, a major tribute concert was held to celebrate his birthday at the Beverly Hills "Temple of the Performing Arts" the Saban Theatre. I reviewed it and paid tribute to all that Theodore Bikel had meant to me over the years. No need to repeat what has already been said; after all, that goes against Bikel's grain, which was why he left the Sound of Music. So here is the link.
Theodore Bikel stood for something as an artist—social justice in the largest sense, not just for Jewish causes, but for liberty and justice for all. At a time when SNCC—the Student Nonviolent Coordinating Committee—was regarded as a threat to law and order and the most radical civil rights organization in the country Theodore Bikel had the courage to join SNCC. And at a time when he didn't like their public condemnation of Israel he had the courage to leave. At a time when the Left was the only friend unions and the labor movement had he had the courage to join the Left. And when the Left refused to denounce the Soviet Union's treatment of Soviet Jews Bikel stood up for the dissidents and let the American left know where he stood. It was he who smuggled their songs and poems out of the Soviet Union and brought them safely to the US—a chapter in human rights history yet to be fully told. At a time when Bob Dylan was condemned for unscripted and intemperate remarks at a Tom Paine Awards Dinner, Theodore Bikel bought him a plane ticket to Mississippi; and at a time when Dylan was booed off stage at the very festival that had made him a star and now thought they owned him, Bikel was loyal to the young artist and let the crowd (and even Pete Seeger) be damned. He put his money where his mouth was. On stage and off, Theo Bikel was a giant.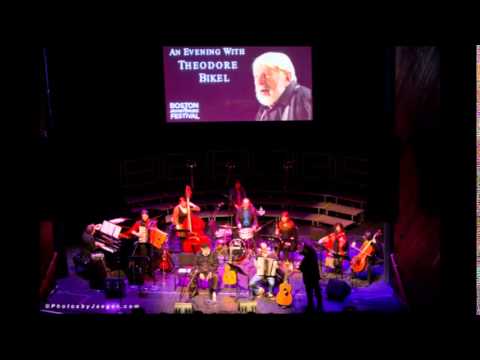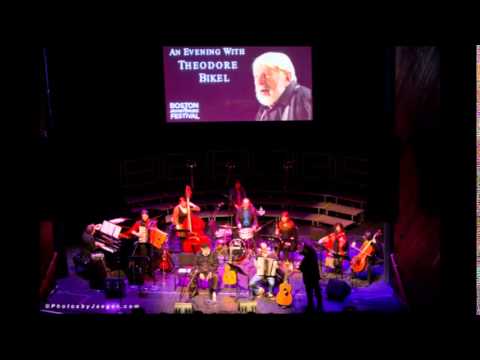 He closed the Saban Theatre concert with Phil Ochs great secular hymn, When I'm Gone:
There's no place in this world where I'll belong when I'm gone
And I won't know the right from the wrong when I'm gone
You won't find me singing on this song when I'm gone
So I guess I'll have to do it while I'm here.
Then the 90-year old actor added for emphasis:
I promise I will do it
You know that I will do it while I'm here.
Let that be his epitaph:
Theodore Bikel did it while he was here.
Rest in Peace.
Saturday, July 25, 2015 Ross Altman and The Found Theatre in Long Beach present the 1965 Newport Festival x 50, hosted by Ross Altman; with Susie Glaze, Jill Fenimore, John Keller; Tom Fair, Rob Sanford, Michael Birnbaum, Ron and Jen, Alex Soschin and Daddy Bone, performing songs of Theo Bikel, Jean Ritchie, Pete Seeger, Gordon Lightfoot, Mississippi John Hurt, Mance Lipscomb, Reverend Gary Davis, Bill Monroe, Ian & Sylvia, Mimi & Richard Farina, Joan Baez & Bob Dylan; a celebration of The Folk Festival That Changed America! 599 Long Beach Blvd (at 6th Ave), Long Beach, CA 90802 562-433-3363 ; 7:00pm; $10.
Sunday, July 26, 2015 2:00pm at The Church in Ocean Park, Ross Altman hosts a Memorial for folk singer Guy Carawan, Highlander Research and Education Center in New Market, Tennessee Music Director for 50 years who popularized We Shall Overcome within the civil rights movement and made it an international anthem of freedom; with special guests Angeline Butler, one of the original Nashville student sit-in participants, author of Voices of a Sit-In & Columbia Records recording artist, Ed Pearl, founder of the legendary folk music club The Ash Grove, and Songmaker & hammer dulcimer player Phee Shirline; 235 Hill St. in Ocean Park; 310-399-1631 ; 2 PM; Free.
Los Angeles folk singer Ross Altman may be reached at greygoosemusic@aol.com