David Bragger and the UCLA Old-Time String Band Ensemble
An Interview with its Director
Back in the 1990s, UCLA students created an Anglo-American music ensemble, and the course was offered on and off through the 1990s and early 2000s. It's most recent incarnation is as the Old-Time String Band Ensemble taught by David Bragger, a performer and teacher of old-time music.
David is the founder of the Old-Time Tiki Parlour where he documents the greatest living musicians of traditional American music, a tribute to the ethnomusicologists who have recorded and preserved the sources for this music since the late 19th and early 20th centuries.
Bragger teaches performance of this early country music of America in its "crooked, colorful, droney, funky, lonesome, soulful, danceable and back porch glory."
Unlike mainstream country music, old-time relies heavily on acoustic stringed instruments. Bragger teaches his students old-time fiddle, clawhammer banjo, two-finger banjo, flatpick/fingerpicked guitar, and mandolin. They may be joined by bass, cello, spoons, washboards, jugs, harmonica, jaw harp, piano, accordion and even earlier gourd and minstrel versions of the banjo. Instrumentation is often dictated by regional and individual old-time styles of instrumentals and songs.
Bragger has been teaching the Old Time String Band Ensemble course at UCLA for the past 2 years, so we thought it was time to ask him for his thoughts and feedback.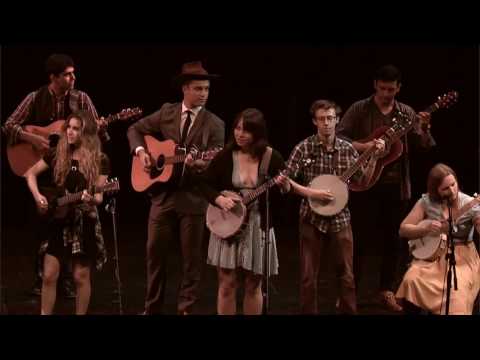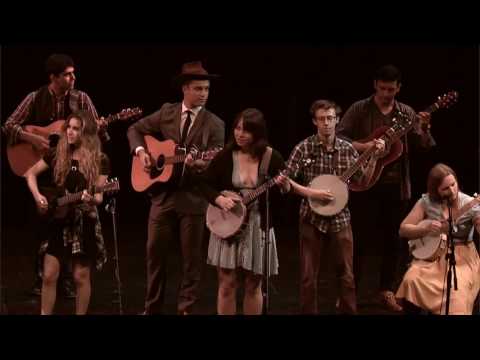 CL: How did you find your calling as an old-time musician, and an ethnomusicologist?
DB: I inherited my great uncle's fiddle around the time that my aunt let me try out her banjo. While traveling in India a month later, I couldn't escape the sounds of her banjo. After months of recording folktales and music from itinerant street magicians in India, I returned home with a burning desire to learn the banjo and try out the newly inherited fiddle. Soon after I began studying old-time bowing from UCLA folklore alumnus Tom Sauber and I started picking up the repertoire of the elder Illinois fiddler Mel Durham. It was around that time that I joined the "Anglo-American" ensemble at UCLA! That's where I met Mike Seeger. (Later on, Tony Seeger ran this ensemble.) As a player and collector, Mike was one of my biggest inspirations. Soon after, I visited musicians in North Carolina, Tennessee, Virginia and West Virginia and really started immersing myself in the music. After a few years of heavy obsession, people started asking me to teach them. Old-time music spread into every crevice of my professional and personal life! A few years ago, the last director of this ensemble, Scott Linford, invited me to give a guest lecture for the ensemble. It was wonderful returning to the ensemble fifteen years later. Soon after, Scott and Dr. Tim Taylor were instrumental in setting up an interview with Dr. Steve Loza, the Chair of the Ethnomusicology Department. The rest is history. UCLA now has an old-time string band ensemble. There are only a few in the country.
CL: What is string band music?
DB: Our ensemble has been focusing on the string band music that I learned from my mentors as well as music that was recorded during the 1920s and 30s, the "golden age" of old-time recordings. We also draw from field recordings that were collected by Alan Lomax, Stu Jamison and Margaret Mayo, Mike Seeger and many others. We've been learning and performing material from Georgia, North Carolina, Kentucky, Arkansas, Tennessee, Virginia, Pennsylvania, Louisiana and Texas to name a few. The instrumentation is chiefly comprised of string instruments such as the fiddle, 5-string banjo, guitar, mandolin, banjo uke and upright bass. And, of course, there is singing. However, other instruments can play a role too. Last year we even had a tuba!
CL: What do you think is its appeal?
DB: Simply put, many people find it very fun to play and much of it is very approachable. There's a lot of room for rhythmic improvisation during the hypnotic, trance-like fiddle tunes that seem to grab people at a visceral level. It is also community square dance music. Much of the old-time music that I love is African American in origin. It is musically and intellectually exciting for us to learn and carry on the music of early African American string bands. For our upcoming performance on May 31st, we'll be playing a piece called Over the Mountain. I learned this tune from my mentor Mel Durham. His family learned it from an ex-slave fiddler Alonzo Janes. Recently with the help of a genealogist student of mine, Cyndy Richardson, we tracked down descendants of Mr. Janes. His family was aware that he played violin but had no idea that he was a fiddler whose tunes were kept alive by the Durham family. I was able to play their ancestor's tunes for them. It was the first time that any of them had ever heard the music of their family patriarch. Talk about an emotional experience!
CL: Who is signing up for this course, and what are their expectations?
DB: This class attracts many different types of musicians and students. All of them are very interested in old-time music. That's why they're here! It attracts undergrad and grad students from a wide variety of disciplines: Ethnomusicology, Music, Engineering, Business, Biology, Art, etc.
CL: Is this a popular course with UCLA students?
DB: In the two years that I've taught this course, many students re-enroll each quarter. I've also seen it attract a lot of curious students who often drop in to play with us. Some of them are accomplished musicians who want to experience the genre first hand. It's great for the enrolled students since public, communal jamming is an integral part of the genre. This gives my students a chance to play with others and adapt to their playing styles on the spot. Old-time musicians from around the country have heard about this ensemble and often they'll ask to stop by when they're in town.
CL: Do you find staff and faculty are taking part in this offering? If so, are they from the Faculty of Music or Ethnomusicology, or are they from all over UCLA?
DB: One of our prized members is the wonderful concertina and accordion player, Aaron Bittel, who is an ethnomusicologist and archivist in our department. His love for Quebecois music has encouraged us to bring some old-time Canadian music into the fold which I also love. We also have Andrew Browning, a rock-solid guitar player who is a web services manager at UCLA. He's a great foundation for the newer guitar players.
CL: It's been noted that you have been able to attract well known performers to UCLA to conduct master classes. How have you managed to attract so many great musicians to UCLA?
DB: When I first signed on, it was my hope to bring in some of the greatest living old-time musicians in the country to the ensemble for master classes. We have successfully made this happen every single quarter that I've been here! Kirk Sutphin (NC), Travis Stuart (NC), Rafe Stefanini (PA), Howard Rains (TX), Tricia Spencer (KS), Bertram and Madeline Levy (WA), Beverly Smith (NC), John Grimm (GA), Aaron Jonah Lewis (MI), Henry Barnes (OH) and Matthew Hartz (ID) have shared their experiences and music with our ensemble. For our Spring Festival concerts, we always include material that we learned directly from these very sources. When I started directing the ensemble, the news spread like wildfire throughout much of the old-time community. Our ensemble was even cited in last year's book, So You Want to Sing Folk Music: A Guide for Performers by Val Mindel (Rowman & Littlefield Publishers) since we're one of the few old-time music ensembles in the country. Many musicians have since expressed their interest in visiting. When I bring musicians out to the Old-Time Tiki Parlour to document their music for the CDs and DVDs that I produce, they jump at the chance to come and share their music at UCLA.
CL: You do a student show at the end of the term. What has the response been from the University community?
DB: Yes, we'll be performing for the Spring Festival of World Music and Jazz on Thursday, May 31st with the Klezmer ensemble. Last year was a huge success. It inspired many students and brought in a ton of folks from the music community in Los Angeles. Ed Pearl, the founder of the legendary Ash Grove folk venue, attended and was beyond impressed. It put me on cloud nine to have a figure like Ed Pearl bless our ensemble.
CL: Where do you see this class in the next 3-5 years? Will it look the same?
DB: We always have returning students, but each quarter brings in new curious minds. The ensemble personnel are constantly changing. This certainly keeps things exciting. When students have particular interests or skills, I love to select the repertoire in a way that addresses those elements, but that also pushes the students to branch out into foreign territory. My constant goal is to responsibly address the repertoire, history, techniques and styles of old-time musicians from the past and present. With such a large genre to work with, we go deeper into the exploration of old-time sub-genres. In the next 3-5 years, this ensemble will collectively have learned old-time traditions that connect every corner of North America. We're talking Southern Appalachian fiddle, finger-picked and clawhammer banjo, Metis fiddling, Quebecois music, Country Blues guitar, Cajun fiddle and accordion, early Texas fiddle, Mid-Western waltzes, Native American fiddle, African-American blues mandolin and fiddle, Clogging, Jugband and more!
For more information on the UCLA Old Time String Band Ensemble, contact the UCLA Herb Alpert School of Music, Department of Ethnomusicology. Find out more about Old Time Tiki Parlour recordings and events here.
Christine Lovelace is Academic Archivist for the University of New Brunswick in Canada. She plays old-time fiddle and banjo, thanks to her online lessons with David Bragger! She wishes there was something as unique and wonderful as the UCLA Old-Time String Band Ensemble in her neck of the woods!