January-February 2015
How to Get Your Band Booked at the Topanga Banjo Fiddle Contest and Festival
Planning for the 55th Topanga Banjo Fiddle Contest next May has started some time ago, and late fall and early winter is when we look for new ideas. Not just bands performing, but also dance teachers, arts & crafts, workshops, sing-alongs, etc. Scheduled performances are a big part of the event and get as much stage time as the contest itself.
My task as talent coordinator is to put together a program that fits with the festival's mission. While there is no shortage of bands each year that want to play, there is often a mismatch in expectation that is frustrating for both sides. This may be a good opportunity to explain what the festival is looking for and how you can get on the program. Music slots fill up very rapidly (demand for those slots outstrips availability several-fold), but we are often looking for workshops, dance instructors/bands for the dance barn, music and other activities in the Eucalyptus Grove until the spring.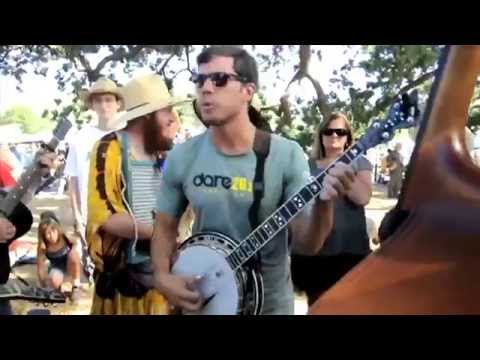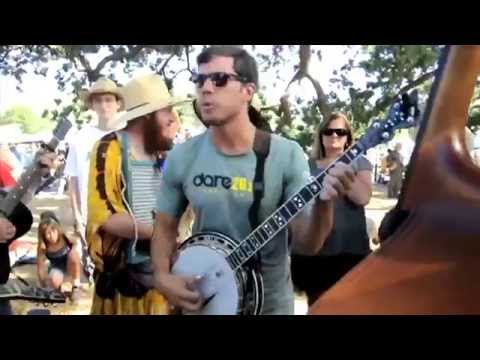 The budget is set by the board of directors and can change based on TBFC finances, although it hasn't changed in years. Currently, the 4 main stage slots are paid $600-800. All other slots are $100 per hour, essentially gas and lunch money, not a paid job (but that is already $100 more than other volunteers at TBFC get).
The Topanga Banjo Fiddle Contest (TBFC) started in 1961 as a small contest in Topanga Canyon and audience participation remains a key element to this day (contest, workshops, jamming, dancing). TBFC outgrew its original location in Topanga quickly and has been at the Paramount Ranch, one canyon over from Topanga, for the last 25 years. It is one of the oldest continuously held traditional music and folk arts festival in the US and all organizers are unpaid volunteers. Nobody owns TBFC, which is set up as a non-profit. Its mission statement (in the bylaws) includes the following goals: "… educate the community as to the values and importance of folk music, folk dance, folklore, and folk arts and crafts as part of their cultural heritage …," "… provide opportunities for instrumental folk musicians, folk singers, and folk dancers to participate," and "... provide the public with opportunities to experience their heritage of folk music and folk dance."
Among the general public, knowledge about traditional music styles, dance, or other folk arts is quite limited (if there is a banjo, it must be bluegrass). The festival is not a museum, so it has to be an attractive alternative to going to a commercial amusement park or a shopping mall. But once people come—and there are 5000 or so each year, we want them to get interested in traditional and acoustic music styles to build new (and more knowledgeable) audiences.
The event also needs to remain attractive to people who are already involved in traditional music and offer something to them as well, contest, jams, etc. I guess about 1000 people playing instruments show up at the festival each year. Distinct goals, but most scheduled performances are for the first group, the "lay audience".
You can see that the goals are very different goals from big-ticket commercial festivals, which are expensive concerts for passive audiences, no audience participation; day ticket prices of $70-100 rather than $10-20; and big name performers even when that is closer to mainstream charts than anything that relates to folk traditions.
The routine in the fall/winter is that I wade through all the material and applications that come to TBFC and also do some outreach. For competitive slots, I compile candidates for scheduled performances; the board of directors (I am not a member of that) makes the decision from my short list.
How do you get on that list? Give me something that stands out of the hundreds of electronic media kits and the chance for a stage slot is really good. A big limitation is that we don't get too many suggestions that fit with the theme of the festival, but rather hundreds of "me and my buddies want to play our stuff on your stage and we want you to pay us" applications. That is pretty lame, so use your creativity and think what could be done to make a stage slot at TBFC more interesting than what you would do at a street fair or a coffeehouse/pizza parlor gig. If you missed out this year, send things in September or October for 2016.
The number of applications can be overwhelming, but it actually isn't so hard to stand out. It is not a lottery, but about a good match. If you have a) an interesting title (not just a band name), b) one paragraph description that shows how your slot fits with the goal of the festival, c) small photo, d) link to complete soundclips (not "previews"), and YouTube videos that support b), that usually does the job. If you sent a CD, I will always listen to it, it is not ignored, and I pass on good ones that aren't a match with TBFC to other event organizers. I definitely pay more attention if you invested your time and money here than if somebody sends me a link to an electronic press kit.
There are a few constraints to remember. First, TBFC is about live music and performances. So dance groups or dance teachers that want play canned music are not a match. Music and dance used to be inseparable and TBFC tries to keep that almost lost art alive. Similarly, a workshop that requires electronics (for visuals or sound) is not an option.
Second, TBFC has a "no electric instruments" rule. That is less of "purity" than a practical issue because there used to be a serious problem with people bringing car batteries and amplifiers to start jam wars. That interfered with the contest and performances, so no electric instruments and scheduled performers have to set a good example. Strangely enough, this seems to be perfectly understood by younger bands, the problem seems to be with age 50+ males. In addition to its practical side, I actually like this rule because it keeps TBFC differentiated. A generic world music indie-rock mash is, well, generic. There are lots of those already.
To keep the festival interesting, there needs to be some change or it will get very stale over time. So we always replace 100% of the main stage completely each year. More continuation on the other stages, but all new ideas are considered. And for the dance barn and Eucalyptus Grove, we would like more suggestions and slots tend to be available long after all the music performance slots are filled.
Roland Sturm is Professor of Policy Analysis at the RAND Graduate School and usually writes on health policy, not music. He is the talent coordinator of the Topanga Banjo Fiddle Contest. These days he mainly plays upright bass and mandolin.