May-June 2014
Tiananmen Square
Twenty-five years ago this June 4 something happened in Tiananmen Square, Beijing, China, that put the last nail in the coffin of any pretense China had towards a commitment to human rights. At the order of leader Deng Xiaoping their "Peoples Liberation Army" massacred 3,000 students who had peaceably assembled on behalf of democracy—the most dramatic clampdown on demonstrations for democratic freedom since Mao himself launched The Great Proletarian Cultural Revolution in 1966.
While the Soviet Union crumbled, and the Berlin Wall tumbled, the democratic winds of change in 1989 were stopped at China's border, and their spontaneous youth movement so reminiscent of Students for a Democratic Society in the 1960s was set back a generation. The great photograph that told the whole story in a single frame was of a lone Chinese student standing in front of a phalanx of tanks—the individual refusing to be intimidated by the state.
But it was another image that caught my attention as a songwriter, published in the LA Weekly around May 20, shortly before the military crackdown on June 4. It showed a student holding up a sign emblazoned with the words We Shall Overcome. Wow, I thought to myself, all the way from the March on Washington to Tiananmen Square. Can a song change the world? This one clearly did. In response I wrote Tiananmen Square, as a tribute to the Chinese students today—and American students who died at Kent State demanding the same thing—democracy—and the quarter million people who marched on Washington to hear Dr. Martin Luther King's dream of freedom and justice.
But where could I sing such a song that would have the most meaning? I found myself heading down to the Chinese Embassy on Shatto Place in downtown Los Angeles, thinking only that I would stand in front of the door and sing it loud and clear—so maybe it could be heard upstairs.
When I got there I was surprised and amazed—hundreds of local Chinese Americans were standing there too—in a silent vigil of witness and protest for democracy. I asked them if I could sing a song I had written for the students in Tiananmen Square. They were moved and gracious and the ideal audience.
And that's how I met Ann Lau—head of a group called The Visual Artists' Guild and organizer of their protest. She told me they would be holding a silent vigil next year too, on June 4. Would I come back and sing it then? I readily agreed; and the year after and the year after. Here we are now, 25 years later, and every year since I have joined the Chinese human rights community in Los Angeles, along with Amnesty International, and a woman friend Leslie Levy who has carried the torch as the Goddess of Democracy ever since she herself was in Tiananmen Square during that long day's journey into night, as the then-wife of a Chinese student. She is a poet and wrote an entire book of poems about Tiananmen Square. We barely see each other during the rest of the year, but every June 4 at sundown like clockwork all three of us—Ann, Leslie and I—along with hundreds of other witnesses for human rights assemble together in front of the Chinese Embassy to not let them forget what happened. We light candles, sing songs, read poems and honor the Goddess of Democracy—which was fashioned into a majestic sculpture by artists from the Visual Artists' Guild.
This year for the 25th anniversary I was amazed and honored to discover that Ann Lau has had my song translated into Chinese, and transliterated into phonetic English so I could learn to sing my own song in the language of the martyred students who died there. I am both looking forward to it and am nearly catatonic with dread at the prospect. Needless to say I will have to practice the song all over again to prepare for this performance. So I am putting it out there now to the wider folk music audience for support and encouragement, and to let people know so I will have to come through. It's the first time (to my knowledge) one of my songs has been translated into a foreign language and I couldn't be more gratified. A song has the power to cross borders, as Pete Seeger many times said, and bring people together as his personal credo described on his banjo head: "This Machine Surrounds Hate and Forces It to Surrender." The lessons I learned from Pete all emanate from the power of that one song he helped give birth to—by changing "will" to "shall" in We Shall Overcome. My song Tiananmen Square is a tribute to the power of Pete's song We Shall Overcome; as the chorus says:
Chorus:
My brothers and my sisters
我wǒ 的de 兄xiōng 弟dì 姊zǐ 妹mèi 们men
Don't give in to despair
不bú 要yào 屈qū 服fú 沮jǔ 丧sàng
Seeds you plant today may bloom
今jīn 天tiān 播bō 下xià 的de 种zhǒng 子zi 将jiāng 来lái 会hui 开kai 花hua
In a field you know not where
在zài 你nǐ 意yì 想xiǎng 不bú 到dào 的de 地dì 方fāng
Who'd have thought all those years ago
谁shuí 想xiǎng 得dé 到dào 多duō 年nián 前qián
When we marched for freedom here
当dāng 我wǒ 们men 在zài 美měi 国guó 为wéi 自zì 由yóu 而ér 游yóu 行xing
They'd be singing "We Shall Overcome"
有yǒu 一yì 天tiān 他tā 们men 会huì 唱chàng" 我wǒ 们men 会huì 战zhàn 胜shèng"
In Tiananmen Square.
在zài 天tiān 安ān 门mén 广guǎng 场chǎng 上shàng
Words and Music by Ross Altman © 1989 Grey Goose Music (BMI)
Chinese characters by Anonymous
Phonetic English by Layna YunLei Wu
As I have said on a number of occasions I wrote this song in sympathy with the Chinese students in the Square who reminded me of SDS when I was a student organizer at UCLA, but I also wrote it in penance for the years I spent as a red diaper baby who had grown up in the Old Left and made far too many excuses later on for the crimes of communism. This is my way of cleaning my slate as it were—and coming to terms with my own political history. As Annie Dillard once wrote, "Are you a communist?" "No, I'm an anti-communist!" "I don't care what kind of communist you are—I'm against it!"
The world has moved on since those dark days of the Cold (and in this case, not so cold) War. But other demonstrations in other city squares have continued to hold a spotlight on the perennial human quest for freedom—from Tahrir Square in Egypt to Azadi Square in Iran (near where Nedā Āghā-Soltān was murdered by state police in Tehran). They all owe a profound debt to those brave Chinese students who led the way in the Beijing Spring of 1989. When I think of them, how can I keep from singing?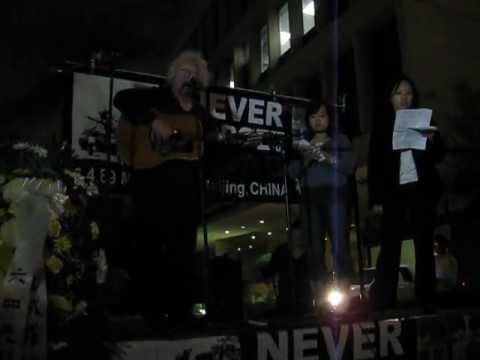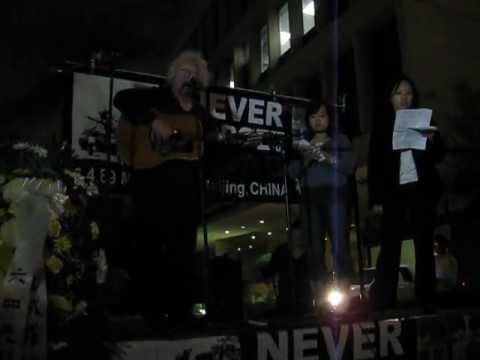 Tiananmen Square
Words and Music by Ross Altman © 1989 Grey Goose Music (BMI)
Chinese characters by Anonymous; Phonetic English by Layna YunLei Wu
1) Did you hear the Chinese students singing
听tīng到dào中zhōng国guó学xué生shēng的de歌gē声shēng吗ma?
"We Shall Overcome"
我wǒ们men会huì战zhàn胜shèng
Sounded sweet as it did then
歌gē声shēng甜tián美měi如rú昔xī
At the March on Washington
犹yóu如rú在zài华huá盛shèng顿dùn的de游yóu行xíng
They quoted Gandhi and Dr. King
他tā们men歌gē颂sòng甘gān地dì和hé金jīn恩ēn牧mù师shī
There was freedom in the air
自zì由yóu洋yáng溢yì在zài空kōng气qì里lǐ
They gave flowers to the soldiers
他tā们men向xiàng士shì兵bīng献xiàn花huā
In Tiananmen Square.
在zài天tiān安ān门mén广guǎng场chǎng上shàng
2) Did you see the Goddess of Democracy
你nǐ见jiàn到dào民mín主zhǔ女nǚ神shén像xiàng吗ma?
Standing in front of Mao
伫zhù立lì在zài毛máo像xiàng前qián
And the students smiling faces
学xué生shēng展zhǎn开kāi了le笑xiào靥yè
As they chanted "freedom now"
他tā们men在zài呼hū喊hǎn争zhēng取qǔ自zì由yóu
Did you see this morning's headlines
你nǐ看kàn到dào今jīn天tiān早zǎo晨chén的de头tóu条tiáo新xin闻wen吗ma?
"Marshall Law Declared"
宣xuān布bù戒jiè严yán了le
As the tanks were slowly rolling towards
坦tǎn克kè车chē在zài缓huǎn缓huǎn逼bī近jìn
Tiananmen Square.
天tiān安ān门mén广guǎng场chǎng (See chorus above.)
3) Did you see the Goddess of Democracy
你nǐ看kàn到dào民mín主zhǔ女nǚ神shén像xiàng吗ma?
Trampled to the ground
被bèi践jiàn踏tà倒dǎo地dì
And the People's Liberation Army
人rén民mín解jiě放fàng军jūn
Shoot the people down
枪qiāng杀shā平píng民mín百bǎi姓xìng
It made me think of Kent State
让ràng我wǒ想xiǎng起qǐ肯kěn特tè州zhōu立lì大dà学xué
And the students who died there
死sǐ在zài那nà里li的de学xué生shēng
It's a long way from Ohio
从cóng俄é亥hài俄é州zhōu要yào走zǒu好hǎo远yuǎn
To Tiananmen Square. (Ch.)
才cái能néng到dào天tiān安ān门mén广guǎng场chǎng
4) They can clean the streets and wash the blood
他tā们men可kě以yǐ清qīng理lǐ街jiē道dào,冲chōng洗xǐ血xuè迹jì
From the bullet-ridden walls
从cóng那nà弹dàn痕hén累léi累léi的de墙qiáng上shàng
But alone against their sea of tanks
然rán而ér面miàn对duì着zhe浩hào荡dàng的de坦tǎn克kè大dà队duì
One unarmed man stood tall
有yǒu个gè手shǒu无wú寸cùn铁tiě傲ào然rán而ér立lì的de男nán子zǐ
And they can't erase that photograph
他tā们men无wú法fǎ消xiāo灭miè他tā的de影yǐng像xiàng
No matter how they dare
无wú论lùn他tā们men多duō么me肆sì无wú忌jì惮dàn
Claim nothing ever happened
坚jiān称chēng根gēn本běn没méi有yǒu发fā生shēng过guò
In Tiananmen Square. (Final Chorus.)
在zài天tiān安ān门mén的de广guǎng场chǎng上shàng
© 1989 Grey Goose Music (BMI)
Additional Material © 2014 Grey Goose Music (BMI) and Visual Artists Guild Los Angeles
Used by Permission. All Rights Reserved.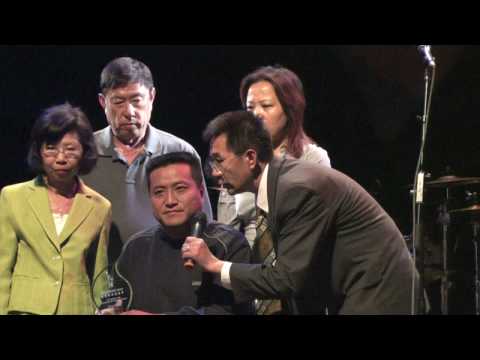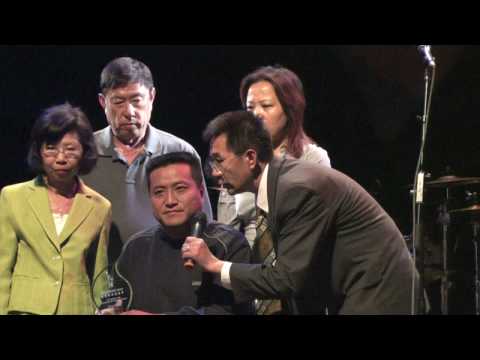 Ross Altman will sing Tiananmen Square—in English and Chinese—outside the Chinese Embassy at 443 Shatto Place, Los Angeles, CA 90020 this June 4 during the candlelight vigil in memory of the students who died demonstrating for democracy on this 25th anniversary commemoration. It is free and open to the public.
The Visual Artists Guild will hold their 25th Anniversary Spirit of Freedom Commemoration and Celebration on Sunday, May 25, at the Almansor Court Banquet & Conference Center at 700 S. Almansor St, Alhambra, CA 91801 alau@visual-artists-guild.org
On Sunday, May 18 at 4:30pm on the Railroad Stage of the Topanga Banjo-Fiddle Contest in Paramount Ranch Ross Altman will present Sing Out for Pete!, a tribute to Pete Seeger; see www.topangabanjofiddle.org for tickets, information and volunteer opportunities.
On Saturday, May 31st 2014 Ross will present a protest song workshop and concert at the Claremont Folk Music Festival at Rancho Santa Ana Botanic Garden 10am-9pm. Tickets: $40
Ross Altman may be reached at greygoosemusic@aol.com